this page last updated November 19, 2020 12:00 pm
Tools and Tips
Diocesan Advent Resources Webpage--This page was curated by Diocesan personnel and is chalk-full of Advent activities, blessings, calendars, feast days, readings and reflections and more.
Click here to access the webpage
Seasonal Blessings Handout--OLFF has created a brochure of seasonal prayers and blessings for Catholic families. The brochure covers Thanksgiving, Advent, Christmas and Epiphany.
Click here to view the seasonal blessings handout.
Thanksgiving Resources
Seasonal Intergenerational Celebrations, Rituals & Activities
Advent Resources
Christmas and Epiphany Resources
Seasonal Inspiration & Activities for All Ages
Blessing the Family Christmas Tree
Five Family Activities to Celebrate the Epiphany on January 3, 2021
---
Sophia Press offers Teaching the Liturgical Year - FREE monthly lectionary-based lessons! They are terrific and it's simple to register…Sophia Institute for Teachers offers you the opportunity to register and download the lessons. Once registered, you will receive a monthly email reminding you of the next month's content.
To view a sample lesson for the month of November click here.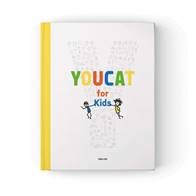 When flipping through the pages of YOUCAT for KIDS, I come across questions children ask their parents and catechists millions of times. That is why I consider this catechism as useful as the big Catechism, in which you can find answers to the most important questions of life: Where does this world come from? Why do I exist? How and why shall we live here? What happens after death? YOUCAT for KIDS is a catechism very different from the one I used to have. YOUCAT for KIDS is suitable for children and parents to spend time together and, in doing so, discover God's love more and more." (Pope Francis)
To view a summary of the YOUCAT for Kids click here.
Video "Staying Catholic While Staying Home" from Acension Presents
Video "5 Ways to a Stronger Catholic Family" from Archdiocese of Denver
Preparing a Prayer Space at Home from Catechesis of the Good Shepherd
USCCB Tools for Building the Domestic Church
10 prayer pointers from the USCCB
52 Sundays (from the Archdiocese of Detroit) as concrete things individuals and families can do in their homes and elsewhere to recognize Christ at work in their lives and to channel their energies in the positive direction of reclaiming Sunday for faith and family.
Religious Education eLearning Help for Parents During the Coronavirus Crisis from The Religion Teacher (Jared Dees)
Order of Mass and Act of Spiritual Communion
RCL Benziger is providing free digital versions of the Order of Mass and the Act of Spiritual Communion for adults and children in both English and bilingual Spanish/English to help families participate in the Mass from home. The publisher also offers other free resources to families at https://www.rclbenziger.com/catholic-resources
Workshop @ Home
Growing Up Catholic uses video and text to give families step-by-step guidance and support for praying together at home with services connected with the Sunday readings
Guide to Night Prayer for Lent in families is a free ebook from McGrath Institute for Church Life at the University of Notre Dame
---
Resource Hubs
Sesame Street Caring for Each Other video, tips, and activits for the whole family during Covid 19
Resouces for Parents and Families from Catechesis of the Good Shepherd
Our Catholic Faith Loyola Press resource archive
Catholic Current Resources on Marriage and Parenting (USCCB)
Kights of Columbus Family Fully Alive
The Pastoral Center is offering free resource kits to catechetical and pastoral leaders through Easter Sunday when you use the coupon code HOME20
Diocese of Bridgeport shared access to the archive of resources and activities they are maintaining for people during the Covid-19 crisis.
---
Parenting and Dealing with Stress
Catholic Weekly article "Surviving the coronavirus lock down with 10 kids"
CDC Mental Health and Coping article which provides tips on how to cope with stress, reduce stress, take care of mental health and ways to support children during this pandemic.
Finding Order in Disorder blog post from McGrath Institute for Church Life offers a simply parents can use to reclaim a sense of order in the current uncertain times and incorporate prayer in daily life
Fred Rogers Center Support for Helpers During Coronavirus offers reminders and suggestions about what children may need from the adults in their lives during these uncertain times.
25 Ways to "Fight" Fair from USCCB
GEAR Parent Network empowers parents of children with behavioral health needs to build on their family's strengths and to advocate for their family's needs. Resources including a listing of online trainings are available through their website as well as support by phone at 1-800-264-9224
Resources for Supporting Emotional Well-Being During the Covid 19 Pandemic article from Child Trend which explains how we can best support children's emotional well being during this time when routines may be out of wack and when emotions may be overwhelming.
---
Summer Resources
Article from reviews.com on keeping children safe as they play outdoors this summer.
---
Easter
Liturgical Training Publications has a $15 special on their digital download/reproducible Keeping Seasons of Lent and Easter
Videos and Activities for Easter Season from Catechist Cafe, Diocese of Youngstown, Ohio