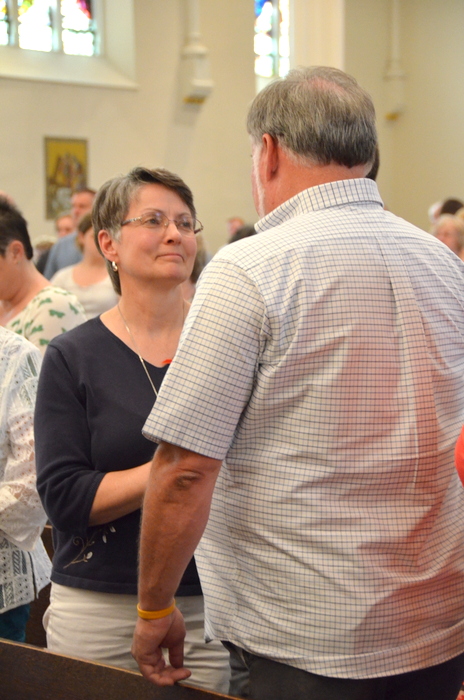 Couples celebrating milestone anniversaries joined hands, as they did on their wedding days, to receive a blessing from the bishop during the Silver & Gold Mass.
"May God the Father give you joy and peace. May God the Son have mercy on you and help you in sickness and in health, in good times and in bad. May God the Holy Spirit always fill your hearts with love. And may almighty God bless you all," the bishop prayed.
Thirty-six couples from as far away as Bangor, Camden, and Millinocket gathered for the Mass, which was celebrated at the Cathedral of the Immaculate Conception in Portland on June 28. Twenty-two of the couples in attendance were married 50 years or more, including one couple celebrating 70 years together.
"Our gathering today is a joyous one as we celebrate the living out of Christian marriage in the couples who have come together here at the Cathedral to give thanks for the blessings received in their marriages and to ask God for the continuing help that his grace brings to strengthen their marriages and help them to grow," the bishop said in his homily.
The bishop said that marriage today faces many challenges, "many of them grounded in a mentality which exalts the individual with little reference to the common good or the absolute importance of the creation of the human person as a social being."
But, he said, "What we celebrate today in honoring these marriage anniversaries is a lived reality. In the lives of those who are gathered for this Mass, and many others throughout our diocese, we acknowledge the abiding goodness of what can happen when an individual chooses to embrace marriage and publicly commit his or her life to another and, in the powerful love of God, cooperates with the Creator in the procreation of new life."
The bishop stressed the importance of family. Quoting the working document for the upcoming special meeting of the Synod of Bishops on Marriage and the Family, the bishop said without family, 'a person is unable to emerge from his individualism, since it is the only place to learn the power of love to sustain life.'
Jo and Tim Doran of Camden, who have been married 25 years, say they hope their marriage is an example to their children, as their parents' marriages have been to them.
"Hopefully, it will be a model for our kids and their relationships. That is really the goal," says Tim Doran.
"Both of our parents are still together, his at 52 years this year, and mine hit 67 this year," says Jo Doran.
Tim says the key to keeping their marriage strong is: "We put each other first all the time."
"Sometimes, you just have to think about the commitment and not take that part of it lightly," adds Jo.
Walter and Regina Dombkowski of Falmouth, who have been married for 50 years, believe communication is one of the keys to a long life together.
"Communication and respect for one another and love, of course," says Regina.
"Talking to one another," adds Walter.
Roena Zink, who has been married to her husband, Ed, for fifty-five years, says she believes the key to a strong marriage is "tenacity, patience, and love."
The couple met when Ed was an Air Force lieutenant stationed in Amarillo Texas, at a base where Roena worked as a civilian. She says, although they came from totally different backgrounds. "I just strongly believe that we were meant to be together and that he (God) brought us together."
Beverly Popadak, who is celebrating 35 years of marriage to her husband, Deacon Dennis Popadak, says God is a constant in their marriage. "I really can't explain it. You just know he's there, in your heart," she says.
She says humor, respect, and cherish are the words that come to mind when she thinks about the keys to marriage.
"I have to say cherish. It's more than just caring about somebody. It's deeper than that," she says.
Carole and Richard Adams say love and communication are essential in a marriage, but for them, you can add one more ingredient: dance. The couple, who split time between Old Orchard Beach and Laguna Beach, first met at a dance back in 1962 and have been dancing ever since.
"We both love to dance. We do it three times, four times a week," says Richard." "Freestyle, cha-cha, salsa, jive, rock n' roll."
Carole says she wanted to attend the Silver & Gold Mass because "I wanted to be blessed. I want 50 more years!"
Following the Mass, many of the couples attended a dinner sponsored by the Knights of Columbus in the hall of St. Pius X Church.