Click to download a poster to share with high school youth (print on legal size paper)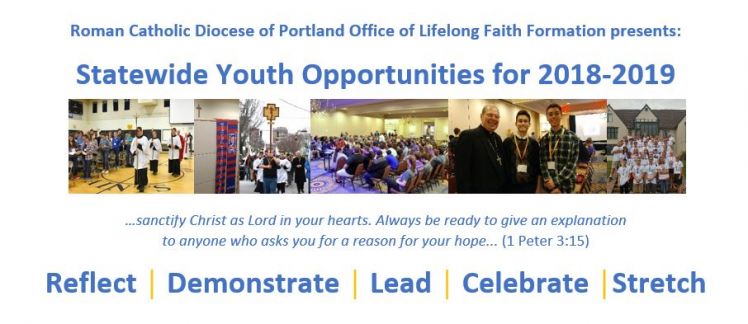 Office of Lifelong Faith Formation is excited to once again organize and host the following opportunities for youth in Maine to grow, share, and express the Catholic faith in 2018-2019.
| | | |
| --- | --- | --- |
| Theme | Scripture | Focus |
| Redemptive Suffering | …sanctify Christ as Lord in your hearts. Always be ready to give an explanation to anyone who asks you for a reason for your hope... (1 Peter 3:15) | Understanding the "why" behind the "what" of the Catholic faith and "how" to live it |
Reflect
Journey—November 9-11, 2018
Theme: Surrender, trust & know Him more
St. Dominic Academy, Auburn
$105/person (Grades 9-12)
Demonstrate
March for Life Youth Pilgrimage—January 17-19, 2019
Bus trip to Washington, D.C.
$182/person (Grades 9-12)
Lead
2019-2020 Catholic Youth Leadership Team Discernment
St. Timothy/Companions on the Journey Awards
Applications and nominations of Juniors and Seniors due March 19, 2019
Celebrate
Convention—April 26-28, 2019
Featuring Katie Prejean McGrady
Holiday Inn by the Bay, Portland
$265/person
Stretch
Empowering Young People In Christ (E.P.I.C.) Leadership Training
Summer 2019, Date and Place TBD
Estimated fee $250-275/person (youth going into Grades 10-12)
Watch the diocesan website and communications from the Office of Lifelong Faith Formation for participation details!