"Communication is an art learned in moments of peace in order to be practiced in moments of difficulty." (Amoris Laetitia n. 234)
The Office of Communications works to spread the good news of Jesus and to bring our parish communities closer together. Using traditional and social media, the office, led by Communications Director Dave Guthro, shares stories of faith and service and showcases the ministries, programs, and events offered by the diocese, parishes, and schools.
At a time when we are not able to gather as a community, these efforts are more important than ever. It is through the Office of Communications that the news of COVID-19 precautionary measures and, sadly, cancellations was shared throughout the diocese. However, it was also through the efforts of the office that we were assured that the work of the Church goes on, just in unexpected ways. On the Diocese of Portland's website, you will find, for instance, a list of live-streamed Masses and drive-thru confessions, as well as opportunities for eucharistic adoration, resources to help you further your faith while at home, and information about parish food pantries and soup kitchens still serving the public through take-out meals.
The Office of Communications also partners with parishes and schools to maximize their communications outreach and played a vital role in assisting some parishes as they moved to a greater online presence, adding live-streamed Masses and video chats.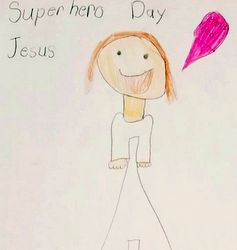 It also works to promote and inform us about the ministries and programs of our parishes and schools. Recently, the office shared our schools' distance learning success story and lifted our spirits with images from Maine Catholic School Spirit Week, which included a salute to superheroes in our midst, such as doctors, nurses, first responders and Jesus himself.
The office also maintains the diocese's Twitter and Facebook pages, and it shares the good news of Christ and the works of the Church with secular media.
Pope Francis has said that "communication has the power to build bridges, to enable encounter and inclusion," and that is what the Office of Communications, supported by your gifts to the Catholic Appeal, seeks to do.
Connect with the Church in Maine on social media:
www.facebook.com/PortlandDiocese