Bishop Deeley Celebrates St. Patrick's Day Mass
Image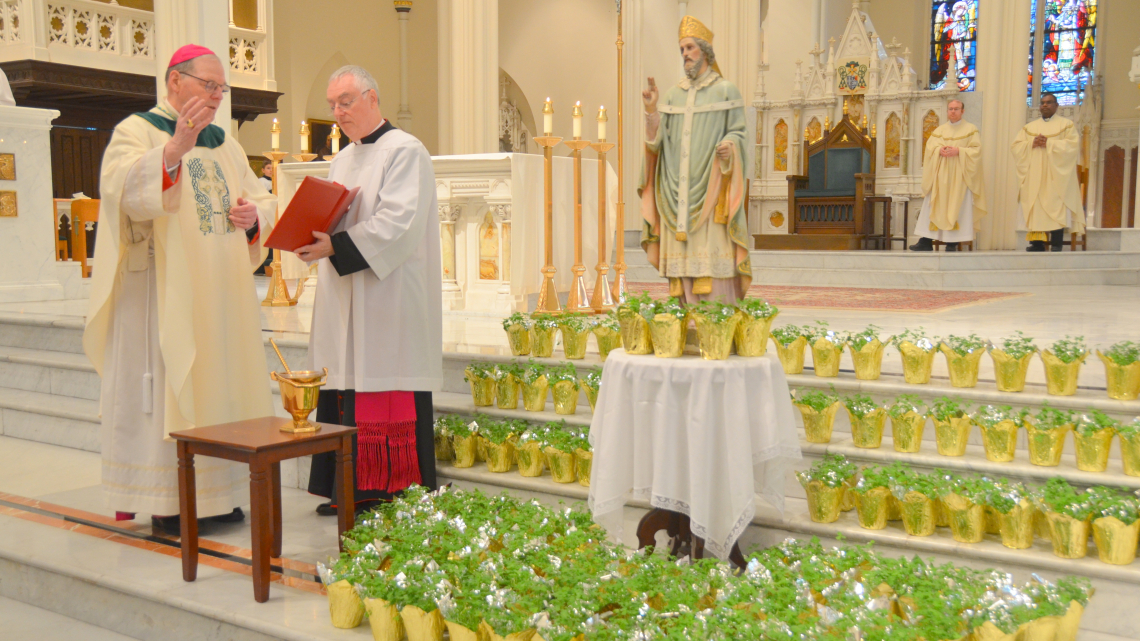 "Live like St. Patrick, filled with the love of God he found in Jesus Christ
and anxious to bring the Good News to others, even those who are strangers to us."
PORTLAND---With hands outstretched over hundreds of potted shamrocks in front of the sanctuary of the Cathedral of the Immaculate Conception in Portland, Bishop Robert Deeley prayed.
"We ask you to bless these shamrocks as signs of your loving goodness and with gratitude for the ancestral faith of the people of Ireland. Through the intercession of St. Patrick, may we always respond to God's call to generously share our faith with others and so go forth to build up the Church."
With eyes smiling, befitting the occasion, people of all ages came to the front of the cathedral to receive a shamrock from the bishop, symbols of St. Patrick's mission of bringing the word of God to others and our own call to do the same. It is believed that St. Patrick used the plant's three leaves to explain the Holy Trinity to the people of Ireland. The distribution was part of the traditional St. Patrick's Day Mass, celebrated by Bishop Deeley, on Thursday afternoon, March 17 (many pictures below). 
While St. Patrick's Day is known for shamrocks, the wearing of the color green, and parades and festivities, the bishop noted St. Patrick is also one of the secondary patrons of the diocese, along with St. Jean Baptiste, in recognition of the early influence of the Irish and French in the founding of the Catholic Church in Maine. In addition, St. Patrick Church in Newcastle was the first church in America to be named for St. Patrick, dedicated over 200 years ago.
Although he is the patron saint of Ireland, St. Patrick was actually born in Roman Britain in the fifth century. When he was a teenager, he was captured by Irish raiders and taken to Ireland as a slave to herd and tend sheep. It was during this time, that he discovered his own faith, finding strength through his relationship with God.
"From that experience his life was changed. He tells us all this in his work which he entitles Confession. In this wonderful work, St. Patrick testifies in faith to the ways in which he has seen God working in his life," said Bishop Deeley, whose own parents immigrated to the U.S. from County Galway, Ireland. "In his newfound dedication to prayer, he experienced a conversion of life. As he came to know God, Patrick knew himself as a man who had need of God's forgiveness."
Eventually, having escaped from his captivity, St. Patrick returned home to Britain. Once at home with his family he prayed and reflected on what had happened in his life and felt himself called to become a priest.
"In all of this conversion of his life, he also knew that he was called to forgive his captors and return to Ireland to serve them, the very people that had captured him. He knew in his heart that it was his responsibility to preach the Gospel to them," said the bishop. "Though he had suffered at the hands of others, he sought to place himself in God's hands and overcome the evil he had suffered with the good of the message of the Gospel he was sent to proclaim. He had encountered Jesus Christ, his life was made new, and, in his joy, he wanted to bring the Good News he had heard to others."
On St. Patrick's Day, it is especially easy to see how his life showed the Gospel in action.
"He saw the face of Christ in those who had enslaved him. He saw that these people, too, were created in the same image and likeness of God in which he had been created," said the bishop. "He wanted to devote his life to help the Gospel come alive in their hearts."
St. Patrick's story is a reminder that Lent, too, is about conversion of life.
"It is a time when we renew ourselves in our appreciation of the love of God we know in Jesus Christ, but it is not something that we hold onto for ourselves. We are called to bring that message to others and to care for each other, to seek the face of Christ, even in the stranger," said the bishop. "Use these days of Lent well. Spend some time with Jesus, the one who can truly make a difference in our lives. When we do, we come to know God's love, and the need to show that love to others."
Dinners and events commemorating St. Patrick were held in Bangor and Lyman last weekend with additional events scheduled for Portland, Houlton, Newcastle, Machias, Windham, South Berwick, Wells, Scarborough, and Bar Harbor this weekend.
"Live like St. Patrick, filled with the love of God he found in Jesus Christ," said the bishop, "and anxious to bring the Good News to others, even those who are strangers to us."