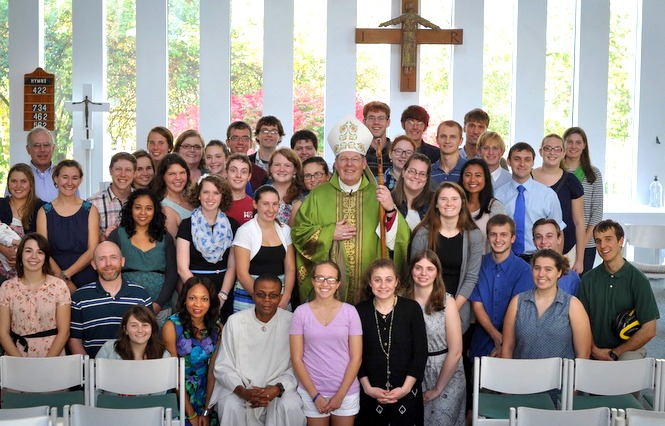 The Office of Campus Ministry oversees all Catholic campus ministry to higher education (students, administration, faculty and staff) at the public and private residential colleges and universities in the Diocese of Portland.
The ministry has various forms: a "center" or "club" or "council" of students, with a campus minister and/or priest chaplain. On some campuses, a shift is underway, whereby campus ministry is being entrusted to a local parish and pastor ("parish-based" ministry).
The Diocesan Coordinator is Rev. Wilfred Labbe, pastor of the diocesan university parish, who maintains an office at the University of Maine, Orono at Our Lady of Wisdom University Parish / Newman Center, 83 College Avenue.
Tel: 207-866-2155 Fax: 207-866-4543 E-mail: wilfred.labbe@umit.maine.edu
Website: http://www.umaine.edu/newman/
Current Catholic Campus Ministers in Maine include:
Bates College: Deacon Frank Daggett
Bowdoin College: Joy Segovia
St Joseph's College: Kathryn Cody
University of New England: Catherine Gallerizzo, Good Shepherd Parish, Saco
University of Maine - Farmington: Daja Gombojav, St Joseph Parish, Farmington
University of Maine - Orono: Audrey Aylmer, Parish of the Resurrection of the Lord, Old Town
University of Maine - Gorham: in transition
University of Southern Maine: in transition