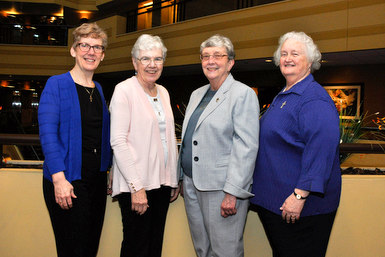 The Sisters of Mercy Northeast Community recently installed a new leadership team. During a ceremony rich in prayer, blessing, and song, Sister Maureen Mitchell, RSM, was installed as president of the community, Sister Peg Sullivan, RSM, as vice president, and Sister Ruth Kelly, RSM, and Sister Patricia Moriarty, RSM, as team members. The installation ceremony was held at the University of Saint Joseph's Connor Chapel in West Hartford, Connecticut.
A passion for service, which the sisters refer to as their fourth vow, infused the installation ritual, as did the sisters' mission of working for change on behalf of women, immigrants, and the climate, and their commitment to seek an end to racism and violence.
The Sisters of Mercy Northeast Community is comprised of more than 500 Sisters of Mercy, 400 Mercy Associates, and two Companions in Mercy. They serve in New England and Albany, N.Y., in ministries related to education, social services, and pastoral care. The Sisters of Mercy have been in the Diocese of Portland since 1865, founding numerous local institutions, including Saint Joseph's College in Standish and Mercy Hospital in Portland.
Meet the Northeast Community Leadership Team
Sister Maureen Mitchell, president
"I feel the inner call from the Spirit, that Community leadership is where I can best use my gifts and talents at this point of my ministry...I have heard the call of the community, which is strong."
Sister Maureen is the community's former vice president. She also previously served as a clinical pastoral education (CPE) supervisor for the VA New York Harbor Health Care System, where she taught seminarians and military chaplains how to spiritually accompany veterans.
Sister Maureen earned her certification as a CPE supervisor through the Association of Clinical Pastoral Education (ACPE). Her DMin degree is from Andover Newton Theological School, her MA is from the University of Connecticut, and her BA is from Salve Regina University.
Sister Peg Sullivan, vice president
"I am honored to use my skills and experience in service to the Sisters of Mercy, as we move together into the future and continue to respond to the needs of today's world."
Sister Peg is a former parish administrator and Catholic Charities leader in Albany, New York. She holds an MBA in church management from the Graduate Theological Foundation, an MS from Rensselaer Polytechnic Institute, a BA from College of St. Rose in Albany, and an associate degree from Maria College in Albany.
Sister Ruth Kelly, team member
"I accepted the leadership nomination because I felt I was being called…I firmly believe that the world looks to women religious as models of service to others, as amazing women, each one committed for a lifetime to living the Gospel."
Sister Ruth is s a former associate professor of nursing at the University of Saint Joseph in West Hartford, Connecticut. She earned a PhD in nursing from Widener University, an MSN from the University of Rhode Island, a BSN from the University of Detroit Mercy, and a nursing diploma is from Saint Francis Hospital and Medical Center.
Sister Patricia "Patty" Moriarty, team member
"To be in Community leadership today, one must be hopeful as well as committed to the future of our life as Sisters of Mercy…Society and the Church need women religious witnessing to the Gospel, and being a presence of compassion and justice, now more than ever."
Sister Patty is starting her second term of leadership in the Northeast Community. She holds a certificate from the Institute of Religious Formation at Catholic Theological Union, an MA from the University of Saint Joseph, and a BS from Marist College. In addition, she is a past participant in the Mercy Leadership Development Program, which develops the next generation of leaders among women religious.
About the Sisters of Mercy
The Sisters of Mercy are an international community of Roman Catholic women who have dedicated their lives to God through vows of poverty, chastity, obedience, and service. For more than 180 years, motivated by the Gospel of Jesus and inspired by the spirit of their founder, Catherine McAuley, the Sisters of Mercy have responded to the continually changing needs of the times.
Through prayer and service, the sisters address the causes and effects of violence, racism, degradation of the Earth, and injustice to women and immigrants. The sisters sponsor and serve in more than 200 organizations that work with those in need in the United States, Central and South America, Jamaica, Guam, and the Philippines. Learn more about the Sisters of Mercy at sistersofmercy.org.
Photo:
(L to R): Sister Patty Moriarty, Sister Maureen Mitchell, Sister Peg Sullivan, and Sister Ruth Kelly.
Photo Credit: Catherine Walsh/Sisters of Mercy.