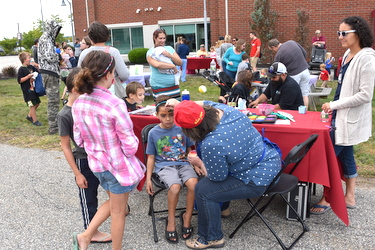 New moms and dads, those expecting, and those with fond memories were among the many who gathered on Saturday, September 8, for a family fun day and open house at Mercy Hospital's Fore River campus. The day was held to celebrate 100 years of welcoming babies and caring for children at Mercy Hospital, which is celebrating its centennial. The hospital was founded by the Sisters of Mercy in 1918.
The family fun day featured face painting, kids' games and activities, car seat safety demonstrations, information tables, and tours of The Birthplace.
Among those joining in the fun and taking a look around were members of the Benezra family. Orie Benezra, who will turn 10 on September 22, was the first baby to be born at The Birthplace when it moved from Mercy's State Street campus to the new Fore River hospital in 2008.
"I wanted to commemorate Mercy Hospital because I feel fondly towards Mercy Hospital, and I wanted Orie to see where he came out," said Karen Benezra, Orie's mom.
Karen, who also did her osteopathic internship at Mercy, was presented with flowers by the hospital, and the family took the opportunity to show Orie the place where he was born and to meet the doctor who delivered him.
Like the Benezras, many other families in attendance said they came to the celebration because of a fondness they have for the hospital.
"I love the hospital. They're just so family oriented that I love coming to all of these celebrations and stuff they have," said Molly McCutcheon of Gray, who brought her six-week-old son, Grady, with her.
"We chose Mercy because we felt it was more like a birth center than a hospital, a little more relaxed and easygoing, not all the hustle and bustle of a big hospital," said Caitlin Gagne, of South Portland, who attended with husband Joe and three-month-old Ella. "It was great. It was like a hotel, and the nurses were amazing!"
"It has a great reputation. Everything I heard was really good. It's a beautiful hospital," said Elisha Anderson of Windham, who is pregnant with her second son, due October 8. "It's nice to get an eye on it, get used to it, get comfortable with the layout."
Nurses and staff members, both present and past, also attended the celebration, taking advantage of the opportunity to reconnect with families they once served, as well as with some former colleagues.
"I was grateful and still am grateful every day that I became a nurse and worked here. I made lifelong friends here," said Rosie Skillen, who worked in the Birthplace for 40 years. "I have a wonderful family, but professionally, this is the best I could possibly dream of."
"Sometimes, it's hard to put into words, but it really is true. Like some of the ads say, when you walk through the doors, you can feel the difference. The people know each other. They talk to each other. They always have a smile, and they really care about the people that they take care of," said Patty Wallace, who worked as a nurse for 35 years and is now a chaplain at the hospital.
The Birthplace at Mercy Hospital aims to make giving birth a special family event. Its many features include spacious private rooms with rocking chairs, jacuzzis, and day beds for dads or birth partners.
"We are truly an LDRP, which means labor, delivery, recovery, and postpartum all in one room. It's a holistic, low intervention, low-key philosophy, but we have all the bells and whistles if need be," said Linda Higgins, RN, who has worked at Mercy since 1984 and is a lactation consultant. "I think the moms are looking for a unique experience, and they want some autonomy and some choices, and I'm really proud to say we can deliver that."
Saturday's Family Fun Day was just one in a series of events being held throughout the year to commemorate Mercy's centennial and to launch the hospital's next century of care.
The celebration coincides with the "One Mercy" capital campaign, which will allow the hospital to go forward with its plans to move from State Street and consolidate its services and operations on its Fore River campus.