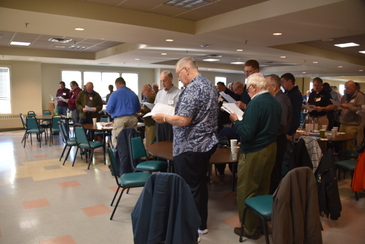 "God is there, everywhere we go, but are we with God?"
That is the question posed by Deacon Ralph Poyo to 135 men gathered at the Maine Catholic Men's Conference in Scarborough on Saturday, October 19.
"Are we really with God? Is there a separation between us? And what does that look like? Are we even aware of it?" he asked the men.
Deacon Poyo, founder of the Ohio-based apostolate New Evangelization Ministries, was the keynote speaker at the 9th annual conference, held at St. Maximilian Kolbe Church.
This year's theme was "Be Strong and Courageous," words Deacon Poyo and the other speakers encouraged the men to embrace, despite the pressures of the world today.
"We're afraid to engage the culture because the culture is very much anti-Christ in profound ways," Deacon Poyo said. "Unless we wake up and recognize what's really at stake, we're just going to continue to follow the current of the culture, and we're going to continue to remain exactly the same."
He challenged the men to lead by example.
"Do you really believe that Jesus died and rose from the dead? Yes or no? Then, tell me, how does it change your life?" he said. "You were made for the light. You were made for truth. You were made for honor and integrity."
The conference featured a morning Mass celebrated by Bishop Robert Deeley, who expressed hope the gathering would help the men draw closer to the Lord. He told the men that faith begins not with a set of teachings but with a personal relationship with Christ.
"It really begins with each of us. It begins with our admission that we are not the answer to the questions we ask about life. That is why the disciples were following Jesus. There was something about him that attracted them. And that is the beginning of faith," the bishop said. "We cannot solve the question of our existence if we depend on ourselves. The Gospel shows us the way because it shows us Jesus, light of the world, Truth itself."
The bishop offered some ways for the men to grow as disciples of Christ – through prayer and time spent in adoration, through the celebration of the Eucharist, through reading Scripture, particularly the Gospels, by repenting and participating in the sacrament of reconciliation, and through fraternity.
"Spend time with each other," he said. "You, too, will come to know what the disciples came to know. And Jesus will change your life. You will want to be like him. You will want to make him known. Your life will become the testimony that proclaims that Jesus is Lord. He will show you the way."
One way that many men in the diocese are spending time together and supporting one another is through "That is Man is You," a men's program offered Saturday morning at several churches across the state.
John Hebert, a member of Good Shepherd Parish in Saco, spoke about his initial hesitation about joining and actively participating in the group there, but he then shared how it ended up changing his life.
"The men's group was a blessing in my life that I desperately needed more than I ever realized. It helped me understand what God truly wants for me and expects of me," he said. "It surprises me how much I have grown and learned by stepping out of my comfort zone."
Many of the men in attendance have been involved in men's groups, including Ken Greenleaf, one of the conference organizers.
"The reason why we get together is to become alive in Christ," he said. "We can't do it on our own. We have to do it as a group, and that's why we need these men's groups to reenergize ourselves and to become Christ's holy men."
Attendance at this year's conference increased more than 60% from last year, with many of the men saying they try to come every year because of what they get out of it.
"I've been doing men's conferences and retreats my entire life. This is the ninth one and the ninth one that I've attended, and I always try to bring my children with me," said Bill Watkin from Jackman. "It's just a good shot in the arm. It's just something that breathes life back into me."
"This is an opportunity for Catholic brothers and Christian brothers to get together, especially even for Knights of Columbus," said Mark Bourgoin, state deputy of the Knights. "What better way to share in your Catholic faith, share in camaraderie, share in everything that is going on today."
"I've gone to every one we've had in the diocese here. I look forward to it every year," said Denis Lafreniere, Sr., from Old Orchard Beach. "We're all here for the same reason. We're all on the same track, so it's very enriching."
"It gives us a chance to gather with like-minded men to better equip ourselves to grow as steadfast and dedicated men of our faith, make us stronger Catholic leaders," said Michael Giroux, state advocate for the Knights. "As Catholic men, our daily challenge is to be courageous and live our faith in our everyday lives. The Knights' focus is on putting our faith into action, letting people know who we are by what we do. One of our books in our kiosk collection is called Into the Breach, and it exhorts men to take back our spiritual lives and that of our families. So, conferences like this one give us more tools to meet our daily challenges. It strengthens us by the sharing of ourselves with other men."
Throughout the conference, the men had opportunities to participate in the sacrament of reconciliation, and at the conclusion, they joined together for a Holy Hour with eucharistic adoration.
Presentations during the day were also offered by Mark Bourgoin, by Deacon Mark Tuttle, who gave a witness talk, and by Father Jack Dickinson, judicial vicar for the diocese, who spoke about the gifts of marriage.
"Marriage helps us to assist each other and our children to be truly free, free from sin, free from false perceptions. And marriage helps us to be missionaries: in our parishes, in our workplaces, in our communities, helping to transform the culture to see that God is alive and important," he said.
Father Dickinson used the example of the Holy Family, saying Mary and Joseph show us not just an ideal but a reality, because they, too, faced struggles in their lives but still put their trust in God.
"If you put God first, your marriage will be great, and that is what the Holy Family shows us," he said. "We see in marriage the action of Jesus. He invades the souls of husband and wife and transforms their very lives through marriage."
The date is already set for the 10th annual Catholic Men's Conference. It will be held October 17, 2020, with keynote speaker Father Larry Richards.