Online registration is now closed so that we can begin the immediate planning for Saturday

You are still welcomed to join us by registering at the door. The door registration is $60.00

Feel free to email Fr. Daniel Greenleaf at daniel.greenleaf@portlanddiocese.org

if you are planning on coming so that he can get an idea of how many will plan to register at the door so that we can also plan for food.

Cathedral of the Immaculate Conception, Portland
October 28, 2017

Conference begins at 8:30 AM and
concludes with the 4:00 PM Mass at the Cathedral
with Bishop Robert Deeley

Doors open at 7:30 AM

Cost is $50.00 per person if registered now.
$60.00 per person to register at the door.

Special Price of $30.00 for teens and young adults
ages 16-22 years old.
Those under the age of 18
must be accompanied by an adult.
---
Join us for the 2017 Men's Conference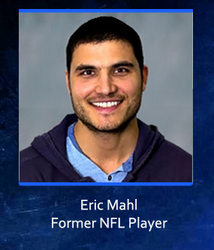 All Catholic men ages 16 and older are invited to the sixth annual Maine Catholic Men's Conference, which will be held Saturday, October 28, 2017 at the Cathedral of the Immaculate Conception, 307 Congress Street in Portland. The conference will feature a closing Mass celebrated by Bishop Robert P. Deeley, and a keynote address by Eric Mahl.
Mahl played professional football for the Cleveland Browns and the New York Jets, but he longed to live a life centered on his faith. He says he didn't have the courage to step away from the sport, so he prayed that he would be cut. In 2005, only 10 minutes after praying before the Blessed Sacrament, he got his wish. He says, even though it was what he wanted, the news still brought him to tears. Soon, however, he says he felt a tremendous sense of freedom. He got a job that required less of his time so that he can devote more of it to the Lord and spreading the message of Christ's divine mercy.
In addition to Mahl's address, the men's conference will also feature a talk from William Martel, who will provide some insight on evangelization in the workplace, and from Father Steven Cartwright, parochial vicar of Prince of Peace Parish, Lewiston, who will speak about eucharistic adoration and his vocation to the priesthood.