Maine Catholic Cemeteries Weekly Reflections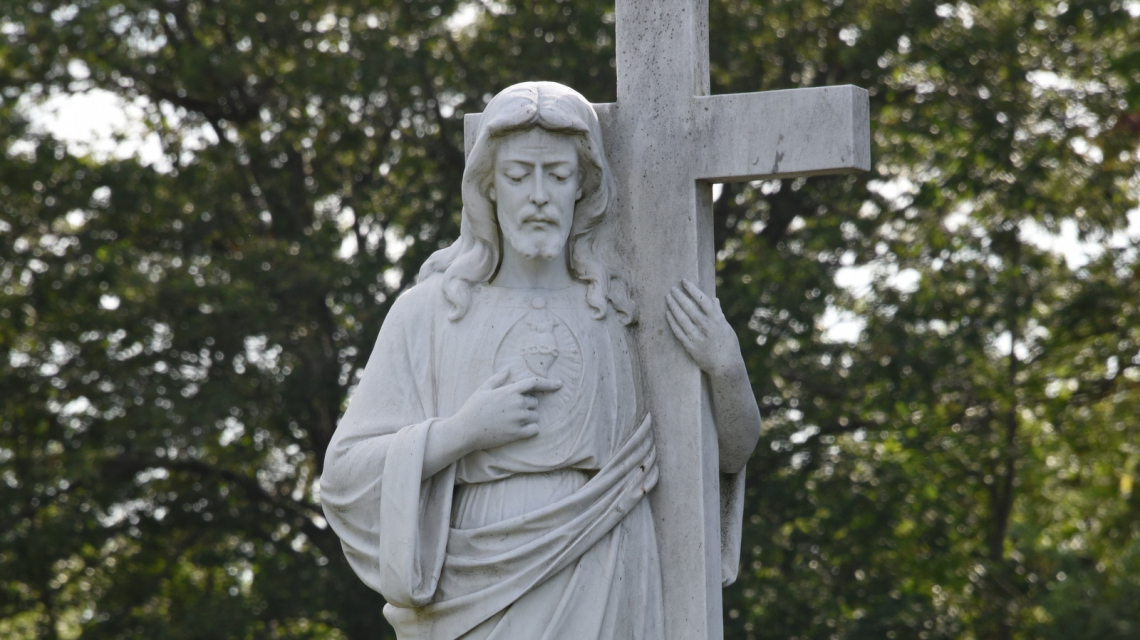 "If you love me."
May 15, 2023
Those who are in a tenuous relationship will typically seek reassurance of the other's love by some variation of the statement "If you love me, you will…". We can fill in the blank with any number of things that would "prove" one's love for the other. We seek signs that will reassure us of the other's commitment to the relationship, revealing an underlying insecurity in our own personhood.
In this Sunday's Gospel reading, Jesus utters this very statement: "If you love me, you will keep my commandments." Being God, Jesus does not lack anything. He is not insecure about whether or not he is loved. So what is it about following the commandments that prove our love for the Lord? While testing love between two people places the focus on me, following God's commandments places one's focus, one's attention on the other.
"For whatever you have done for the least of these, you have done unto me." What greater sign of our love for God, than to love those God will place in our path this day.
"Eye has not seen"
May 8, 2023
How can we begin to appreciate, much less describe what heaven will be like? St. Paul tells us in his letter to the Corinthians that "eye has not seen, nor ear heard, and no mind has imagined what God has prepared for those who love him." There are simply no words in our human language to describe what awaits us. And yet, this weekend's Gospel reading tell us that God has prepared this indescribable home for each of us. Not us in general. Each one of us individually! Being blessed to live in New England, we are able to witness the beauty of God's creation all around us. From mountains that touch the sky to the rocky coast, how could anything be more beautiful?! Any yet, this will all pale in comparison to what awaits us. May we look forward in eager anticipation to hearing the words "welcome home," there to behold the unimaginable beauty God has prepared for those who love him.
"The Voice of the Shepherd"
May 1, 2023
Those listening to Peter in the days following Jesus' resurrection must have recognized a familiar "voice" as he spoke. Because they had immersed themselves in the Word of God, hearing him speak to them through the pages of the Old Testament, they had become attuned to the voice of the Shepherd.
A dozen shepherds, gathered on common grazing ground, can call to their particular herd knowing his sheep will respond to his voice. This response comes because the sheep have spent countless hours with the shepherd. They have placed their complete trust in him for their sustenance, their safety, their very lives.
The Shepherd continues to call out to his sheep today. Those who have immersed themselves in the Scriptures, who have spent countless hours in his presence, know his voice. They place their complete trust in him for their sustenance, their safety, their very lives.
"With that, their eyes were opened"
April 24, 2023
The intimacy of a candlelit meal offers opportunities to share what is most on our hearts, most on our minds. During the course of the Last Supper, Jesus sat in the warm glow of candlelight, sharing with those closest to him his very heart and opening their eyes and minds to a new reality where bread, blessed and broken, would become something far greater. Three days later, on the evening of his resurrection, Jesus would once again break and bless bread under the glow of candlelight. Once again, he would open the eyes and minds of his followers to a new reality, that suffering and death could not hold him. Today, Jesus bids us to share an intimate meal with him, to gather around the glow of a candlelit altar where he will open our eyes, open our minds and hearts to what is most on his heart.
"For the sake of His sorrowful passion, have mercy on us, and on the whole world"
April 16, 2023
This Sunday, we celebrated God's great gift of Divine Mercy, a gift we didn't deserve, for "while we were still sinners, Christ died for us" (Rm 5:8). In his messages to St. Faustina, Jesus revealed the depths of the mercy with which he wants to flood the earth if only we would ask for it. May we pray for the ocean of God's mercy to come down upon our world, our families, and ourselves as we pray "for the sake of his sorrowful passion, have mercy on us, and on the whole world."
"Over Death, Victorious"
April 9, 2023
For this purpose Christ was revealed: to destroy all the works of the Evil One, Christ in us has overcome, so with gladness we sing and welcome His kingdom in.
Over sin He has conquered, Hallelujah, He has conquered Over death, victorious, Hallelujah, victorious Over sickness He has triumphed, Hallelujah, He has triumphed Jesus reigns over all!
In the name of Jesus we stand. By the power of His blood we now claim this ground Satan has no authority here. Powers of darkness must flee For Christ has the victory
Holy Week
April 2, 2023
With this weekend's celebration of Palm Sunday, we have entered into the holiest week of the year, a week of paradoxes, a week that will see all the forces of darkness being arrayed against the Light of the World, a week in which the stuff of earth will become the Bread of Angels, a week in which Innocence will bear the weight of our guilt, a week in which the Author of Life will be put to death. May we accompany Our Lord and Blessed Mother each day this week, pondering the events that purchased our freedom.
"Jesus Wept"
March 26, 2023
This weekend's readings tell of the death of Jesus' friend, Lazarus. The mystery of suffering and death has caused many to question whether we really do have a compassionate and loving God. The truth is, we will never fully understand why God allows his children to experience pain, suffering, and ultimately, death. Even Jesus, the Eternal Son of God, was to experience the loss of his earthly father, Joseph, as well his close friend that we read about this weekend. While sickness and death remain a mystery, we do see how the heart of God was moved to compassion as we read that Jesus wept at his friend's grave. The root of the word "compassion" means "to suffer with". As we journey through the remaining days of Lent and years of our lives, may we not miss an opportunity to walk along side the sick and suffering with the very heart of our loving and compassionate God.
"Live in the Light"
March 19, 2023
This weekend's readings make several references to light, a theme that Jesus emphasizes with his healing of a blind man, allowing him to not only see what is illuminated by the sun but also the Son of God, the Light of the World, who stood before him. Given our weakened human nature, we are often inclined to operate in the shadows that conceal our less-than-Godly tendencies. May this season of Lent be a time for us to step out of the shadows so that we may live in the brightness of God's light and love.
"I will be standing there in front of you."
March 13, 2023
Moses had the blessing and privilege of conversing with God as he led the Hebrew people out of Egypt and throughout the 40 years of pilgrimage on the way to the Promised Land. All the while, God was "standing there in front", providing guidance and provision for the journey. We, too, have the blessing and privilege of conversing with God each day. We, too, need guidance and provision for our journey on the way to the Promised Land of heaven. As with Moses, God stands before us, waiting to enter into conversation. Throughout this Lenten journey and the ongoing journey of our lives, may we spend time in conversation with the Lord who stands before us.
"Go Forth"
March 4, 2023
It is fair to assume that Abraham, a wealthy chieftain, led a comfortable life prior to God's call. In the midst of that life, God bade him to "go forth." Abram's response to God's call brought unimaginable blessings not only to him and his family but, also, to us 4,000 years later. Our human inclination may be to remain comfortable in the lives we have created for ourselves. And while God loves us as we are, he is never content to leave us there. His gentle call, when heeded, will move us from our current life towards the promised land of his life and love. Lent is a good time for us to respond to God's call to move, to leave our former life behind to travel to the place he will show us. Who knows what blessings await us and the generations that will come after us!
"Stuck in the Middle"
Feburary 28, 2023
As we enter the 1st full week of Lent, we likely find ourselves somewhere in between the person Jesus created us to be and the reality that we have succumbed to the same temptations that Adam and Eve succumbed to in yesterday's first reading and those presented to Jesus in the Gospel. Perhaps we have tried, unsuccessfully, to dig our way out of the holes we made for ourselves and feel "stuck" in our current situation. As we come face to face with our weaknesses this season of Lent, may we lean on the strength that comes from our Savior, "For we do not have a high priest who is unable to sympathize with our weaknesses, but we have one who in every respect has been tested as we are, yet without sin. Let us then approach God's throne of grace with confidence, so that we may receive mercy and find grace to help us in our time of need" Heb 4:15-16.
"Be Holy"
February 21, 2023
The call to personal holiness is a theme repeated often throughout the Scriptures and is the theme of this weekend's readings. "Be holy, for I, the Lord, your God, am holy" Lev. 19:1. "Be perfect, as your heavenly father is perfect" Mt 5:48.
The liturgical season of Lent that begins tomorrow is a gift given to assist us in doing a good spiritual "checkup." It is a time to reflect on the ways that we have both responded to, and fallen short of, the call to holiness. Thankfully, God has given us all the tools we need to not only assess where we are in our spiritual journey but to also make the necessary corrections that will bring us closer to the perfection to which he calls us. Reception of the sacraments, along with the traditional practices of prayer, fasting, and almsgiving throughout these 40 days, help us to achieve what we would not otherwise be able to attain under our own efforts. May we all grow in holiness this Lent.
"Choose Wisely"
February 13, 2023
This weekend's readings point to the power God has placed in our hands, power that comes in the freedom to determine everything from what we will have for lunch to where we will spend eternity. The prophet Sirach tells us: "Before man are life and death, good and evil, whichever he chooses shall be given him."
While we are indeed free to choose, what we choose determines if we will be truly free afterwards. While we are free to live on unhealthy foods and not exercise, we will soon not be free to easily get up from the couch.
Freedom exercised properly will lead us to life, to the good, to the true, and to the beautiful - to God himself. As the Knight in Indiana Jones and The Last Crusade cautions: "Choose wisely."
"This little light of mine...."
February 6, 2023
It is said that at night a candle flame can be seen from 1.6 miles away. 1.6 miles! That one tiny flame stands as a witness to the world when darkness seems to be all around. The readings for this Sunday emphasize that we are each called to be light. Isaiah describes this light as emanating from the good we do: clothing the naked, feeding the hungry, sheltering the homeless and oppressed. Jesus likens the good we do to being a lampstand being placed in the center of a home and giving light throughout. Be it for those in our homes or even 1.6 miles away, may generously giving of our time, talent, and treasure be a constant refrain of "This little light of mine, I'm gonna let it shine."
In Conversation with Jesus
January 23, 2023
Well-known musicians and comedians have very busy itineraries that keep them on the road for days or weeks at a time. They likely treasure the "off days" when they are able to retreat and converse with family or friends outside of the limelight. Conversation with those you love, and who love you, is always more intimate, refreshing, and healing.
As an up-and-coming Jewish rabbi with the power to preach and heal as never seen before, Jesus must have experienced many of the same pressures of a busy public schedule. He too must have enjoyed the times when, exhausted, he had moments to relax and enjoy intimate conversations with his apostles and Father.
Do you ever wonder what those conversations must have been like? Can you imagine the privilege the apostles had in having private conversations with the Lord of the Universe? Wouldn't it have been amazing to hear Jesus' conversations with his Father?
We may not be rock stars in the midst of a 30-city tour, but we all have days that are filled with various tasks, activities that leave us needing to relax and recharge with those who know us best. Of course, no one knows our mind and heart better than the same Lord of the Universe who walked our dusty streets 2,000 years ago. Jesus is as eager to spend time in seclusion with us today as he was with his apostles and Father.
May we receive the healing and refreshment found in spending time conversing with Jesus each day.
"As the deer longs for running streams, so my soul is thirsting for you, my God" Ps 42.
The Ripple Effect
January 15, 2023
"The Ripple Effect" As a child, you may have seen how a pebble, dropped onto the surface of a calm lake, produced a rapidly expanding series of ripples that, though unseen, eventually reach the furthest shore. A recent adaptation of A Christmas Carol, the movie titled Spirited, adopted this phenomenon as the theme of its production. It showcases how our bad actions produce a ripple effect that emanates from one person to another, exponentially multiplying the effect of the bad deed or decision. One offended person can quickly turn into a wave of angry and hurt people. Thankfully, the reverse can be true. One changed heart resulting from an act of kindness can multiply into two, then into four, then into eight blessed and changed hearts, creating a tsunami for good. So, throw a pebble of good into the lake today and watch the ripple effect.
Following the Celestial Light
January 9, 2023
This past weekend's Gospel tells of the three wise men from the East. As learned men, they were knowledgeable about the movement of heavenly bodies and would have studied the prophets of the West. And from their royal palaces with vaulted ceilings, they would have been accustomed to members of their kingdom bowing upon entering their presence.
Having followed the celestial light they believed would lead them to the birth of a new ruler, they found themselves in the strange but altogether appropriate situation of having to lower themselves before another. Far from the comforts of their royal palaces and lavish courts, they had to bow, to bend their egos, in order to enter the confines of the cave and the presence of THE King, for all who enter the presence of the Almighty must bend.
Easily missed in this story is the fact that after having worshiped the child, "they departed for their country via another way." This should be true of every Christian who, having encountered Christ, never goes back the way he came.
"Hiding in Plain Sight"
January 2, 2023
In the days following our Christmas readings at mass, we hear John the Baptist answering the religious authorities as to who he is and is not. John points out that he is not the messiah or a prophet, but insinuates the messiah is, as it were, hiding in plain sight saying, "there is one among you whom you do not recognize…". God is sometimes found where you would least expect to find him.
No one expected the Lord of all creation to be born in cave. No one expected the messiah to come from Nazareth. No one expected that the King of the Jews would mount the throne of a cross. God is sometimes found where you would least expect to find him.
Aside from Mass, how many times a day, a month, or a year have we been unaware that there is "one among us whom we do not recognize?" As the Letter to the Hebrews says: "Do not neglect hospitality, for through it some have unknowingly entertained angels." 13:2
All Aglow
December 26, 2022
Throughout the four weeks of Advent, we prayed and sang, "O Come, Divine Messiah". Now, here we are, still aglow with the celebration of Jesus' birth on Sunday when the Church presents us with the martyrdom of St. Stephen and the Feast of the Holy Innocents in the days immediately following. Might we not have been allowed to remain in the presence of the Divine Babe for just a while longer? Why are we transported right from the heavenly sounds of angelic choirs singing "Gloria In Excelsis Deo" to sounds of angry mobs and "a voice of weeping, and great mourning"?
It is clear from this week's readings that we are not meant to linger long at the manger in which our Lord was laid. Bishop Sheen notes that "Jesus was the only person in history that was born to die" and throughout the years of his public ministry would bid us follow in his footsteps. While we are not likely to face the same fate as St. Stephen, we are called many times each day to die to ourselves and those things which cast a shadow over the life of God in us. Like Stephen, and all those who have died as witnesses to our Faith, we are able to do so only because of the grace that God pours out upon us, grace that results from birth, life, and death of Jesus.
As we proceed through the Christmas season, may we be open and respond to the grace that flows from the Child who bids us to follow.
Promises Made, Promises Kept
December 19, 2022
A popular song at this time of year says that "you can have everything you need, if you just believe." Our faith underscores this belief whenever we see the unexplainable transpire or when we receive far more than we could have asked for or imagined.
Throughout the course of Advent and the upcoming celebration of Christmas, we read about three miraculous conceptions and subsequent births: Samson in the Old Testament, John the Baptist who is the bridge between the Old and New Testaments, and Jesus who ushers in the New and Final Covenant. Over the course of human history, our omnipotent God displays his sovereignty over all of time and space through these miraculous events. He promises the implausible and delivers on those promises, again, bringing us blessings far greater than we could have ever imagined.
As we approach the manger scene this Christmas, may we adore the Christ Child and be open to the promises He wants to fulfill in our lives; promises that are sure to bless us far beyond our understanding and expectations.
Feast of Our Lady of Guadalupe
December 12, 2022
In the first decades of the 16th century, Christianity in Mexico was virtually non-existent. In spite of their best efforts, the Franciscans who ministered there for twenty years made little headway in spreading the Gospel. That would change when, in 1531, the Blessed Mother appeared to Juan Diego, a rural peasant boy from Tepeyac, requesting that a shrine be built in her honor. The result of Mary's appearances and intercession was the conversion of the entire Country of Mexico within the ten years that would follow. The picture on the left is the miraculous image that was imprinted on Juan Diego's cloak following one of Mary's appearances to him. This cloak (tilma) is preserved to this very day at the shrine in Guadalupe.
Jesus has granted the Blessed Mother extraordinary power to intercede on our behalf. May we take all of our cares and concerns to her, entrusting our lives and our loved ones to her maternal care.
Our Lady of Guadalupe, pray for us now and at the hour of our death. Amen.
---
Reflections are provided by Jim Boulet, Outreach & Communications Manager for Maine Catholic Cemeteries