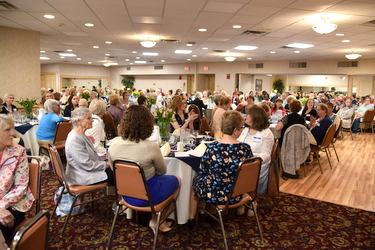 More than 200 women gathered in Portland on Saturday, September 9, for a celebration of faith and community at the inaugural Catholic Women's Prayer Breakfast, presented by the Scarborough chapter of Magnificat.
"Our dear Blessed Mother Mary personally brought each of you here today and the reason is this: she wants you to know that she loves you. And because she loves you, she wants to draw you closer to her Divine Son, Jesus, so that he can be more known, loved, and glorified, because our heavenly mother knows that it is only in Jesus that we can have true fullness of life, and that is the greatest gift that a mother can give to her children," Cindi Schaab, the coordinator of Magnificat, told those gathered.
Magnificat is an international ministry, originally founded in the Archdiocese of New Orleans, which aims to evangelize and encourage Catholic women to grow in holiness through opening themselves more fully to the power and the gifts of the Holy Spirit.
"To invite women to come together and pray, to ask for the outpouring of the Holy Spirit, for those graces, so they can leave with a sense of renewal, and purpose, and stronger in their faith than when they walked through the door," said Catherine Koenig, secretary of the Scarborough chapter.
"The purpose of the group is to gather Catholic women in Maine and all women in Maine to come to a place where they can celebrate the Blessed Mother, and to get to know her better, and to pray and just to have a great time together," said Cindy Andreson, assistant coordinator.
The Scarborough chapter is the first in Maine. Its roots go back seven years to a group of women who formed a prayer group with the intention of bringing Magnificat here. The women approached Bishop Robert Deeley after his arrival in the Diocese of Portland, and the chapter became a reality.
The bishop delivered opening remarks and the opening prayer at the breakfast.
"What a grace it is to be here today on this Saturday in September, the day after the birthday of Mary, to gather together women from all over our diocese for this prayer, and reflection, and mutual support, because these activities are a wonderful way to remind ourselves that we are together in living out our faith," he told them.
The bishop also took a moment to request that the women join him in praying for those who have been and will be in the path of a hurricane.
"We are just recovering from Hurricane Harvey in Houston, seeing the plight of the people there returning to their homes, and we are sharing in the anxiety of the people in Florida, as they wait hour by hour for that horrible Hurricane Irma to make its way in whatever direction it is going to. So, as we gather today in prayer, let's keep all our brothers & sisters in prayer, " he said.
Women of all faiths were invited to attend the breakfast, and so many were interested that the event sold out and had a lengthy waiting list.
"We are overwhelmed with the turnout. We are so blessed. We have been praying for this for so many months, and weeks, and years, and we are just so blessed that the Blessed Mother has brought all these beautiful women to us," said Andreson.
The members of Magnificat stressed the importance of having opportunities, such as the breakfast, for Catholic women to gather together in faith and fellowship.
"I think it's good for women to see women in love with the Lord and in love with Mary and to be a witness to other women. I think it inspires people to love her more, as well, and love the Lord more," said Andreson.
"It really is an outreach to just draw people in," said Cynthia Nickless, executive director of The Presence Radio Network and a Magnificat member. "This gives us an opportunity to show the beauty of the Church to not only our own members but outside as well."
The breakfast included the recitation of the rosary, prayer intentions, music, worship, and praise. The keynote speaker was award-winning author Katherine Valentine, who shared her story of conversion, which began when she became ill and nearly died. Father John Bacevicius, OFM, spoke to the group about joining in prayers of praise to God and embracing the gifts of the Holy Spirit.
Magnificat is planning similar breakfasts in the future, with the next one set for the spring.
"We are looking for all women in Maine to join and be part of this wonderful ministry," said Lauren Moody, a member.
"I feel that it is important for Catholic women to know there is something out there for them," said Valerie Litalien. "It's part of the love of Jesus that we have and for Mary, his mother, and to bring us all together to know that we're not alone."