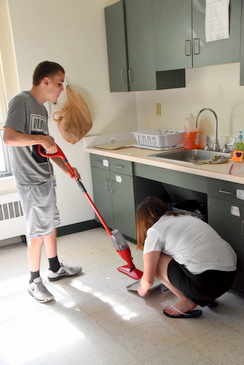 You've broken a glass and shattered pieces are strewn across the kitchen floor. You've spilled something hot on your arm, causing a burn. You've accidently locked yourself out of the house.
Those were among the many challenges presented to a group of teenagers participating in LOYO, "Live on Your Own," a weeklong program cosponsored by the Maine Division for the Blind and Visually Impaired, Catholic Charities' Educational Services for Blind & Visually Impaired Children (ESBVIC), and the Iris Network. LOYO, held in July on the Bowdoin College campus in Brunswick, was designed to help young people with visual impairments develop independent living skills.
"That is making a simple meal, knowing what to do if a stranger knocks on the door, knowing what to do if you accidentally turn on the wrong burner and you start to see smoke. Rather than panicking, it's feeling like they have some background information," explains Brenda Dootz, a certified vision rehabilitation therapist with the Iris Network. "These are sometimes the gaps that we see when we teach people. It's these little day-to-day things. We're so focused on the bigger things, and it's these really basic skills that we hope they take away."
"It all started with, 'If you're on your own, what are the things that can happen?' So, most of them were troubleshooting. What if the power goes out? What if the toilet gets clogged?" adds Jennie Oulton, a teacher for students with visual impairments from ESBVIC.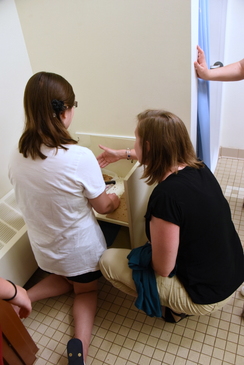 The tasks were chosen through brainstorming and based on surveys given to the students, their parents, and their direct service providers.
"We really try to tailor the programs to meet the needs of the group of students at any given time," explains Nancy Moulton, ESBVIC program director.
Jennie describes the week as challenge by choice, with many of the tasks presented in the form of games. She says the students were all willing participants.
"The students had a chance to try out things in a safe environment, without risk of harm or ridicule if they got it wrong," she says.
"It was really valuable," says Chad, age 15. "It was difficult at times, but I knew where I was, and I knew I would be o.k. It kind of made it easier as I went along."
"They explain something really simply, and you understand it pretty well," says Alicia, age 19.
Each day was packed with things to do and learn: how to know if something in your refrigerator is still good to eat, how to find something in your house that is spoiled and has an odor, how to empty a litter box, how to correctly plug things into an electrical outlet, how to use a microwave oven, how to cook simple meals like a grilled cheese sandwich.
"I came so I could get used to living on my own," says Courtney, age 18. "I learned how to take care of myself more."
During the week, the students also learned medication management and first aid, and Brunswick firefighters shared some fire safety tips, setting up a smoke house to simulate a smoke-filled home.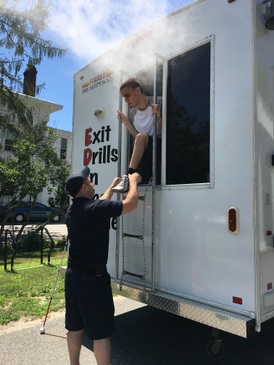 "We learned how to escape from a fire," explains Alicia. "They filled the house with smoke, and they made us walk through it and climb out a window."
"You slide that window open, and you climb down a ladder. It was a new experience for me," says Chad.
The young people also got self-defense lessons and, through a game that include role playing, learned with whom you should and shouldn't share information.
Jennie, who has a visual impairment herself, says sometimes not being able to see someone clearly impairs your ability to judge their intentions, which can lead to trepidation. She says they tried to help the teens understand the need to be cautious, without being overly timid.
"They had this whole self-advocacy morning, and they would say, 'I'm not comfortable with that.' And you saw their shoulders go back. And you just saw that application throughout the four days, so it was pretty exciting," says Jennie.
Throughout the week, the students were encouraged to do as much for themselves as possible.
"Some of these kids got up five, six, seven times from their meal because they didn't have a fork, or they didn't have a drink. They didn't have a napkin. And that was a new concept," Jennie says.
She says when the teens are at home, their parents' natural desire to help sometimes takes over, but it's important that the teens learn self-sufficiency. It was among the messages shared with parents at the close of the week.
"How do you foster independence? What are your dreams for your kids and how do you help your kids to get there?" explains Nancy.
The organizers say they are all pleased with the way the week turned out.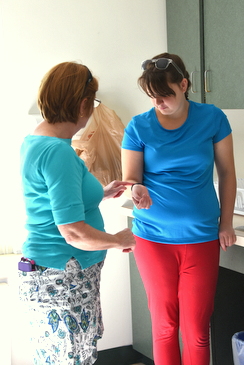 "I'm just super proud. I think every one of them has tried new things," says Jennie.
"Awesome," says Brenda. "They all gave it 100%. I think they did great. I think most of them are feeling ready, and I think they are all going to bring something home with them."
On the top of Courtney's list were some beneficial phone skills and new apps.
"Like how to make my screen bigger, and if you can't read a recipe, how you can get it so you are able to read it," she says.
For Chad, it was a greater sense of confidence.
"Knowing what to do in certain situations, not to freak out, just handle it and stay calm," he says. "The self-defense was big. Now I know how to defend myself. I'm sure I could have defended myself before this, but now the stake is really in the ground."
The teens say they also enjoyed the social time spent together, which included games, arts and crafts, and going out on the town. They plan to keep in touch.
"We played Uno, a card game, and we really got into it," says Alicia. "There are just a lot of fond memories."
"It was pretty fun," says Chad. "I made a lot of friendships."