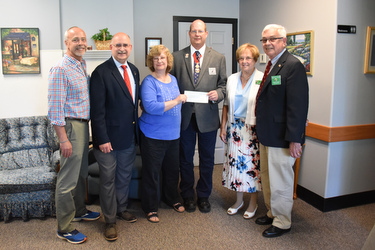 The Open Arms Pregnancy Center in Augusta has a new ultrasound machine thanks to the Knights of Columbus.
Mark Bourgoin, state deputy of the Knights, presented Patricia Bonney, the director of the center, with a check for $17,250 from the Knights of Columbus Supreme Council, an amount that matched contributions made by Knights' councils in Maine.
The donation is a result of the Ultrasound Initiative, which was launched nationally by the Knights of Columbus 10 years ago. The aim of the project is to let mothers see the baby they are carrying, so they will understand the humanity of the unborn and choose life over abortion.
"You never know what impact you're going to have when a mom gets an ultrasound. Maybe they didn't even know they were a mom, and there is that contemplation about whether or not they want to abort. The mother seeing their child on a video screen sometimes will make the world of difference," Bourgoin said. "They know it is a life, and they know if they abort, they're taking a life."
"When they see their baby, it becomes real. Before that, it's some nebulous thing that may or may not happen, but when they see their baby, that's reality. They know that that's their baby, and that changes their mind," said Bonney.
"One of the things that makes this one so important is that one of the larger abortion facilities in the state is right near here," said Frank Pease. He and his wife, Jean, are the Knights' pro-life couple from Maine.
Since it began, the Ultrasound Initiative has allowed the Knights of Columbus to purchase more than 900 ultrasound machines for pro-life pregnancy care centers across the country and in Canada. In each case, money is raised on a local level and then matched with a donation from the supreme council's Culture of Life Fund.
Knights of Columbus in Maine have now purchased six ultrasound machines. In addition to the Open Arms Pregnancy Center, they have been given to First Step Pregnancy Resource Center in Bangor; ABBA in Portland, which received two; Hope House in Lewiston; and Alpha Resource Center in Sanford.
Bonney said it is wonderful to have the ultrasound machine and the support of the Knights.
"It is just amazing to have people willing to go into the battle with me. Sometimes, I feel like I'm all alone," she said. "To have people come forward and be supportive and encouraging, it really means a lot to me."
"Our faith in action motto is faith, community, family, and life. Like I've always told others, we change lives and save lives every day. Our number one thing should be to defend our faith and defend life in all stages form birth to natural death. To have that occur any other way is just not right," said Bourgoin. "God is our creator, and God is the one who decides when it's time to go. No one else has the right to do that."
Donations for the ultrasound machine donated to the Open Arms Pregnancy Center came from Knights' councils in Augusta, Gardiner, Whitefield, and Wells. There was also a 50/50 raffle held at the Knights' state bowling tournament and the auction of a mother and child painting donated by Father Antony Alexander Maria Doss, HGN, a parochial vicar of parishes in Madawaska, St. Agatha, and Van Buren.
In order for a pregnancy care center to receive an ultrasound machine, it must meet certain qualifications, including having a doctor, nurse, and ultrasound technician available.
In addition to offering pregnancy tests, free ultrasounds, and prenatal care, the Open Arms Pregnancy Center also has a Mom's Support Group which meets on Thursday evenings, and it has a room full of donated maternity and baby clothes, as well as diapers, for any mom who needs assistance.
The Open Arms Pregnancy Center is located on Bangor Street in Augusta. FMI: https://www.openarmspc.org.