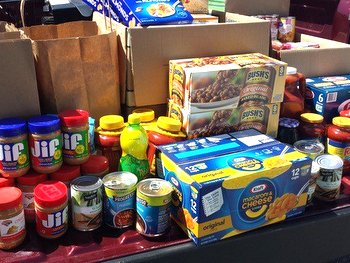 A food drive held outside the six churches of St. Paul the Apostle Parish in Bangor will provide a boost to area food pantries in need. The drive, held Saturday, May 2, and Monday, May 4, netted approximately 3,400 pounds of food and household goods, along with $850 in monetary donations.
"The need was great, the timing was right, and the weather turned out just fine," said Keith Forbes, Grand Knight of Pine Cone Council 114.
Prior to the COVID-19 pandemic, collections of food for the pantries were held in the churches, but with public Masses cancelled that was no longer possible. So, instead, the Knights set up collection tables outside St. Gabriel Church in Winterport, St. John and St. Mary Church in Bangor, St. Joseph and St. Teresa Church in Brewer, and St. Matthew Church in Hampden.
The Knights who collected the food stood off to the side and wore masks. Forbes said he had no problem getting volunteers.
"I put out the word to my Knights, and I had 22 brother Knights email me, saying, 'Sign me up,'" he said.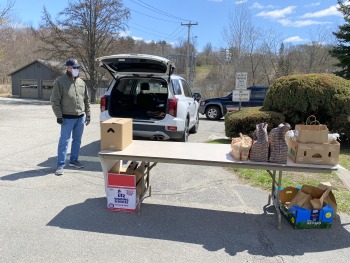 In addition to the Knights who volunteered, Forbes said as soon as he emailed the request, one Knight in his 80s sent him $100 to buy items for the pantries, because he was unable to do the shopping himself.
Food pantries around the state have seen an increase in clients due to the COVID-19 pandemic and the large number of people out of work. Forbes said the food cupboard in Bangor was particularly in need. He said when he called, he was told they had just two boxes of cereal left.
"The co-director of the Bangor cupboard Rita Worster said we filled an urgent need for food. The cupboard was out of about everything," Forbes said. "Thanks to everyone who shared in this gift giving. You made a big difference in households throughout the community."
If you were unable to make it to one of the churches to drop off food, you can still support the pantries by sending monetary donations directly to them. They include:
Brewer Area Food Pantry
OHI
203 Maine Avenue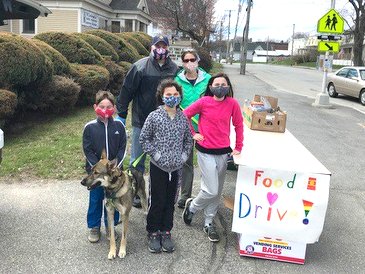 Bangor, ME 04401
The Ecumenical Food Cupboard
Hammond Street Congregational Church
PO Box 1106
Bangor, ME 04402-1106
Hampden Food Cupboard
PO Box 9
Hampden, ME 04444
Neighbor's Cupboard
PO Box 742
Winterport, ME 04496