OPENING PRAYER
God of joy and love,
among the many blessing you shower upon us through Christ
is the blessing of marriage.
Grant us wisdom to discover the dignity and beauty of marriage;
understanding to help us live lives of self-giving love;
courage to face trials and difficult moments together;
and the awareness to know that you are always with us.
Increase your love in us,
so we may always rejoice in the gift of your blessing.
Through Christ our Lord. Amen.
READINGS
John 20:19-22
"The disciples rejoiced when they saw the Lord. Jesus said to them again, 'Peace be with you. As the Father has sent me, so I send you.' And when he had said this, he breathed on them and said to them, 'Receive the Holy Spirit.'"
AMORIS LAETITIA
"Young love needs to keep dancing towards the future with immense hope." (n. 219)
The Synod Fathers stated in a number of ways that we need to help young people discover the dignity and beauty of marriage. They should be helped to perceive the attraction of a complete union that elevates and perfects the social dimension of existence, gives sexuality its deepest meaning, and benefits children by offering them the best context for their growth and development. (n. 205)
Marriage preparation should be a kind of 'initiation' to the sacrament of matrimony, providing couples with the help they need to receive the sacrament worthily and to make a solid beginning of life as a family. (n. 207)
Both short-term and long-term marriage preparation should ensure that the couple do not view the wedding ceremony as the end of the road, but instead embark upon marriage as a lifelong calling based on a firm and realistic decision to face all trials and difficult moments together. (n. 211)
CONTEMPLATE & SHARE
• How do I recognize the dignity and beauty of my own marriage? How can I help young people discover the dignity and beauty of marriage?
• What is the difference between a wedding and a marriage?
• In what way can your marriage become a gift to other people, not only each other?
• What reminders of God's presence do we have in our home? What can you add to increase your awareness of God in your daily life?
INTERCESSIONS
Pentecost Sunday - May couples preparing for marriage open themselves to being recreated, reconciled and renewed by the life-giving breath of the Holy Spirit, we pray to the Lord……
Most Holy Trinity - May all families reflect the communion of life and love revealed to us through our Triune God, we pray to the Lord…
Corpus Christi - May all families participate fully in the sharing of the One Bread and One Cup so that Christ may live in them and they in Christ, we pray to the Lord…
Twelfth Sunday of Ordinary Time - May every member of our families recognize their God-given dignity and worth, we pray to the Lord…
CLOSING PRAYER
Prayer for Marriage (USCCB)
God our Father, we give you thanks
for the gift of marriage: the bond of life and love,
and the font of the family.
The love of husband and wife enriches your Church with children,
fills the world with a multitude of spiritual fruitfulness and service,
and is the sign of the love of your Son, Jesus Christ, for his Church.
The grace of Jesus flowed forth at Cana at the request of the Blessed Mother.
May your Son, through the intercession of Mary, pour out upon us
a new measure of the Gifts of the Holy Spirit
as we join with all people of good will
to promote and protect the unique beauty of marriage.
May your Holy Spirit enlighten our society
to treasure the heroic love of husband and wife,
and guide our leaders to sustain and protect
the singular place of mothers and fathers in the lives of their children.
Father, we ask that our prayers be joined to those of the Virgin Mary,
that your Word may transform our service
so as to safeguard the incomparable splendor of marriage.
We ask all these things through Christ our Lord, Amen.
Saints Joachim and Anne, pray for us.
JOY IN ACTION
Weekly suggestions for the faithful to consider
June 4: Celebrate the beginning of the Church, Pentecost, by holding a birthday celebration. Perhaps, buy or bake a cake for the occasion.
June 11: On which date did you get married? Make plans to celebrate on that day of this month and every month, even if it's with some small gesture.
June 18: Enjoy the summer solstice, when we have the most daylight of the year, by taking an evening stroll together to unwind and talk.
June 25: Plan a trip, even a daytrip, which you will do together this summer.
REFLECTION
Joy of New Beginnings
By: Mariel McGuire, St. Michael Parish, Augusta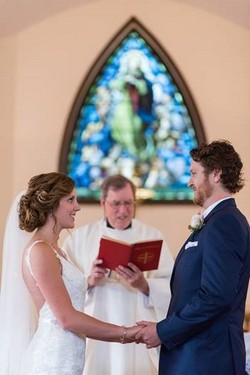 I will start this reflection by giving a brief background. I am not Catholic … YET! With that being said, the theme of "The Joy of New Beginnings" is, in short, a phrase that adequately describes my present stage in life and my journey of becoming a Catholic. This Pentecost, I will officially join the Catholic Church through baptism, first Communion and confirmation. It is with great pleasure that I am able to share with you my experience in joining this community and some of my most profound moments of joy!
In July of 2016, I married my soulmate Kevin. It was a cloudy, yet beautiful summer day in the mountains of Rangeley, Maine. We were wed in a quaint Catholic church named Our Lady of the Lakes. Surrounded by family, friends, and the presence of God, marrying Kevin was a moment of pure joy. In my mind and my heart, I professed Kevin to be my life partner and excitedly entered into a life of marriage. To many wedding guests, witnessing our vows and receiving marital blessings was an outward sign of our love for each other and the importance the Church has in our lives.
Prior to this glorious day, Kevin and I participated in a marriage preparation retreat. At the time, I didn't realize how important and impactful this weekend retreat would be. We heard from several married couples who are active in the Catholic Church. They described very real and sometimes raw aspects of their married lives. The central focus of their stories was the shared love and trust they have in God. It was then that I realized I needed to become a spiritually supportive partner in this marriage. I felt a call deep within my heart to join the Church and officially accept Jesus into my life. I knew that becoming a Catholic would be a major undertaking, but I also knew this call could not and should not be ignored.
Over the past year, I have been participating in the Rite of Christian Initiation for Adults. A moment in this journey that stands out to me is when I experienced the Rite of Acceptance. As I stood in front of all the parishioners, the priest asked them to pray for me. I was in a room full of strangers, yet I felt an acceptance like no other. I felt like I was surrounded by family. It was an experience I will never forget. For me, it was a powerful moment highlighting the joy of a new beginning.
I would be wrong to not mention the most important new beginning of them all, my official acceptance into the Catholic Church. It has been very fulfilling learning the ways of the Lord, and I am excited to be embarking on this new chapter in life. Thank you for your prayers and God bless!