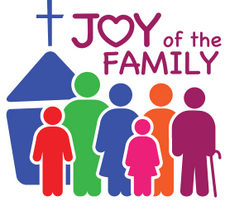 "The Joy of Love experienced by families is also the joy of the Church." That is the beginning and the heart of Amoris Laetitia, Pope Francis' apostolic exhortation on the joy of love.
Amoris Laetitia reflects the results of recent synods on the family as well as other writings of Pope Francis and his predecessors. It speaks of the gifts and joys of families but, also, acknowledges the contemporary challenges which they face.
The pope emphasizes the importance of marriage and family life, writing, "The welfare of the family is decisive for the future of the world and the Church." The family, thus, is a source of strength for the Church, just as the Church is a source of strength for families.
To celebrate, promote, protect and strengthen marriage and families in our world, the Diocese of Portland has launched the Joy of the Family initiative. A specific theme featured in Amoris Laetitia will be highlighted each month and will include opening and closing prayers, a reading, a passage from Amoris Laetitia, a "contemplate and share" section, intercessions, weekly suggestions for practical activities, and a reflection from an individual or individuals who possess a special personal connection to the monthly theme. You will find this month's reflection below.
It is hoped developing these themes will help the faithful understand the teachings in Amoris Laetitia and inspire us all to integrate these teachings in our daily lives.
---
JULY 2018 - THE JOY OF SIBLINGS
OPENING PRAYER
Most Holy Trinity,
you made us in your image,
to love and be loved in the unity of your family.
We give thanks for our siblings,
whether connected through birth, adoption, or baptism.
May we always treasure our brothers and sisters
who teach us to be humble and wish the good of the other,
who remind us our individual actions have consequences for those around us,
who multiply our joys and diminish the burdens of sorrow.
Help us to treat all humanity as our siblings, that the world will reflect your glory, peace, and justice.
We ask this in your great name, Father, Son, and Holy Spirit. Amen
READINGS
Genesis 43:15,26-30; Genesis 45:4-5
When Joseph saw Benjamin with them, he told his head steward, 'Take these men into the house, and have an animal slaughtered and prepared, for they are to dine with me at noon.' … When Joseph came home, they presented him with the gifts they had brought inside, while they bowed down before him to the ground. After inquiring how they were, he asked them, 'And how is your aged father, of whom you spoke? Is he still in good health?' 'Your servant our father is thriving and still in good health,' they said, as they bowed respectfully. When Joseph's eye fell on his full brother Benjamin, he asked, 'Is this your youngest brother, of whom you told me?' Then he said to him 'May God be gracious to you, my boy!' With that, Joseph had to hurry out, for he was so overcome with affection for his brother that he was on the verge of tears. He went into a private room and wept there.
'Come closer to me,' he told his brothers. When they had done so, he said: 'I am your brother Joseph, whom you once sold into Egypt. But now do not be distressed, and do not reproach yourselves for having sold me here. It was really for the sake of saving lives that God sent me here ahead of you.
AMORIS LAETITIA
'The family itself introduces fraternity into the world.' N. 194
Relationships between brothers and sisters deepen with the passing of time, and 'the bond of fraternity that forms in the family between children, if consolidated by an educational atmosphere of openness to others, is a great school of freedom and peace. In the family, we learn how to live as one.' (n. 194)
Growing up with brothers and sisters makes for a beautiful experience of caring for and helping one another. For 'fraternity in families is especially radiant when we see the care, the patience, the affection that surround the little brother or sister who is frail, sick, or disabled.' It must be acknowledged that 'having a brother or a sister who loves you is a profound, precious and unique experience.' (n. 195)
CONTEMPLATE & SHARE
• Who do you treat as a brother or sister? How are these relationships different from others you have? What have you learned about the love and patience of God through your siblings?
• How are you like you siblings? How are you different? What does this suggest to you about the diversity and unity of God's family?
• When have you found it hard to have a sibling? Are you having a particularly difficult time with a brother or sister right now? Who might help you to deal with the hurt, sadness, or disappointment so that you may restore a good relationship?
INTERCESSIONS
Thirteenth Sunday of Ordinary Time, June 30/July 1 - That siblings may always appreciate that they share in the image of God's own nature, we pray to the Lord:
Fourteenth Sunday of Ordinary Time, July 7/8 - That sisters and brothers may recognize the importance of their Christian heritage and family ancestry, we pray to the Lord:
Fifteen Sunday of Ordinary Time, July 14/15 - That brothers and sisters may open their homes to the presence of Christ and his saving message, we pray to the Lord:
Sixteenth Sunday of Ordinary Time, July 21/22 - That sisters and brothers may break down the dividing walls of enmity and build up the bonds of peace, we pray to the Lord:
Seventeenth Sunday of Ordinary Time, July 28/29 - That siblings, like Peter and Andrew, may inspire brothers and sisters to serve the Lord and those in need, we pray to the Lord:
CLOSING PRAYER
Prayer to the Holy Family
Jesus, Mary and Joseph,
in you we contemplate
the splendor of true love;
to you we turn with trust.
Holy Family of Nazareth,
grant that our families too
may be places of communion and prayer,
authentic schools of the Gospel
and small domestic churches.
Holy Family of Nazareth,
may families never again experience
violence, rejection and division;
may all who have been hurt or scandalized
find ready comfort and healing.
Holy Family of Nazareth,
make us once more mindful
of the sacredness and inviolability of the family,
and its beauty in God's plan.
Jesus, Mary and Joseph,
graciously hear our prayer.
Pope Francis, March 19, 2016
JOY IN ACTION
Weekly suggestions for the faithful to consider
July 1: Plan a family barbecue or summer outing with your parents and siblings.
July 8: Arrange to take a group photo with your siblings to give to your parents (and each other) as a gift.
July 15: If you have a sibling who no longer is connected to the Church, plan a Sunday morning that includes Mass and breakfast or invite him or her to attend a parish event with you.
July 22: If you have grown apart from one of your siblings or haven't connected in a while, reach out to him or her.
July 29: Support our brothers and sisters around the world through prayer and by giving generously to next weekend's Peter's Pence collection, which helps Pope Francis support those who are suffering as a result of war, oppression, or natural disasters
REFLECTION
The Joy of Siblings
By: Sister Jeannette Roy, RSR, Sisters of Our Lady of the Holy Rosary
As I reflected on this topic, "The Joy of Siblings," I realized that I have never known life without siblings. Being the second oldest of a family of seven children, I was always surrounded by siblings. As the family grew over time, I was part of the birth of my younger siblings. We were all born at home, and I remember clearly the birth of the last four. Our house was alive with happiness and anticipation with each birth.
Pope Francis wrote in Amoris Laetitia, "Relationships between brothers and sisters deepen with the passing of time, and the bond of fraternity that forms in a family between children, if consolidated by an educational atmosphere of openness to others, is a great school of freedom and peace. In the family, we learn how to live as one." This is certainly true in my family.
In our early years, our parents played a major role in creating an atmosphere where my siblings and I developed a caring and loving relationship. We learned to support and help each other. We played, laughed, and enjoyed each other's company. We grew up together and were always there for each other. As siblings, we were the most important people in our lives.
As each one left home to pursuit their own particular vocation or career path, other people entered the picture. New relationships were created, but the bond between siblings never diminished; it grew stronger. We each made sure that our new friends were welcomed among us. We also took an interest in what was happening in each of our lives. Major events and accomplishments were celebrated together as a family.
Then, as each sibling created his or her own family, we made sure that this close and important relationship we had as siblings continued to grow and flourish. We faithfully keep in touch, support each other, and continue to celebrate major events together. It is always a joy to see one another.
This past February, the seven of us went on a 10-day vacation together. We shared memories, enjoyed each other's company and marveled at whom each of us has become. We realized how close we were as a family and how special each one was. It was a happy time. The vacation was a great gift that we gave ourselves.
Today, we know that we are there for each other and that we enjoy being with one another. I thank God every day for each one of my siblings and for how each one has enriched my life with his or her own particular gift. What a blessing and a joy!