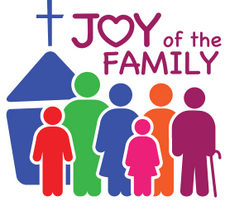 "The Joy of Love experienced by families is also the joy of the Church." That is the beginning and the heart of Amoris Laetitia, Pope Francis' apostolic exhortation on the joy of love.
Amoris Laetitia reflects the results of recent synods on the family as well as other writings of Pope Francis and his predecessors. It speaks of the gifts and joys of families but, also, acknowledges the contemporary challenges which they face.
The pope emphasizes the importance of marriage and family life, writing, "The welfare of the family is decisive for the future of the world and the Church." The family, thus, is a source of strength for the Church, just as the Church is a source of strength for families.
To celebrate, promote, protect and strengthen marriage and families in our world, the Diocese of Portland has launched the Joy of the Family initiative. A specific theme featured in Amoris Laetitia will be highlighted each month and will include opening and closing prayers, a reading, a passage from Amoris Laetitia, a "contemplate and share" section, intercessions, weekly suggestions for practical activities, and a reflection from an individual or individuals who possess a special personal connection to the monthly theme. You will find this month's reflection below.
It is hoped developing these themes will help the faithful understand the teachings in Amoris Laetitia and inspire us all to integrate these teachings in our daily lives.
---
NOVEMBER 2018 - THE JOY OF PRAYER IN THE FAMILY
OPENING PRAYER
Suggest praying the following in the form of call and response (like responsorial psalms during liturgy). Have the children call/say the first part and adults respond by saying the second part of each line.
Praise be to God, the Father…who made us a family.
Praise be to God, the Father…for the love that we share.
Praise be to God, the Father…for sending us Jesus.
Praise be to God, the Father…for teaching us to care.
Help us, Lord Jesus…fill our lives with your Spirit.
Help us, Lord Jesus…teach us how to forgive.
Help us, Lord Jesus…grant us wisdom and patience.
Help us, Lord Jesus…show your grace among us.
Come, Holy Spirit…fill our lives with your gifts.
Come, Holy Spirit…help us serve other's needs.
Come, Holy Spirit…teach us faith, hope, and love.
Come, Holy Spirit…guide our thoughts and our deeds.
Be with us, Triune God…we ask Mary to help us.
Be with us, Triune God…we look to Joseph for aid.
Be with us, Triune God…may we respect one another.
Be with us, Triune God…may our hope never fade.
Amen…We believe.
Adaptation of "A Family Prayer" from Loyola Press
READINGS
Acts 2:42-47
They devoted themselves to the teaching of the apostles and to the communal life, to the breaking of the bread and to the prayers. 'Awe came upon everyone and many wonders and signs were done through the apostles. All who believed were together and had all things in common; they would sell their property and possessions and divide them among all according to each one's need. Every day, they devoted themselves to meeting together in the temple area and to breaking bread in their homes. They ate their meals with exultation and sincerity of heart, praising God and enjoying favor with all the people. And every day, the Lord added to their number those who were being saved.
AMORIS LAETITIA
"Family prayer is a special way of expressing and strengthening the paschal faith." n. 318
It is essential that children actually see that, for their parents, prayer is something truly important. Hence moments of family prayer and acts of devotion can be more powerful for evangelization than any catechism class or sermon. (n. 288)
Family prayer is a special way of expressing and strengthening this paschal faith. A few moments can be found each day to come together before the living God, to tell him our worries, to ask for the needs of our family, to pray for someone experiencing difficulty, to ask for help in showing love, to give thanks for life and for its blessings, and to ask Our Lady to protect us beneath her maternal mantel. With a few simple words, this moment of prayer can do immense good for our families. The various expressions of popular piety are a treasure of spirituality for many families. The family's communal journey of prayer culminates by sharing together in the Eucharist, especially in the context of the Sunday rest. (n. 318)
CONTEMPLATE & SHARE
• How do we pray together as a family? Where, what, and how long do we pray?
• Catholics follow Jesus' example by praying alone (personal prayer) and with others (communal prayer). Talk about this as a family. Schedule a time for communal prayer on the family calendar, then follow through on that commitment.
• Because God made each person unique, different people are drawn to different forms of prayer. Which forms of prayer does each person in our family respond to the best? Include those different forms of prayer (i.e. rosary, meditation on Scripture, Stations of the Cross, Examen, etc.) throughout the week so that each person gets to pray his or her preferred form of prayer as well as being exposed to different types of prayer with others.
• Write a family prayer. Let each member suggest one or two sentences or gestures for the prayer until everyone has contributed. Let younger kids come up with the beginning and end of the prayer. Assist older kids in forming their thoughts on paper. Hang this family prayer in a spot where it will be seen and crossed frequently. Each time a family member passes that prayer, have them stop for a moment and pray it.
INTERCESSIONS
Solemnity of All Saints, November 1 - May parents teach their children to invoke prayerfully the intercessory power and presence of the saints in their lives, we pray to the Lord:
Commemoration of All Souls, November 2 - May families honor the memory of their loved ones who have died by praying together for God's mercy and the repose of their eternal souls, we pray to the Lord:
Thirty-first Sunday of Ordinary Time, Novemver 3/4 - May families unite their prayers and intercessions daily to those of Christ the High Priest, who offered himself once for the salvation of all, we pray to the Lord:
Thirty-Second Sunday of Ordinary Time, November 10/11- May the Eucharist celebrated in the sanctuary of this church bring families together in hopes of praising God forever in the heavenly sanctuary, we pray to the Lord:
Thirty-Third Sunday of Ordinary Time, November 17/18 - May the second coming of Christ inspire families to "pray for us sinners, now and at the hour of our death," we pray to the Lord:
Solemnity of Christ the King, Novembe
CLOSING PRAYER
Prayer for Families
We bless your name, O Lord,
for sending your own incarnate Son,
to become part of a family,
so that, as he lived its life,
he would experience its worries and its joys.
We ask you, Lord,
to protect and watch over this family,
so that in the strength of your grace
its members may enjoy prosperity,
possess the priceless gift of your peace,
and, as the Church alive in the home,
bear witness in this world to your glory.
We ask this through Christ our Lord.
Amen.
Catholic Household Blessings and Prayers
JOY IN ACTION
Weekly suggestions for the faithful to consider
November 4: Share with your children the story of a favorite saint, perhaps the saint chosen for their confirmation name. Pray for that saint's intercession, explaining the value of intercessory prayer..
November 11: As we celebrate Veterans' Day, join in praying for the men and women who faithfully serve and defend the rights of people in this country and around the world.
November 18: Ask all members of your family to prepare a short prayer to share around the Thanksgiving dinner table. Remember to say grace before meals.
November 25: Before you get caught up in the busy-ness of Advent, be sure to build prayer time into your schedule.
REFLECTION
The Joy of Prayer in the Family
By: Deacon Luis and Julie Sanclemente, St. John Vianney Parish, Fort Kent
Do our children see that prayer is important to us? As parents, we can so easily get sidetracked by everything -- from outside commitments, to protesting teenagers (or infants!), and the sheer busyness of family life. We think that because we're so busy, we shouldn't have to pray as much or go to Mass as often. Saint Frances de Sales reminds us, however, that "Every one of us needs half an hour of prayer each day, except when we are busy—then we need an hour." Prayer may sometimes unintentionally get knocked off our list of priorities for a few weeks, months, or even years. Instinctively, we know that "…prayer can do immense good for our families," but the real challenge lies in making prayer a priority and not getting discouraged when it seems imperfect, difficult, or messy (n. 318).
At our home, when it's time for our youngest son to go to bed, we gather in his room for prayer. Occasionally, one or two members of the family are not at home, but we always use a certain sequence—something we learned from Deacon Dean Lachance several years ago. We begin by each recounting something for which we are thankful, and then, after praying for specific people in our lives, we mention someone in particular for whom we are praying. We take turns leading the Our Father, Hail Mary, and Glory Be, and end by asking our family's favorite saints to pray for us, with our youngest son usually adding his own personal favorites—a seemingly great tactic to prolong bedtime! If we happen to have company, we often invite them to join us, too. We cannot tell you the absolute joy of being on our knees with a Dominican sister friend of ours, whom we had not seen in 15 years but who was always included in our night prayer—and there she was praying in our home with us!
Honestly, though, our prayer time is far from perfect. Oftentimes, one or two of our children are playful or distracted to the point that we end up scolding someone in the middle of prayer. Not very solemn, but as the sticker on our fridge often reminds us, "Family life is messy, embrace the mess." There is joy in the messiness of family life, especially when we receive small consolations or glimpses of God's grace at work in our children. His grace flows abundantly from a family's commitment to prayer—be it a morning offering, grace before meals, the Angelus, rosary, or daily/weekly Mass. These "various expressions of popular piety are a treasure of spirituality for many families" (n. 318).
When we take the time to recognize and point out the many "God-incidences" or moments where his presence is made known to us, we realize just how blessed we are. Daily life often presents occasions for spontaneous prayer as well. In our family, every time we hear an ambulance or firetruck pass by, we pray a Hail Mary out loud together. On one occasion, unbeknownst to us, the ambulance was carrying our nephew! Through these moments, we become aware of our belonging to a larger heavenly family of which God is our Father. As parents, we hope to equip our children with the spiritual "weapons" they'll need to make prayer a priority and, ultimately, to increase the chance that we'll get to see them in heaven.