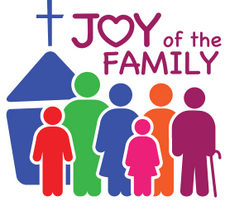 "The Joy of Love experienced by families is also the joy of the Church." That is the beginning and the heart of Amoris Laetitia, Pope Francis' apostolic exhortation on the joy of love.
Amoris Laetitia reflects the results of recent synods on the family as well as other writings of Pope Francis and his predecessors. It speaks of the gifts and joys of families but, also, acknowledges the contemporary challenges which they face.
The pope emphasizes the importance of marriage and family life, writing, "The welfare of the family is decisive for the future of the world and the Church." The family, thus, is a source of strength for the Church, just as the Church is a source of strength for families.
To celebrate, promote, protect and strengthen marriage and families in our world, the Diocese of Portland has launched the Joy of the Family initiative. A specific theme featured in Amoris Laetitia will be highlighted each month and will include opening and closing prayers, a reading, a passage from Amoris Laetitia, a "contemplate and share" section, intercessions, weekly suggestions for practical activities, and a reflection from an individual or individuals who possess a special personal connection to the monthly theme. You will find this month's reflection below.
It is hoped developing these themes will help the faithful understand the teachings in Amoris Laetitia and inspire us all to integrate these teachings in our daily lives.
---
SEPTEMBER 2018 - THE JOY OF WORK
OPENING PRAYER
Lord, do not leave us on our own.
Help us to help each other;
so that we forget our selfishness a little and feel in our heart the "we,"
the we of a people who want to keep on going.
Lord Jesus, you were never out of work,
give us work and teach us to fight for work and bless us all.
In the name of the Father, of the Son and of the Holy Spirit.
From Pope Francis, Meeting with Workers, Sept. 22, 2013
READINGS
Psalm 128:2 and Genesis 2:15
"You shall eat the fruit of the labor of your hands; you shall be happy, and it shall be well with you" (Ps 128:2).
"… the Lord God took the man and put him in the garden of Eden to till it and keep it" (Gen 2:15).
AMORIS LAETITIA
"Labor...makes possible the development of society and provides for sustenance, stability, and fruitfulness of one's family." n. 28
At the beginning of Psalm 128, the father appears as a laborer who by the work of his hands sustains the physical well-being and tranquility of his family … It is clear from the very first pages of the Bible that work is an essential part of human dignity … The Book of Proverbs also presents the labor of mothers within the family; their daily work is described in detail as winning the praise of their husbands and children (n. 24)
CONTEMPLATE & SHARE
• God gives each one of us different gifts and talents to use for his glory. Have each member of your family identify one or two gifts or talents they possess. How can they use that gift or talent in their labor to give glory to God? How can we use these gifts and talents to help others around us?
• How does work contribute to responding to the universal call to holiness? Think about a time when the labor of your vocation helped you to become more holy. How did you change as a result of that work? What did you learn about living with the joy of Christ as a result of that labor?
• Think about your own stage in life and the Scripture from 1 Thessalonians 5:17 that says, "pray without ceasing." How can you make each task in your daily life a prayer to God? How might making each task a prayer to God impact your family life and the development of society?
• What is one task or aspect of work that you dislike doing? How does this task benefit your family? Consider how you might approach this work as a sacrifice to God for the well-being of your family
• Apprenticeship involves learning with the guidance of someone skilled in an area and growing through practice that will involve making mistakes. Who have been your guides as an apprentice in marriage or in family life?
INTERCESSIONS
Twenty-second Sunday of Ordinary Time, September 1/2 - That Christian families take up the work of justice, thereby fulfilling the Lord's command to be doers of the word, we pray to the Lord:
Twenty-third Sunday of Ordinary Time, September 8/9 - That the dignity of human labor be promoted by every society and that all workers be treated with fairness and respect, we pray to the Lord:
Twenty-fourth Sunday of Ordinary Time, September 15/16 - That all Christians demonstrate their faith through works, especially by taking up their cross and following Christ, we pray to the Lord:
Twenty-fifth Sunday of Ordinary Time, September 22/23 - That our jobs, professions and vocations contribute to the common good on earth and to the building up of God's kingdom, we pray to the Lord:
Twenty-sxth Sunday of Ordinary Time, September 29/30 - That the blessings that come to entrepreneurs may be used to advance the well-being of all workers and their families, we pray to the Lord:
CLOSING PRAYER
Prayer for Work
Creator God,
thank you for providing us
with the gift to share our talents.
Provide our community, our nation, our world
the fortitude to provide work for all
which is decent and fair.
Make us faithful stewards
of your creation
to enhance the human dignity
of our global family.
We ask this in the name of Jesus,
who lives and reigns
with you and the Holy Spirit
now and forever.
Amen.
From Being Neighbor: The Catechism and Social Justice, USCCB, April 1998
JOY IN ACTION
Weekly suggestions for the faithful to consider
September 2: Evangelize through your actions when you're at work. Reflect on whether you're being a light of Christ or leaving your faith at the door.
September 9: Support organizations that promote ethical trade and take time to learn about fair trade practices.
September 16: If you have time outside your work schedule, consider offering your time and talents by volunteering in your parish or community. Catholic Charities also has many volunteer opportunities, some requiring only a few hours of time.
September 23: Participate in charitable projects offered through your employer.
September 30: When you are commuting to work, make a point of taking time to pray. If you have a long commute, pray the rosary.
REFLECTION
The Joy of Work
By: Father Michael Seavey, parochial vicar at St. Michael Parish, Augusta
Families need access to dignified work capable of providing basic human needs and the ability for every family member's humanity to flourish. Ultimately, these basic human needs include material goods such as: food, clothing, shelter, safe communities, proper education, adequate health care, unemployment and disability support, and retirement resources.
Work and workplace issues are considered "moral" issues because they impact the family positively or negatively. The Catholic Church shapes a tradition dating back to the sacred Scriptures promoting workplace justice and securing the rights of families to have access to dignified work and just working conditions.
A just and sanctified workplace contributes to the human flourishing of all, which contributes greatly to the common good. For example, Holy Days of Obligation have lost their importance with many Catholics today. However, for many centuries, Holy Days of Obligation were liberating for the peasants in the fields. Besides obligated to attend Mass, feudal landlords were obliged to release their peasant tenants from work on those days.
Working extremely long hours six days with only Sunday off, no vacations, and little to show for it, this extra day was a welcomed and valued relief. Up until recent centuries, there were over 30 Holy Days of Obligation! Therefore, peasants had an extra day off a majority of weeks each year. They did not experience the "obligation" to attend Mass. Rather, they attended "gratefully," appreciative that God gave them a Church that cares about them.
Since the late 19th Century, papal teaching has further developed this tradition into a more systematic theology of basic social justice. The Catholic Church was admittedly late responding to the harsh and dehumanizing work conditions and wealth disparities of the Industrial Revolution. But when Pope Leo XIII finally responded in 1891 with a strong encyclical "On the Condition of Labor," the Church was foursquare on the side of workers' rights to just wages, benefits, and safe working conditions
Each pope since Leo has further developed these teachings to better address the needs of their times. Over the last decade, the world economy was adversely marked by the economic meltdown and severe recession of 2008. According to a Pew Trust report in 2010 in the United States alone, "the result was hundreds of billions of dollars of lost output and low wages, millions of lost jobs, trillions of dollars of lost wealth, and hundreds of thousands of additional foreclosures." This does not show the emotional and spiritual effects of tens of thousands of homeless families, divorce, increased substance abuse issues, mental health breakdown, and suicide. The 2008 economic collapse was a moral catastrophe.
Both Pope Benedict XVI and Pope Francis addressed these issues during their papacies. Both popes condemned the manipulation and exploitation of markets by a few powerful people resulting in this collapse. Now 10 years out from the collapse, the economy in our country has been growing steadily in the last years of the Obama Administration and the early years of the Trump Administration. Yet, significant effects of the economic meltdown continue to plague our nation and the worldIn our nation's history, there has been only one institution that has consistently advocated for, defended, and promoted working people and their families. The only institution are labor unions. The Catholic Church has officially supported unions since Pope Leo in 1891. The Magisterium teaches that workers have the right to organize and be represented by a union if they so choose.
For many decades throughout Maine, especially in towns with large paper or textile mills, the town was organized with local government, followed by local schools, houses of religious worship, and labor union halls. While these particular models of communities are gone, there is a need for newer models including unions to rise. Recent political and judicial actions have weakened labor unions, but the need for unions only grows stronger.
In their official teaching capacities, Pope St. John Paul II said, unions are "indispensable elements of social life, especially in modern industrialized societies," while Pope Benedict XVI taught unions are needed now "even more than in the past, as a prompt and farsighted response...". And Pope Francis says, "There is no good society without a good union, and there is no good union that is not reborn every day in the peripheries, that does not transform discarded stones of the economy into its cornerstones."
For the Catholic Church, advocating for working people and their families is a core element of our mission. For us as Church, newer methods of such advocating also need to arise.