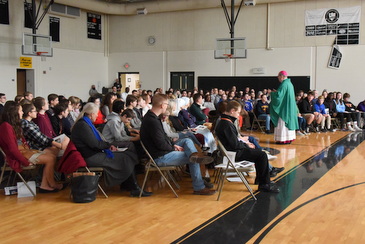 Who am I?
That was the question teens around the state were challenged to consider during the annual Journey retreat, held November 15-17 at Saint Dominic Academy in Auburn.
"It's looking at who am I as a person and realizing that people may put labels on us, but that's not who we really are," explains Emma Perreault, a high school junior from St. Thérèse of Lisieux Parish in Sanford. "So, trying to figure out who you are and what's your purpose. Why are you here? All that."
Through presentations, prayer, Mass, time for reflection, and small group faith sharing, the retreat is intended to help teens recognize their true identities in Christ, to help them come to a deeper understanding of who God is and how he is present in their lives, and to strengthen their relationship with him.
"It's a journey, and we have to find our path and what path God wants us to walk on," said Paul Bonner, from the Parish of the Precious Blood in Caribou, one of the youth emcees. "Especially in today's society, when you are kind of being led in different directions, to be able to find that straight path that you really want to go down, God's path, that's really important."
"The name itself is Journey because it is a journey with Christ, not only by ourselves but with our community, the youth throughout the state of Maine," said Isabelle Castonguay, from St. Rose of Lima Parish in Jay.
"It's just an awesome experience to help you dive deeper into your faith. We have our presenters. We have confession, Mass, activities to build better relationships with our friends. It's a great mix of everything, and it helps you think about your faith more and apply it to your life," said Emma.
Sponsored by the diocese's Office of Faith Formation, Journey drew 150 teenagers and adult chaperones from parishes around the diocese. During the weekend, they heard from and had an opportunity to meet with priests, deacons, women religious, brothers, and lay leaders about different vocations, including the priesthood, consecrated life, marriage, and single life.
On Saturday morning, Bishop Robert Deeley celebrated Mass, emphasizing to the teens that Christ is alive in their lives and that prayer is the key to building a relationship with him.
"If we want to follow Jesus, the way to do that is by following that counsel that he gave to the disciples: to pray unceasingly," the bishop said. "What does that mean to pray unceasingly? It means that we start our day by reminding ourselves that we were created by God and that every breath that we breathe is a breath that God has given to us. We thank him for the new day and that he is present with us. The same thing when you sit down for a meal. You thank God for the food we are about to receive and for those with whom we share it: our family, our community within which we live. And, at the end of the day, we thank God before we go to sleep."
After the Mass, the bishop answered questions posed by the teens, which included some lighthearted ones, such as his favor color, his hobbies, and whether he considers Tom Brady to be the G.O.A.T., as well as some more thought-provoking ones, such as the toughest challenges he faces as bishop and what to do if you don't believe in some of the Church's teachings.
"Being a Christian is not a set of propositions. It's a relationship, a relationship with Jesus," he told them. "We won't understand the teachings of the Church unless we have a relationship with the Lord."
He also recommended consulting the Catechism of the Catholic Church to make sure the issue with which you are struggling is indeed what the Church teaches.
In the end, the bishop said, "We have to be faithful to what the Lord calls us to be."
Presentations during the weekend included "Who am I?", "Who are you in God's eyes?" and "Who do you say that I am?" There was also the opportunity to receive the sacrament of reconciliation, eucharistic adoration, including a eucharistic procession, and recreation time.
The teens said there are many parts of Journey that make it so special and why they seek to return year after year.
"I really like the atmosphere," said Lucas Gombojav, who attends youth ministry at St. Michael Parish in Augusta. "The part I like the most is adoration, the perpetual adoration that I can go. It's one of the moments when I feel closest to God."
"What makes Journey sp­­­ecial to me is seeing everyone come together in our faith and celebrate together," said Isabelle.
"It's a relaxing but very humble weekend. It's something that you have to come and experience. It's hard to explain everything that goes on here," said Thomas Guillemette from St. Thérèse of Lisieux Parish. "It gives you a chance to relax and take in everything, so that is what I love about this weekend."
Members of the Catholic Youth Leadership Team, made up of youths from around the diocese, are instrumental in planning the Journey retreat, with the guidance of members of the Office of Lifelong Faith Formation. The retreat is made possible through the annual Catholic Appeal.