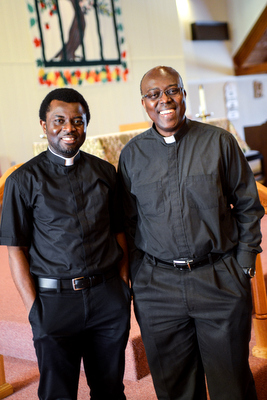 With his broad smile and joyous laugh, Father Innocent Okozi, SMA, is embracing his new assignment as pastor of Blessed Teresa of Calcutta Parish in Norway and St. Joseph Parish in Bridgton.
"I love being a priest, just being there for the people, being with the people," he says.
Father Samuel Madza, SMA, parochial vicar of the parishes, feels similarly.
"That is the biggest thing for me – showing and radiating the love of God, the same love of Christ, how merciful God is."
Father Innocent and Father Sam bring a global perspective to their ministry in Maine. Both priests are originally from Nigeria, and both are members of the Society of African Missions (SMA).
The Society is an international community of missionaries founded in France in 1856 with a commitment to serve the people of Africa. While that remains the primary focus of the Society today, its evangelizing mission sometimes leads elsewhere, in this case, Maine.
"One of our charisms as a Society of African Missions group is to help develop the local Church. So that's part of what we're doing here in Maine, in the Portland Diocese, developing the local Church," says Father Sam.
Although more than 5000 miles from their home country, both priests say they have been warmly received by parishioners here.
"It's been a positive experience. I must say the people are very welcoming – very, very welcoming," says Father Sam. "We get more invitations than we can actually honor, and that speaks volumes to my heart."
"I feel so much at home here," says Father Innocent. "I cannot find the words to describe the feeling, but people make you part of their family."
Parishioners say they are merely reflecting back the warmth that emanates from the two priests.
"They're just two wonderful priests," says Josie Hebert, who attends Our Lady of Ransom, Mechanic Falls. "You can feel their love, their compassion, their joy. They look at you in your eyes. I just love that."
"Father Sam has a big personality. He's happy all the time. You can't help but love him," says Lucille Niemi, who attends St. Catherine of Sienna, Norway.
"Father Innocent is very intelligent, and I can't take my eyes off his eyes. He sees into my soul, and I like that," says Jean Jalbert, who also attends St. Catherine of Sienna.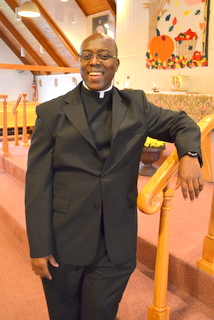 Raised in a Catholic household in southern Nigeria, Father Innocent says he has wanted to be a priest since the age of seven.
"I played Mass with my siblings and friends. I used my towel as my chasuble. For me, it was the chasuble that attracted me. The priest, he looked so elegant in his chasuble, looking at it with a seven-year-old child's eyes."
He says the desire stayed with him through his school years but really hit home while he was studying mechanical engineering to earn the equivalent of an associate's degree.
"It was then that the desire was getting stronger in me, and I knew that I was probably just wasting my time doing all that stuff," he says.
He was living in Lagos, Nigeria, at the time, and contacted a SMA priest he knew there. They discussed both the diocesan priesthood and the Society of African Missions, which had just decided to accept members from Africa and other areas. Prior to that, SMA priests were predominantly from Western Europe. Father Innocent says he was impressed with the SMA missionaries' dedication.
"I found it very fascinating that all these Europeans and Americans would leave their homeland and devote their lives entirely to strangers, total strangers. And they felt so much at home. They became like one of us," he says. "And I said, I would really like to do something like that – go to other countries and share the Good News."
Because the Society of African Missions was just beginning to accept African members, Father Innocent had to wait for a program to be developed.
"It was brand new, and actually, I was one of the first to be recruited from Lagos, Nigeria," he says. "We were like part of the experiment."
He took the opportunity to study French, a language in which he is now fluent. He is also able to celebrate Mass in Spanish and converse in several other languages.
Father Sam Madza is also fluent in French and English, as well as several African languages including Hausa.
Father Sam is originally from Benue State, located in central, eastern Nigeria, but he grew up in the northern part of the country, where his father worked as a university professor.
He attended Sunday Mass with his parents and, when he was age seven or eight, joined a Marian society at the church.
"I would see them immediately after Sunday Mass. They would set up a little altar and a statue of Mary and all of that – the white cloth, the candles," he says. "I felt drawn to that."
He says his participation in the group was limited because all the churches were located in the center of town, which was far from his home. Still, he would attend meetings on Sundays and on some Saturdays, which would mean walking by himself to the church.
Later, when in high school, he would join another Marian group, the Block Rosary Crusade.
"In that group, we did a lot of good things," he says. "We would contribute money and then visit the poor, distribute basic things like soap, sugar…and then go to the prison and visit the sick in hospitals. So that is the kind of thing I was doing as a teenager."
He says it was that experience that led him to the priesthood.
"I felt joy doing this, a kind of answer to a lifetime project that I would like to give myself to."
Unlike Father Innocent, Father Sam was not close to any priests, so instead, he wrote to 23 different congregations, taking the names from a vocations directory that was attached to a calendar his mother had picked up at church.
He would end up considering the Carmelites, a contemplative community, and the SMA Fathers, an active one.
"I was very, very anxious to get a congregation that would, one, accept me, and two, I didn't know if, really, this was what God wanted me to do. So I was kind of struggling in this cloud of indecision."
He shared his uncertainty with the SMA priest.
"I told the priest that I was finding it difficult to choose a congregation. How do I know I want to be in this the rest of my life? And he said, 'Sam, you can always pull out any time you want. I invite you to a second interview. If you don't like us, you can go back home.' And ever since, I have been with the SMA Fathers.
Father Sam was ordained in Abuja, Nigeria, in 2005, a decade after Father Innocent, who was ordained in Ibadan, Nigeria, in 1995.
Both served extensively in Africa before coming to the United States. While still in the seminary, Father Innocent's assignments took him to the Benin Republic and to Togo. Although years apart, he and Father Sam also both worked with the pygmy population in the Central African Republic.
"My zeal for the mission work among the pygmy population was very, very high," says Father Innocent.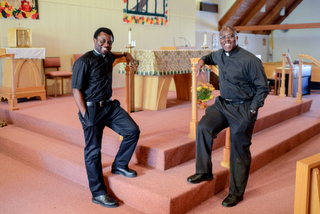 The pygmy population in the Central African Republic is largely nomadic, and the missionaries worked to help them establish villages so they would have access to education and health care.
"We were encouraging them to create villages, settlements," says Father Sam. "I ran a shop. I was selling to encourage the pygmies to develop buying and selling skills, using money as legal tender, learning to save."
A village would also provide the opportunity for them to vote and gain more civil rights.Father Innocent and Father Sam each served the pygmy population for three years.
After his service there, Father Innocent did formation work, first as assistant rector and spiritual director at the SMA International Spiritual Year Center in Abomey-Calavi, Benin, and later as the assistant rector and dean of students at the SMA seminary in Nairobi, Kenya. He also studied in England for one year and was a delegate to the Society's general chapter in Rome in 2001.
Father Sam was also assigned to formation work following his time with the pygmies. He taught "Introduction to Christology" at the seminary in Ghana and also worked in parish ministry there for five years.
Neither Father Sam nor Father Innocent ever envisioned that they would end up serving in America. It came about after Father Innocent requested a return to England to continue his studies. His superior suggested that he instead go to the United States. Working with the SMA U.S. Province, based in New Jersey, Father Innocent attended Seton Hall University, where he earned a master's degree in psychological studies and then his doctorate. His pre-doctoral internship took him to the University of Maine.
"That was a very positive experience for me, and at the same time, I was engaged in pastoral ministry. In 2009, that was when I came to Orono. Then in 2010, I started receiving invitations from different pastors to cover in their parishes. Then everything went from there."
Father Innocent served as a part-time parochial vicar at Corpus Christi Parish in Waterville last year, and this year, Bishop Richard Malone appointed him pastor of St. Joseph and Blessed Teresa of Calcutta, both in Cluster 30.
Although he describes his work here as night and day from his time spent with the pygmies, Father Innocent says he is approaching this ministry in the same way -- with zeal.
"Let us all gather together as a community of faith. We cannot do it without you. I trust that we will work together to build up our parish," he told parishioners at St. Catherine of Sienna during his installation Mass.
Father Samuel Madza was assigned to the Diocese of Portland to work with Father Innocent. The two knew each other because, while a seminarian, Father Sam had been one of Father Innocent's students.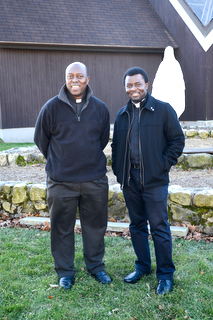 Father Sam arrived in May and served at St. Michael Parish, Augusta, for a few months before becoming parochial vicar at the Cluster 30 parishes.
"He has been a blessing," says Father Innocent. "I am grateful that we are working together, that we live together also in community."
"I am enjoying it, getting to know more and more the roads, the different communities, and the people," says Father Sam.
Father Sam says he has been surprised that many Americans know little about the countries of Africa.
He says he is pleased, however, that people want to learn more about him and his experiences. "I feel received. The parishioners are eager to know more about me, where I came from, what my experience has been like back in Africa, growing up there, my knowledge of God, and my travels."
Father Sam says he has also been struck by the faith of parishioners here.
"It's an active presence, a participating presence, a believing presence, if you like, different from what I thought about American Catholic life," he says. "I am positively thrilled to see the faith of the people here in America, positively impressed."
Father Innocent and Father Sam say whether serving here or in Africa, their mission is the same – evangelization.
"Just sharing the Good News and trying, in my own way, to make it concrete for people," says Father Innocent. "I see that as a privilege -- to be found worthy to be a close collaborator of the bishop and of the local church and, at the same time, to share in people's lives."
"My identity as a priest is intrinsically connected to Jesus Christ…God has called me as I am, to become something I was not," says Father Sam. "I'm called not because I'm perfect. I'm called because God saw that I could become something higher than I thought, as a priest, in order to help others and to share with them what has helped me to be me today."
Father Sam says he sees God's hand and His graces in the gestures and the greetings of the people he meets. And while he had to leave something behind to come here, he says he has gotten so much more in return.
"Once I do God's work, as Christ said, there is no need for me to carry around a haversack, no need for sandals, no need for money, no need to move around with family. For having left father, mother, brother, sister, elsewhere, to be here, God has given me one thousand-fold what I left."