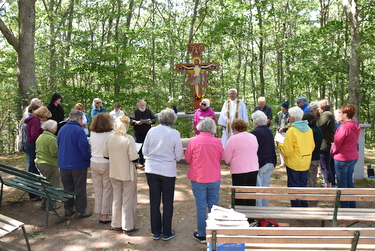 With a gusty breeze blowing and leaves rustling around them, more than two dozen people gathered in the "Chapel in the Pines" at St. Patrick Church in Newcastle to celebrate the World Day of Prayer for the Care of Creation.
"All of us are intimately linked to the earth and to other living organisms with whom we share our common home. We are all kin, the 'kin-dom' of God," said Joan Ludwig, a parishioner who organized the event. "We're rich when we have a real sense of our interconnectedness, not just with other human beings. The 'kin-dom' of God includes all of creation and the vastness of the cosmos around us."
Pope Francis established the annual World Day of Prayer for the Care of Creation in 2015 to provide an opportunity for individuals and communities "to reaffirm their personal vocation to be stewards of creation, to thank God for the wonderful handiwork which he has entrusted to our care, and to implore his help for the protection of creation as well as his pardon for the sins committed against the world in which we live." He chose September 1st to coincide with a similar celebration that has been held in Orthodox Church since 1989.
Ludwig said she organized the interfaith prayer service because the day is not yet widely known and celebrated, and yet, there is an urgent need for people to become better stewards of the environment.
"Creation really needs our help now. It needs our prayers. It needs people acting together. So, I think I saw this as a way to bring people together of all different faiths and have them meet each other, have them pray together," she said.
"We really need to act. We can't, sort of, wring out our hankies and say it's somebody else's responsibility," said Steve Ward, from St. Andrew's Episcopal Church in Newcastle. "Our grandchildren are going to be suffering unless we act. They will suffer. The question is, can we reduce or mitigate the amount of harm they have to deal with?"
The outdoor chapel was an ideal setting for the prayer service because it is tucked amid pines and other trees that reach into the sky.
The service opened with a prayer for the earth from Pope Francis' encyclical, Laudato Sí, during which those gathered prayed that God would "teach us to discover the worth of each thing, to be filled with awe and contemplation, and to recognize that we are profoundly united with every creature."
Those gathered were then asked to hold in their hands a rock they had received upon arrival and to reflect on its journey from the time when God created the earth. One by one, those in attendance then stood in front of the altar and spoke about some of the gifts of creation they most appreciated. Their responses included everything from the oceans and rivers to monarch butterflies, the cycles of nature, and family pets.
Father Thomas Murphy, pastor of All Saints Parish, was among those who attended the interfaith prayer service. He said the parish is planning to start study groups of Laudato Sí, first at St. Patrick Church and then at the parish's other six churches.
He said the reasons we've become disconnected from creation are complex but said he believes that what Pope Francis is trying to commuicate is that they begin within us, not around us.
"I think what Francis was picking up on, for Christians anyway, is that there is not only fall-redemption theology: Jesus, life, sin, death. There is also creation-centered spirituality, and they're connected," he said. "If the soul is in trouble, then the outer side of the world is going to be in trouble. If it's full of darkness, anger, violence, it's going to reflect that into all of creation."
The service concluded with participants gathered in a circle of prayer. A reception was held afterwards to allow those in attendance to get to know each other better. On display in the parish hall were paintings made by students as part of Catholic Charities Maine Parish Social Ministry's Care for Creation Art Project. They carried messages such as "A clean earth is a happy earth, "Reduce, Reuse, Recycle," and "We need the earth, and the earth needs us."