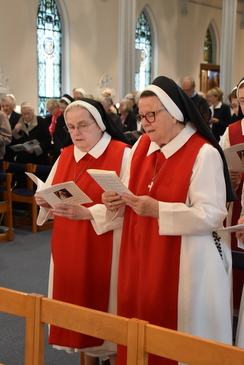 In what was a loving but bittersweet celebration, nearly 200 people gathered for a Mass in the chapel at the Cathedral of the Immaculate Conception in Portland on Thursday, October 4, to thank and honor the Sisters Adorers of the Precious Blood for their 84 years of ministry in the Diocese of Portland. The Mass was celebrated on the anniversary of the sisters' arrival in Portland in 1934, but it also marked the end of their ministry here. Soon, the remaining sisters, Sister Mary Jo and Sister Theresa, will depart their monastery here for the Monastery of the Precious Blood in Manchester, New Hampshire, the diocese from which the sisters originally came.
"It is because our hearts are filled with gratitude that our gathering for this anniversary is also marked by sadness. This great gift to the Church in Portland is now closing," said Bishop Robert Deeley, who celebrated the Mass.
"We're moving from a beautiful sacred space to another beautiful sacred space, and where there is God, there is heaven, so what can I say, we're moving from one salon of heaven to another," said Sister Theresa.
The Sisters Adorers of the Precious Blood are a contemplative order, whose lives are spent in solitude and devoted to prayer.
The sisters were invited to come to the Diocese of Portland by Bishop Joseph McCarthy, the sixth bishop of Portland, who believed their presence was needed to "round out the life of the Church in Maine."
At the time, the Bishop of Manchester told Bishop McCarthy: "They are a powerhouse, a spiritual dynamo for me, for my priests, and for my people. Through them, I receive the power to carry out my difficult work, my priests receive power and encouragement, the people find relief and comfort there."
In his homily, Bishop Deeley said, through the past 84 years, those words proved to be true.
"As we celebrate this anniversary, we give thanks that, in fact, the sisters have been all of that and more to the bishops, priests, religious, and laypeople whom they have served through these 84 years," Bishop Deeley said. "Bishop Peterson assured Bishop McCarthy that the sisters would be a powerhouse of prayer and charity. The convent has been ever thus. We who have been graced to know of the strength and encouragement that has come from the prayers and kindnesses of the sisters will be forever grateful for that grace."
The sisters touched many lives during their time here. Although a contemplative community, their outer chapel remained open for prayer, and they were always ready to help anyone in need.
"The sisters are indeed contemplative and, as such, set apart from the world, but they are very much involved in the world in their care for the people who have visited the convent," the bishop said.
Many of those who visited the sisters or their chapel, who got Mass cards from them, or were the beneficiary of their prayers attended the anniversary Mass and reception to share a hug and express their gratitude.
"I'm going to miss them so much. They were always so wonderful to our family," said Phillis Sullivan from Portland.
"I don't know what to say. It's so sad. There will be a hole in Portland. I won't be able to ride by that building without thinking of them," said Cheryl Lee from South Portland.
"I'm really going to miss them. That was a place for me to come every week, and the spirituality of it all, it's just wonderful," said Josephine Malconian, whose family brought meals to the sisters for years.
Sister Mary Jo and Sister Theresa said they were moved by the number of people who came to wish them well and say goodbye.
"It was an overwhelming experience of love and memories of friends and family and also sadness of saying goodbye for a little bit. We're not going to be that far away, so we've invited everyone to come to Manchester," said Sister Theresa.
"It was overwhelming. I didn't think there would be this many people," said Sister Mary Jo. "We have been blessed our whole time in Maine. Every day, somebody gives us just the promise of prayers. That keeps us going, and we pray for them. We've just been very blessed."
As has the Diocese of Portland for these past 84 years.