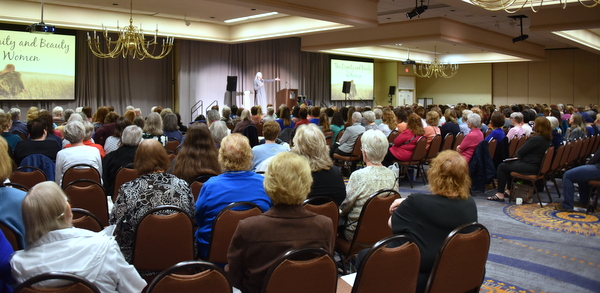 "Our deepest identity is daughter of God. That's who we are."
That was the message shared by Sister Miriam James Heidland, SOLT, to more than 360 women gathered at the 7th annual Maine Catholic Women's Conference held at the Holiday Inn by the Bay in Portland on Saturday, May 5.
"Our whole lives are ordered toward what it means to live in the truest part of who we are as God's daughters," she told the women. "When you and I live like this, when our identity is set firm in that fact that I'm God's daughter, that my dignity, my worthiness of being loved, and honored, and respected is not given by a human person but given by God, that means that I can navigate life in a very different way. "
Sister Miriam James, a member of the Society of Our Lady of the Most Holy Trinity, was the keynote speaker at the conference, which was based on the theme "Loved as I Am," taken from her 2014 book Loved as I Am, An Invitation to Conversion, Healing, and Freedom through Jesus.
In one of her addresses to the women, Sister Miriam James compared life to a book with many chapters, some of them glorious or luminous or joyful, but others sorrowful. She told the women, for instance, that despite being a professed sister for 20 years, she is also a recovering alcoholic.
"I've had, many times, those sorrowful mysteries of my life tell me things like I'm not worthy, that I'm never going to be anything, that no matter how hard you try, God will never not love you because of the brokenness in your life. And I'm here to stand before you as a living testimony that there is nothing, nothing, nothing in your life that could have ever happened to you, that you could have ever done, that would stop God from loving you."
She said she had many things restored to her in her life and one of those is love. She said God is continually pouring out his love upon all of us.
"He is constantly willing our good," she said. "He's constantly desiring to bring you out of darkness, out of the wilderness, out of our complacency, out of the areas that we're numb or the areas where we're frozen, or the areas that we're just disordered. His desire is to bring us into fullness, into truth, so we live a life vibrantly alive."
That was a message also shared by the conference's other featured speaker, Colleen Stratton. She is a survivor of human trafficking who travels and shares her story to try to educate and empower women.
Stratton, who works for Eye Heart World, an organization dedicated to combatting human trafficking, told how being a victim of child abuse at age five caused her to think of herself as dirty and unworthy and how those beliefs became strongholds in her life that led to drug use and crime and eventually to becoming a victim of human trafficking. She said it was only through finding God that she was able to break free.
"I am a life that has been rescued from the hand of the enemy. I am a life that has been redeemed by God's amazing love and by his freeness of grace," she said. "The only thing that can break a stronghold is God's presence. The only thing that can shatter a lie is the truth of God's word, and the only thing that can pierce through that kind of darkness is the light and the love of Jesus Christ."
Stratton said through the dark times in her life, she encountered people who let her know of God's presence, including someone who approached her on the street, a nurse in an emergency room, and a jail chaplain.
"God loves to do this: to work through people, to plant seeds of hope where there is hopelessness, seeds of truth where there are lies, and seeds of love where there is fear. I know that God can work through anyone whose eyes are open and whose hearts are sensitive to his leading, and when that happens, when people allow themselves to be used by God in that way, lives are forever changed, because the light and the love of Jesus being expressed through people is the only thing that can break through that kind of darkness."
Stratton let the women know that there is now much light in her life, the result of a happy marriage and four children.
Her emotional story brought silence, along with some tears, to the room full of women, who came from all parts of the state and were of all ages: daughters, mothers and grandmothers.
"One of the things that moved me so much was how a word or a gesture of kindness to someone, a stranger in need, can change someone's entire life," said Teresa McCann-Tumidajski, the executive director of Maine Right to Life, who was among those in attendance. "We're all given grace abundantly, and unfortunately, we reject it on a regular basis, but God's grace is always with us."
"I think just the talk of Christ's love for us and God wanting us to be fulfilled and happy and peaceful. That's what really speaks to me: that we need to forgive ourselves because he forgives us," said Ramonda Grzymala, a parishioner from St. Louis Church in Portland.
"I loved sister's talk. One of the things she talked about was beauty and how we're all beautiful because we're made in God's image. We tend to think God is on the surface, and instead, it's interior, and being made in God's image isn't just the physical: it's the spiritual, the emotional, the psychological," said Janet LeBlanc, a consecrated virgin who lives in Waterville. "She also mentioned that the essence of who we are is our beauty, and if we're a reflection of God, then we're all beautiful."
"I was so happy and thrilled to hear her beautiful, holy story and her holy exhortations on what it means to be a woman of God," said Mary McCann, from the Cathedral of the Immaculate Conception in Portland.
Additional talks were given by Cindy Nickless, executive director of The Presence Radio Network, and Suzanne Lafreniere, the director of the diocese's Office of Public Policy. Lafreniere emphasized that the crime of human trafficking does occur in Maine. She shared statistics showing that calls to the National Human Trafficking Resource Center Hotline originating from Maine have increased by over 50% in recent years and that there were 240 calls from Maine to the hotline between 2007 and 2015.
Throughout the conference, the women also had the opportunity to browse through numerous booths, including one from Hope Rising, Maine's first residential treatment program and safe house for survivors of human trafficking. Hope Rising is a branch of Saint André Home, which is a ministry of the Good Shepherd Sisters of Quebec.
The conference also featured the "His Own" music ministry, formed by three friends who wanted to combine their love for Jesus with their passion for music, and Mass celebrated by Father Dominic Azagbor, O.P., a parochial vicar at All Saints Parish in Brunswick. The women also joined together to pray the rosary, and there was the opportunity throughout the day for adoration of the Blessed Sacrament.
As it has each year, the Catholic Women's Conference drew praise from those who attended.
"I think it's profoundly inspirational, and I think it's wonderful to be with so many like-minded women, and I think it's good to be reminded of the richness of our faith," said McCann-Tumidajski.
"It's outstanding. It's riveting," said Grzymala. "It's just an awesome opportunity. I wish more women could come."