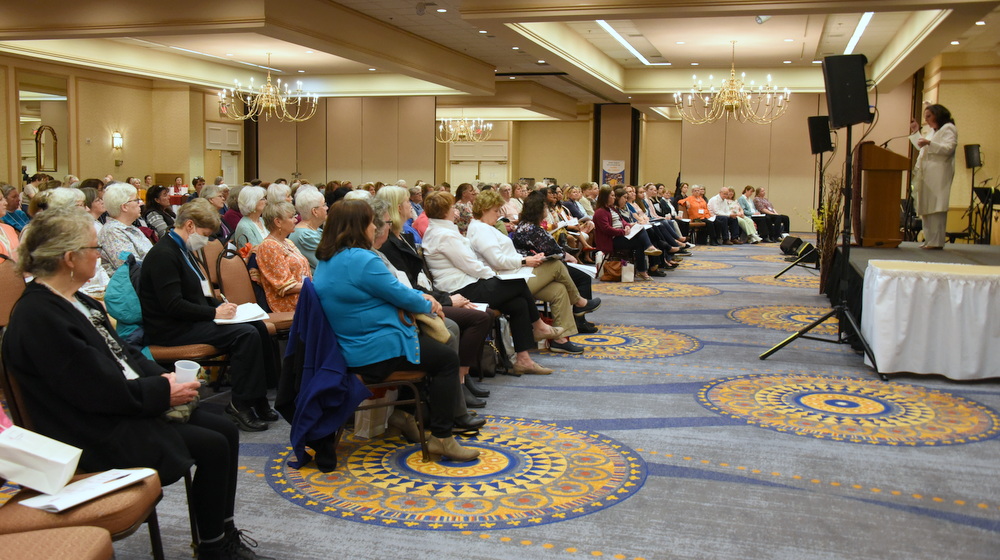 Seeking an opportunity to share, grow, and rejoice in their faith together, 225 women from around the state gathered in Portland on Saturday, April 2, for the Maine Catholic Women's Conference.
"I love Jesus and I want to hear everything I can about him," said Deborah Laurinaitis, who traveled from the town of Mexico to attend. "I just like being at any place where there are a lot of women, and they all love the Lord, and they want to share their love for Jesus and for God."
"I came to the women's conference to find community, to find connection, and to also get my soul fed," said Megan Walsh, who attends Holy Spirit Parish in Wells.
"During Lent in particular, I always need more spiritual growth, more food for my faith, and this seemed like a wonderful opportunity for that," said Judy Shaw from Windham.
The theme of the women's conference, now in its 9th year, was "It is mercy I desire, not sacrifice."
Bishop Robert Deeley, who celebrated the conference's closing Mass, said that while our world is a brittle place, we are all invited to be made new in the mercy and love of God.
"The mercy of God heals us and gives us new life," the bishop said. "The care we give each other tells us not only to speak with each other and listen carefully to each other, it calls us, in the love we show one another, to show mercy — for, in our God, we know that love and mercy are one."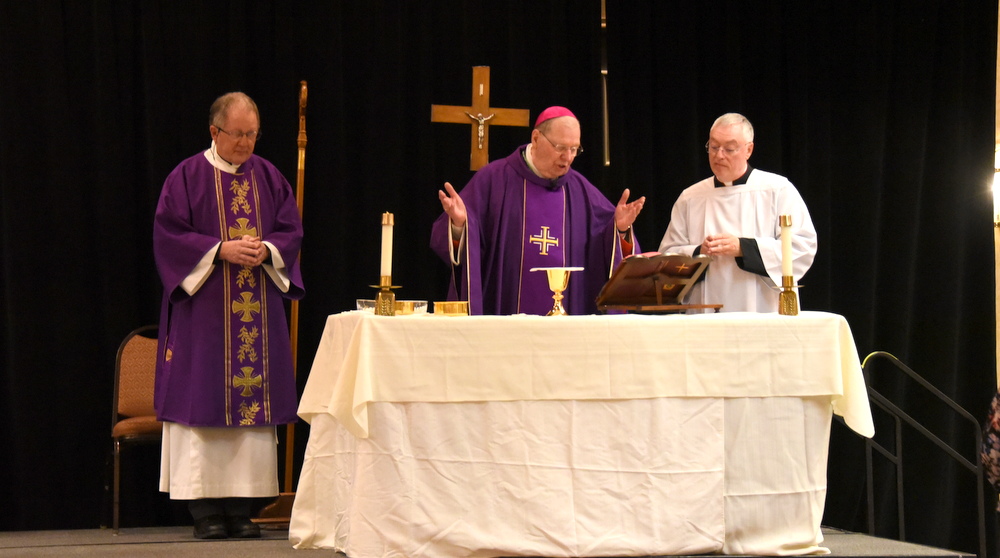 Featured presenter Liz Kelly, a well-known speaker and author, said that it was God's love and mercy that led to the creation of the world and to the creation of each one of us.
"The Lord Almighty wanted us to share in his divine life, in his life of love, his creativity, his beauty, his truth. He had an overabundance of love and he wanted to give it away," she said. "Mercy covers the universe. The world is literally wrapped in God's mercy."
Kelly said what she hopes the women take away from the conference are a deeper awareness of how loved they are and the knowledge that God has a mission for them.
"It's going to be different for every single woman. It's going to flow out of their life circumstances, but the ultimate mission is what Mary did. Mary brought Jesus to the world, and she brought the world to Jesus. So, in whatever way that manifests for each of us, our mission is the same. COVID, no COVID, married, single, widowed, wherever we are in our stage of life, that is our mission. So, I'm hoping that the Holy Spirit will really work in people's imaginations to allow them to see a little bit better how it is that they are being called to bring Jesus to the world and the world to Jesus," she said.
In addition to the presentations by Kelly and the Mass celebrated by Bishop Deeley, the conference also featured praise and worship music led by "SpiritSong," the opportunity throughout the day for the sacrament of reconciliation, a eucharistic holy hour, and a chance to browse through vendors' booths.
This marked the return of the conference after a two-year hiatus due to the pandemic. Some who have attended for years said they anxiously awaited its return and the opportunity to gather again.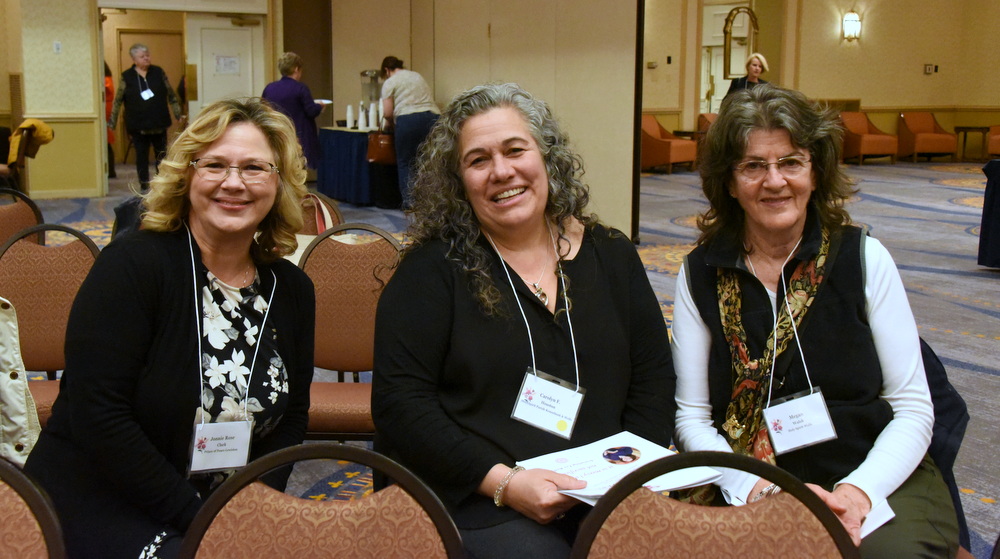 "There are so many reasons I come: just to see people again, to praise, and to have my soul fed. I feel like we've been in hibernation for a couple years, so it feels good to bust out," said Carolyn Houston, director of faith formation at Holy Spirit Parish.
"I've been waiting two years to get back here," said Sue Edwards, an Old Orchard Beach resident who is a member of Good Shepherd Parish. "What I've realized over the years is that there is nothing really that is geared toward women that says, 'Look in the Bible, this is what we're to do.' So, it's always nice to come to these events to see there is something specifically for women to do."
"I come every year. There is only one I missed," said Valerie Litalien from Lisbon Falls. "I think it's very important for women to gather together to be united in Christ in our Catholic faith. We have the most wonderful faith. If only people knew how wonderful it was, there would be even more who would come."
The conference, which was sponsored by the diocese's Office of Lifelong Faith Formation, was held at the Holiday Inn By the Bay in Portland.