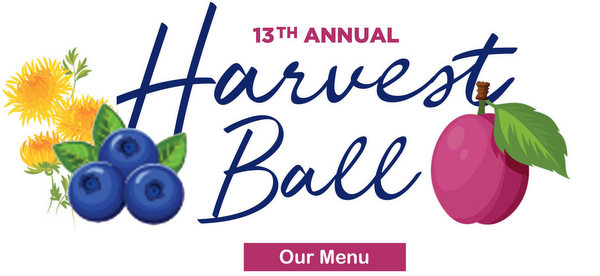 Following a social hour with hot hors d'oeuvres and crudités, the Harvest Ball dinner menu will feature:

Salad

Maine Summer Salad

A spring mix featuring Maine blueberries, toasted sunflower seeds, goat cheese crumbles, and blueberry vinaigrette.

Main Courses

Beef filet topped with a caramelized onion demi glaze. It will be served with steamed asparagus and chorizo mashed potatoes.

-or-

Panko-crusted baked haddock, topped with a lemon beurre blanc sauce, served with rice pilaf and maple-glazed brussels sprouts.

-or-

Summer vegetable paella made with garlic and saffron mirepoix jasmine rice, zucchini, summer squash, cherry tomatoes, corn, and button mushrooms.

---

Dessert

Blueberry cheesecake will be served for dessert.