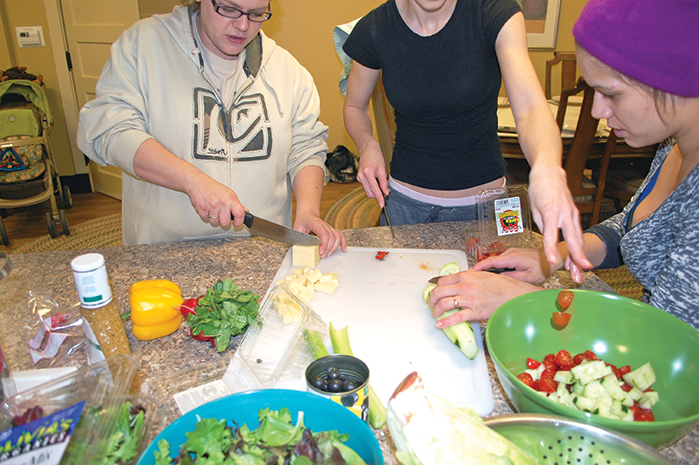 "It feels good to me, like home."
Stephanie, age 34, has been living at the McAuley Residence in Portland for the past few months.
"It's been good. It's been really informative, and it's been comfortable for me and welcoming."
The mother of two children, Stephanie has battled drug addiction most of her adult life.
"When I needed to be on drugs every day or I would be sick, I was probably 20," she says.
At one point, she weighed only 95 pounds and says she expected to die.
"I was sick all the time and messed up all the time," she says.
Seeking help, she participated in treatment programs and stayed at sober houses but each time suffered setbacks. Then, she heard about the McAuley Residence, a comprehensive, transitional housing program offered through the Mercy Health System of Maine.
"Once I heard about it, and I came here, I knew this is where I was going to stay," she says. "I kept coming and then I got accepted."
Stephanie says she is ready to make the commitment to change and grow.
"I want to be sober this time. And I see that it's possible," she says. "I feel like if I keep learning more skills, then I can actually have some kind of life. I have hope now that I never had before."
The McAuley Residence provides a safe environment for homeless women to build confidence and develop the skills they need to live healthy, productive lives.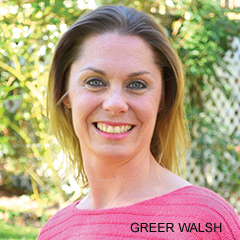 "Women are launched there," says Melissa Skahan, Mercy Vice President of Mission Integration. "Women enter in a state of homelessness, hopelessness, and then they transition, over a period of time, into very powerful women, ready to take on any aspect of life's inevitable challenges."
"My focus is really around women rebuilding their story," says Laura Phillips, MSW, a social worker. "Women come in with a story of themselves. It may be homelessness. It may be addiction, and it may be abuse. And it's through their work here — paying rent, being held accountable, working on their recovery — that they're able to actually retell a story about themselves. They're reshaping their identity while they're here."
"I needed to work through my issues and be grounded, and McAuley taught me that," says Greer Walsh, who stayed at the residence from 2006 to 2008. "They gave me the guidelines to know how and to feel completely confident that, as a woman, as a single parent, I'm just as good as everybody else."
The McAuley Residence was founded 25 years ago by the Sisters of Mercy. Sister Miriam Callnan, RSM, says the sisters were troubled after seeing television reports about women and children living in shelters.
"To see women without housing was just mind-boggling for us, and we lamented and lamented, but over time, a small group said, 'We have to do something,'" says Sister Miriam.
The result was a house on Spring Street in Portland that was given to the sisters by Mercy Hospital.
"That could house three families. It was very cramped quarters, but that's how they started," she says.
In 1997, the McAuley Residence moved to a larger State Street location and expanded to six apartments, later seven when an office was converted to living space.
"I heard a compelling story, and I said, 'Move my desk out,'" says Skahan.
Still, it wasn't large enough. Skahan says they were getting four or five referrals each week, more than they could handle. It led them, earlier this year, to move into a High Street apartment building owned by Community Housing of Maine (CHOM). The historical building once housed the Portland Children's Hospital.
"They were able to restore it historically, so a lot of the beautiful attributes were saved. So we were able to build a model that allows us to have 15 secure apartments for women and children," says Skahan.
The new apartments offer community space, a beautiful play area for children, and a large kitchen where the women learn to cook.
"We have a partnership with Cultivating Communities, and a farmer delivers produce every week. Then it's followed by cooking classes, and this room comes to life. It's a beautiful, beautiful thing with lots of babies and women," says Skahan.
Perched in the kitchen is a row of teacups, a reminder of one of Catherine McAuley's final requests to the Sisters of Mercy, the order she founded.
"When she was dying, and they were hovering around her, as women do, she said to one of them, 'Make sure they have a comfortable cup of tea when I'm gone,' so we've kind of adopted that," says Sister Miriam
"The cabinets are always stocked with lots and lots of tea," says Phillips. "We drink a lot of tea in this house. It's usually my answer to almost anything."
The healing that takes place at the McAuley Residence is physical, emotional, and spiritual.
"Part of feeling whole is really having a connection, as they'll call it here, to their higher power and to God," says Phillips.
Much is expected of the women who stay there.
"It's clean and sober; it's mental health recovery; it's spiritual recovery; it's parenting recovery; it's financial recovery. So every week, when I meet with a woman, I go through all of those domains," says Phillips. "It's this constant, kind of, pushing them towards where they want to be so that they're accountable."
The women must attend group and individual counseling sessions. They must adhere to a curfew. They must attend seminars and classes. Key Bank, for instance, helps the women develop financial skills. Fairchild Semiconductor donates money for books for women who go back to school.
"We're very planful around education and employment — that's really deliberate — and parenting," says Skahan. "We work very directly around building parenting skills, and we use parenting groups to ensure that they feel success as families. That really helps to bolster their self-esteem."
Although Stephanie is just beginning her stay at McAuley, she says she is already seeing a difference in the relationship with her four-year-old daughter.
"It's been really amazing for us. I'm going to get emotional. It's really good," she says.
The women must also attend a 12-step recovery program. Recently, the McAuley Residence shifted its focus to only accept women battling addiction. It works in collaboration with Mercy Hospital Primary Care and with the Mercy Recovery Center.
"It really was the most compelling need when we did our community needs assessment," says Skahan. "From a health-care perspective, we have homeless women who we are detoxing at the Recovery Center who are pregnant; it's incumbent on us to figure out a discharge plan into continued care."
Throughout the years, the McAuley Residence's program has proven to be successful.
"It is something that the sisters began 25 years ago, and it consistently has remarkable outcomes," says Skahan.
Greer Walsh can attest to that. She says when she arrived at the McAuley Residence in 2006, she was in a state of desperation.
"I had nowhere to go if they didn't take me."
Now, she says she has a good job and a healthy family life.
"I'm very grateful every day that I was part of McAuley Residence. I don't know where I would be. I don't know how chaotic my life would be. I don't know if I would have stopped yelling at my children. I don't know if I would have been as involved in their lives at school."
She says sharing her story is one way she can say thank you.
"I don't think I give back enough."