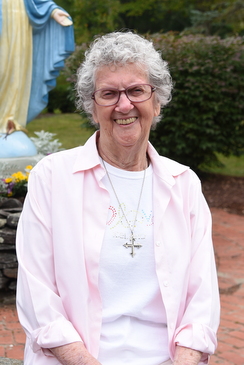 "If you know how to do it, and God has given you the gift, you should." That is the mantra of Avis Fleck, a member of Our Lady of Perpetual Help Parish in Windham.
"To me, it's just something you do. My whole attitude in life is that if you know how to do something, do it. If someone needs help, you help them," she says. "If there are tickets to be sold, well, I know how to sell tickets, so I'll stand there and sell them."
There are many things that Avis knows how to do, evident by the numerous ways she shares her talents. Her skilled hands can turn ordinary fabric into one-of-a kind creations, some of which will be showcased at the parish's Made in Maine Christmas Fair on the weekend of December 7 and 8.
"If it goes on a sewing machine, I can do it," she says.
For many years, Avis owned a tailor shop in South Portland, operating her own business in an era when few women did. She is thankful for the support of a male mentor for whom she had worked, tailoring men's clothing.
Avis learned to sew at an early age from her beloved grandmother, who was also her guardian.
"She had a cedar chest, and it sat under a window in her bedroom. Anytime I felt like sewing, I would lift the cover of that chest, and there would be material and a pattern in there in my size," says Avis. "It is a beautiful memory."
After Avis' grandfather died, she and her grandmother, who was ill, went to live with an aunt in New York City. At age 18, however, Avis found herself out on her own. Always a determined person, she found a place to live and finished her high school education, while working at the telephone company.
It was her job that first connected her to the Catholic faith, because the women with whom she worked were Catholic.
"They had what they called the telephone operators' Mass. In an hour's time, you could go to Mass, go to lunch, and be back at work," she says. "One time, we had a strike, and we had to stay overnight at the telephone company. All of a sudden, these girls are all on their knees praying the rosary."
Even though she didn't know much about the faith, she felt drawn to it, and with the guidance of a neighbor, she entered the Church. A year later, she married an Irish Catholic man.
"That's the Holy Spirit," she says. "Once I learned about the Holy Spirit, and I looked back at my life, being orphaned, living with elderly grandparents, the Holy Spirit had that whole thing mapped out."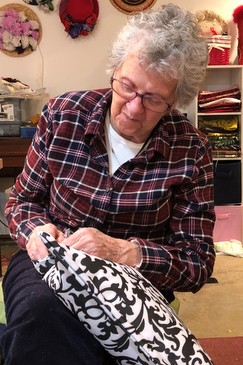 Avis began volunteering at Holy Cross Parish in South Portland soon after the couple moved to Maine. When her daughters were young, she served as a Girl Scout leader. She then put her sewing skills to work making Raggedy Ann dolls for the parish's fair, and later, she was asked to teach fourth-grade religious education. She remembers being "scared to death" at first but coming to love it.
"I love children. I really do. And the fourth grade was teaching the beginning of time with Genesis. You could tell them such a beautiful story about Adam and Eve," she recalls. "It was such a joy."
When Avis moved to Windham in 2001, she missed the children but soon got a new opportunity when Larry Guertin, now a deacon, invited her to help prepare second graders to make their first Communion.
"It was a great learning process for me," she says. "I thoroughly, thoroughly enjoyed it."
Combined, she taught religious education at the two parishes for nearly 30 years.
Avis also put her teaching skills to work at the Maine Correctional Center in Windham. She volunteered to help Deacon Frank Chambers teach math to female inmates who were striving to earn their GEDs.
"They needed volunteers, and one thing I learned when I was in school was math, so I thought, 'Well, I can help them do math,'" she says.
That was 16 years ago, and she has volunteered ever since. She now goes there once a month for a Communion service and to share God's word.
It was Avis' leadership that helped revive Our Lady of Perpetual Help's Christmas fair in 2010. Last year, the fair netted around $12,400, which went to support the Social Justice and Peace Committee. The committee's efforts include free monthly community meals, Thanksgiving baskets, and Christmas gifts for families in need, among other programs. In 2017, some of the proceeds went towards the purchase of wheelchair accessible doors for the church.
Avis has now passed the fair's chairmanship baton to others, but she still manages the sewing booth, for which she makes everything from casserole carriers to vinyl aprons.
Avis encourages others to sew with her, inviting them to her home which has many sewing machines and sergers. Avis has also taught sewing/quilting to women at the senior center in Gorham and has made drapes for the center, as well as for the church.
Avis's initiative also led to the donut socials after the church's two Sunday Masses and to the annual Ladies Guild May Tea Social. That treasured event features bone china, cloth napkins, finger sandwiches, delicate desserts, and gourmet teas.
"I'm always coming up with ideas," Avis says. "I'll come up with an idea, and if you don't like it, just give me five minutes, and I'll come up with another one."
"You can't discourage her," says Carol Kennie, president of the Ladies Guild.
Avis remains the guild's spiritual leader, managing the women's book of intentions and leading the women in prayer at the beginning and end of meetings. She also participates in weekly Bible study, attends daily Mass and prayer services, and is a faithful member of the Lay Dominicans, an order she supports by selling handmade quilts and purses.
"I just couldn't picture my life without the Church," she says.
Avis just celebrated her 87th birthday but remains as energetic, and as humble, as ever.
"There are a lot of people who do the same thing I do," she says. "I think that Our Lady of Perpetual Help is a very, very friendly church. It's outstanding, I would say, in the way it greets people."
But when it comes to making people feel welcome, those who know Avis will tell you, it's one thing she "knows how to do" well.
"I met Avis three years ago as I entered Our Lady of Perpetual Help, when she welcomed me with a big hug and smile," says Christine Lynch, a parishioner. "She has a special place in my heart as she most likely does in the hearts of many whom she will never know."