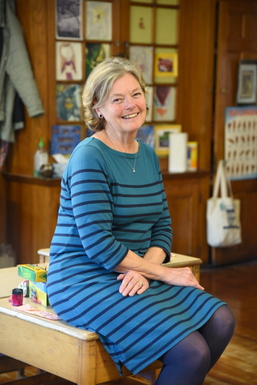 "Teaching has been my career passion and joy."
Nancy Ouellette has known that she wanted to teach since she was a child.
"I really always loved the idea of teaching kids," she says. "I can remember taking a little blackboard outside or an easel and teaching neighborhood kids."
Even after 21 years, she says she still enjoys being surrounded by children in the classroom.
"I love the newness of every day -- I really do – the discovery that the children bring, their happy faces, and their challenges," she says.
It is her love for teaching, the way she takes her students on a journey of discovery, her joy in sharing her faith, and the respect of her peers that earned her the Maine Catholic School Teacher of the Year Award for 2017.
"Nancy was chosen for her amazing work in taking and allowing students in her room to discover what they need to know, to engage themselves in the learning process," says Jim King, superintendent of Maine Catholic schools. "I think the way that she is really deliberate in engaging the kids, how she really wants to draw out their own faith lives, just the personal attention to each and every child is what really struck the judges."
"It is truly very humbling. I look at all of my colleagues and what they do every day, and it is such an honor," she says. "It certainly was an amazing award to win."
Ouellette began her teaching career at a public elementary school in Westbrook, then moved to St. Patrick School in Portland when a second-grade teaching position became available. When St. Patrick merged with St. Joseph School in 2007, she continued at the newly formed St. Brigid School in Portland and has been there ever since.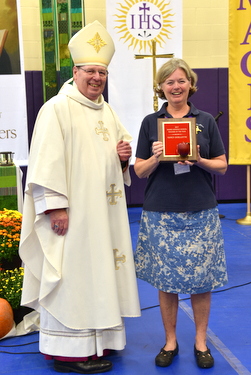 Ouellette says she has always enjoyed teaching younger children, and second grade is her favorite.
"I love the antics of young children. They are funny and cute and spontaneous, and they're real. Young children are real," she says. "I love the curiosity and, truly, the faith that really young children have. They still love school. They love their teachers. Every teacher they have, they love. It's very easy to inspire young children to learn something new."
She inspires her students to learn by engaging them in the process.
"Nancy teaches in a way that enables her students to encounter the world. Regardless of the content area, the students in Nancy's classroom are actively engaged in learning as an experience and not as an exercise from a book or workbook," says William Burke, principal of St. Brigid.
"I worry about children who have to sit with workbooks all day long, because they're not always thinking; they're not always processing. They're just filling in the blanks, and our children need to learn to think," she says. "It's really important that we learn by doing, by touching, by feeling, by experiencing."
Her classroom is set up with learning centers, where students are encouraged to explore on their own.
"We call them learning centers because they can have a question that is proposed to them or an idea and have them check it out for themselves, have them look for answers or try to prove to themselves that this is either right or wrong."
One popular exercise is when the students gather together to read and then spot and correct the errors and omissions in a daily message written out by Ouellette. Each day, a different student leads the group, calling on different classmates for answers.
"I think this exercise is very exciting for kids. I love it because it's student led, so it gives them that confidence to be in front of others, and then, it gives others the opportunity to make decisions on whether something is right or wrong," she says. "I like to empower students."
Ouellette also likes to teach thematically. For instance, she starts the year by focusing on the ocean, not only to teach children science but, also, geography, math, art, vocabulary, and other subjects.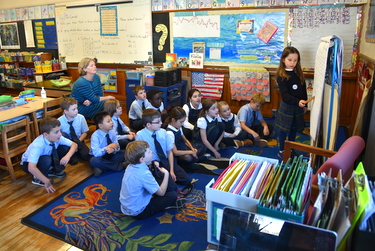 "It's very rich in vocabulary. I'll have them pick a whale, and they draw a great, big picture of it, and then, they draw the body parts: the flipper, the fluke. So, they're learning those vocabulary words, but they're also learning what they're used for and where they are on this whale," she says. "We will do a map of the world and show the world's oceans and maybe even which whales are living in which oceans."
Judging by the number of raised hands when she poses a question, it's a method that reaches the students.
"Mrs. Ouellette teaches us a lot about science, math, and the ocean. It's the best," says Addie.
"She teaches us a lot of things, grammar and stuff," says Evan.
"Mrs. Ouellette teaches a lot of fun math," says Nicholas.
"Mrs. Ouellette helps a lot with math," says Alexia.
"She teaches us a lot of things. She teaches a lot of math," says Skylar.
"Mrs. Ouellette helps us with reading," says Cam.
"Mrs. Ouellette teaches me a lot about religion," says Michael.
An active member of Our Lady of Hope Parish in Portland, Ouellette says she loves teaching at St. Brigid because Jesus is at the heart of the school's mission.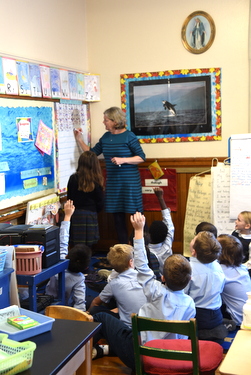 "I love being able to share my faith with the children. I found that in public school it was very frustrating not to be able to talk about my faith or faith in God or to pray if something was going wrong, although I worked in wonderful schools," she says.
Ouellette says the children most often come to St. Brigid with a love for God and a trust in Him, and that enriches her own faith life.
"They really strengthen my own faith in God, just listening to them speak about God and Jesus. He is so real to them," she says.
Ouellette has high praise for St. Brigid School and her colleagues there.
"I can't say enough about St. Brigid. It is a great combination of two schools that came together 10 years ago. There is a lot of parental involvement, a lot of spirit, and our bar is set high academically," she says. "I feel blessed to work in a profession where I can share my faith everyday with both the children I nurture and teach and with my colleagues who give me inspiration and strength."
The Teacher of the Year Award was presented by Bishop Robert Deeley during a gathering of Catholic school educators held at Cheverus High School in October. Ouellette was chosen from among 239 teachers serving at the Diocese of Portland's 12 Catholic schools.
In her students' eyes, there couldn't be a better choice.
"She is the nicest teacher I ever met," says Jayden.
"Mrs. Ouellette is kind and nice," says Sam.
"She's fun and kind," says Lila.
"She is very, very nice," adds Brody.
"She's a good helper," says Liam.
"She is really nice," says Joseph.
This is the first time in recent memory that a Maine Catholic School Teacher of the Year Award has been presented. King says it was initiated to recognize the teachers' dedication.
"There is just so much that they do and the more that folks know about it and the more that we can lift people up, the better," he says. "There is so much gratitude that ought to be coming their way."