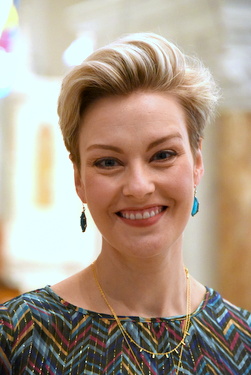 The importance of music to liturgy should not be underestimated. The Catechism of the Catholic Church emphasizes 'The musical tradition of the universal Church is a treasure of inestimable value, greater even than that of any other art,' quoting Pope Paul VI's Sacrosanctum Concilium.
You'll get no argument from Susanna Moliski of Cape Elizabeth, a cantor at the Cathedral of the Immaculate Conception in Portland.
"To me, it's the most natural way of worship," she says. "It's the most authentic way for me to pray. It's definitely like a prayer."
Susanna, a professionally trained singer, has been sharing her gifts with the congregation at the cathedral for the past two years. In addition to weekend Masses, she has sung at ordinations, Holy Week liturgies, and other special celebrations.
"When I am at Mass, the music just flows out of me," she says. "It has a very different feeling for me to sing at Mass, than it is to sing elsewhere."
She says that's because she knows the focus at Mass shouldn't be on her but, rather, on Christ.
"I feel like I'm part of a bigger thing there," she says. "It's doing a service."
Susanna has had a love for music since childhood. She says it was part of her family life while growing up in Finland.
"Everyone sang in the choir or played a musical instrument. At a young age, I took music lessons and piano and flute. Then, in high school, I started singing solo and took singing lessons," she says.
She studied privately with an emeritus professor of Finland's famed Sibelius Academy, one of the largest music academies in Europe, and sang soprano in a choir for three seasons at the Savonlinna Opera Festival, appearing in eight operas.
After receiving a master's degree in Finnish literature from the University of Helsinki, she studied classical voice for one semester at the Royal Welsh College of Music & Drama in Cardiff, Wales, with thoughts of pursuing a professional singing career. Instead, she continued freelance singing but became a Finnish language and literature teacher.
It was while teaching that a colleague shared her experience of hiking the Camino de Santiago, a centuries-old Catholic pilgrimage which concludes at the shrine of the apostle St. James the Great in the Cathedral of Santiago de Compostela in northern Spain. Intrigued, Susanna says she decided to make the journey herself, even though she was not Catholic at the time.
"It just sounded really cool and awesome, regardless of the religious aspect," she says. "I thought it sounded like a good spiritual exercise, and I thought it would be great to walk alone and think about my life and things that I wanted to do."
She calls it a life-changing decision.
"That definitely became one of the most defining moments of my life," she says.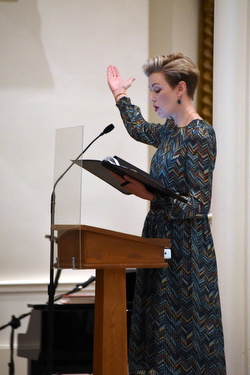 Susanna began the pilgrimage in the village of Saint-Jean-Pied-de-Port, France, singing along as she went. While she had envisioned spending most of her time alone, on her second day, she met a man from the United States, who was also making the pilgrimage. They were drawn together, in part, because they both spoke English.
"We literally met on my second day and hiked for 30 days, almost 500 miles," she says. "That was sort of our first date."
That monthlong date led to a happy life together. She and Jim have now been married 15 years.
Susanna says as they hiked, discussions turned to the teachings of the Catholic Church. Jim was from a large Catholic family, while Susanna was brought up in the Lutheran Church, the predominant religion in Finland.
"We had some debates and heated conversations about the Catholic teachings that I really didn't want to swallow, like purgatory or even why would it even matter what we are as long as we have Christ," she says. "It was all those kinds of things."
Nevertheless, she found the pilgrimage so memorable and moving that she wrote a book about it, entitled The Singers of the Open Road. She says the experience put her on a path that eventually led her to the Catholic Church.
Susanna and Jim kept up a long-distance relationship after the pilgrimage. She was living in Helsinki, while he resided in Berkeley, California. Pursuing doctoral studies, Susanna then got a research and teaching position at the University of Wisconsin-Madison. Jim, meanwhile, moved from California to Chicago, giving them the opportunity to meet on weekends. In 2006, they married.
"We had sort of an ecumenical wedding. We had Pre-Cana at the Catholic church but were married in the Lutheran Church," she says. "We thought it was cool that our story had these two denominations, and I didn't feel any need to change."
However, when Susanna and Jim had a son and had him baptized in the Catholic Church, Susanna begin exploring it more. She says the beauty and mystery of the faith appealed to her.
"I was always drawn to those external signs: that beauty that the Catholic Church is so full of, a little similar to Russian Orthodoxy," she says. "I thought it was extremely intriguing, interesting. I loved the mystery, like the veil that God was behind, not like a distant character but more that we don't have to understand everything."
She decided to participate in the Rite of Christian Initiation of Adults (RCIA).
"There wasn't a big decision moment or anything like a lightning bolt. It was a gradual development in faith. It started making so much sense," she says. "It was just some kind of undercurrent in my mind. It didn't, kind of, leave me alone."
Her RCIA classes included reflecting upon Bishop Robert Barron's Seven Deadly Sins, Seven Lively Virtues, which she says really resonated with her.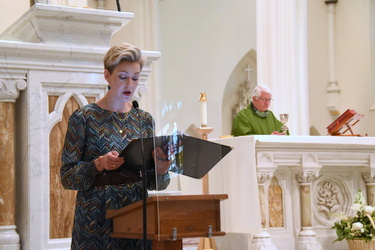 "I was like, that is really amazing," she says. "It started making so much sense. It was easier and easier to accept some of the teachings that I had been very leery about, like the classic things that non-Catholics usually question, such as the role of Mary."
She says she came to realize she could be Catholic even if she still had questions.
"I don't have to say, 'I can't be in the Church because I have questions,'" she says. "It's important for me to be inquisitive, but at the same time, there is so much tradition that I can be in tune with."
In 2013, with their son entering kindergarten, Susanna and Jim decided to leave the Chicago area and move to Maine. While Susanna had put her musical pursuits on hold for years, that part of her life was reborn when she came here. When her son began taking music lessons at the Portland Conservatory of Music, Susanna decided to take voice lessons at the conservatory as well.
"It turned out to be really good, that I had not lost my voice. In fact, it had matured. My singing teacher was very encouraging, and I've competed since and even won a couple of competitions on the local scene," she says.
She served as a cantor at St. Bartholomew in Cape Elizabeth but, drawn by the beauty of the cathedral, then connected with Christopher Pelonzi, the music director there.
"One of the best gifts from God is the experience of music. At some point in life, we experience the power of the Spirit through music; cantors are those who share that Spirit. The cathedral music ministry has always been blessed with extraordinary people, and Susanna Moliski contributes something special to each Mass she serves. Her bell-like voice reverberates with clarity, surety, and beauty. She has a real depth to her sound with a powerful foundation in the mask. And don't get me started on her range! She can pop out velvety high B-flats and rest comfortably with mezzos on a middle C. Working with Susanna is always a pleasure," says Christopher.
"I feel like we're all called to service, so we should all seek what kind of service we would be most suitable for. Maybe some people would be best serving at the soup kitchen or they want to be involved in running a children's group, or they want to be involved in RCIA. They feel like there is a natural connection there. I feel like my natural connection is the singing part," she says.
Susanna joined with Christopher in forming the Dirigo Ensemble, a not-for-profit group of local musicians who specialize in a cappella vocal music and share a passion for music education. Unfortunately, the group's inaugural season barely got underway when it had to be put on hold. The ensemble's reflective concerts "Lent in Story and Song" were canceled when the pandemic hit.
"It is just devastating for the music industry right now, as it is for everyone," she says. "We are all in the same boat, and I keep hoping and praying that it will come to a safe end soon."
Since the pandemic, the group has only performed virtually, adding their uplifting talents to Hospice of Southern Maine's Twilight in the Park, held to honor and remember loved ones. Susanna, however, continues to share the gift of her voice at the cathedral.
"It's a way of expressing yourself and connecting yourself to the congregation or the space or to the occasion," she says. "It's part of service."