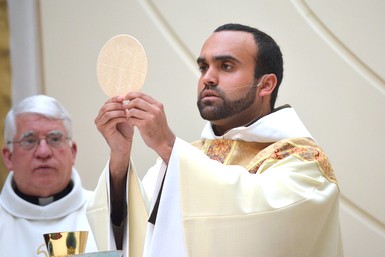 A mission trip, the sacrament of reconciliation, and a walk to the library. Father Will Tarraza, OFM Cap., says they were the keys that unlocked the door to his vocation to the priesthood as a Capuchin Franciscan. A native of Cape Elizabeth and a Cheverus High School graduate, he was ordained June 10 by Cardinal Timothy Dolan, Archbishop of New York, at the Church of the Sacred Heart in Yonkers.
"It was wonderful," he says. "I didn't anticipate the presence I would feel of the Holy Spirit. It was especially during the laying on of hands, first from the bishop but, then, all the other priests."
As a Capuchin friar, Father Will's ministry will be based on the vision and example of Saint Francis of Assisi. The Capuchins, founded in the 16th century, aim to be contemplatives in action, who help the light of Christ shine by working to overcome ignorance, poverty, and injustice.
"It's, first of all, the spirit of Saint Francis, who followed Christ in His footprints, not just in His footsteps but in His footprints, that spoke to me so much," Father Will says. "This man, who gave up everything to follow the poor and humble Christ, that's what spoke to me and really captivated me."
Father Will says God has been a part of his life for as long as he can remember. His family volunteered at the soup kitchen. They would always say a prayer before dinner. And, at the end of each day, his mother always posed the same question.
"'Where did you see God today?' Every night, she used to ask that question," he recalls.
His family attended St. Bartholomew Church in Cape Elizabeth, and he remembers around age 5, going up after Mass to check out what it was like to sit in the priest's big chair. It earned him a few scolding words from his mom and some prophetic ones from the priest.
"Father John Feeney said, 'Let him. He's going to be a priest someday,'" Father Will says. "That was the first time that there was any sort of understanding that there was a call."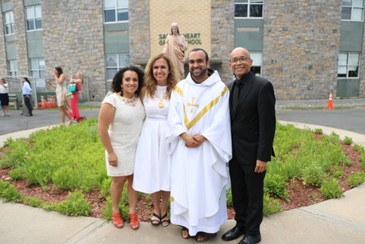 Will lived near the church and remembers regularly passing by the outside statue of Mary.
"I think there was always an understanding that the Blessed Mother was watching over us, that she was always with us, because we couldn't leave without seeing her," he says.
When Will was still in elementary school, his father, a gynecologic oncologist, began going on medical mission trips.
"That was probably the catalyst that started all of this. He would always come home with stories and pictures," he says.
Father Will says he was struck that the people seemed happy despite living in impoverished conditions. He relates it to the experiences of St. Francis.
"The reason why he loved poverty so much is that it freed him to be devoted to God, not that there was something nice about it," he explains. "It was the poor and humble Christ -- both in the crib, when he came in the incarnation, and on the cross -- that's what Francis wanted to emulate."
While attending Cheverus High School, Will says he learned the importance of seeing God in all things and being a person for others. Then, in his sophomore year, he accompanied his family on a mission trip to Chulucanas, Peru. He says it changed his perspective on what is truly important in life.
"That there are things in life that don't matter as much as relationship, as friendship, as the common human experience of knowing that we all want to be loved and to love, in one way or another - that struck me," he says.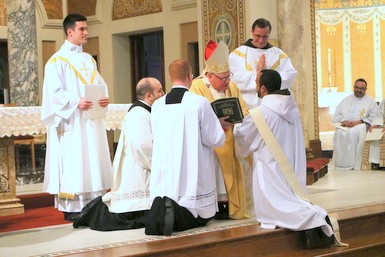 It led him to consider a career in international relations. He thought what better place to start than in Washington, D.C., so he chose the Catholic University of America. Unfortunately, he says he wasn't feeling fulfilled.
"I was searching for meaning at the time, just searching. But I was looking everywhere outside myself, other than within, where God was," he says.
That changed in his sophomore year. He passed by where the sacrament of reconciliation was being offered and decided to go.
"I had a very profound experience with the sacrament of reconciliation where I just encountered God's love and realized that I didn't need to go looking for God. I didn't need to go looking for meaning. God was my purpose in life. God is my purpose in life," he says. "It just opened the door. God was so present in it. It was undeniable."
Soon after, he joined his family on another mission trip, this one to Haiti.
"Being with the poor just reminded me of how much I have to surrender a lot of my own ways, my own will, of what I would want to do in life, to be available to what God wants me to do. It was in Haiti, for the first time, that I told people that I was thinking of being a priest," he says.
He switched his major to theology and fell in love with it.
"It was fantastic," he says. "Everything international studies wasn't, theology was."
He got involved in campus ministry and became an altar server for the first time in his life.
Then, in his junior year, an invitation from a professor, who was a Capuchin priest, further brought Will's vocation into focus. After the first class, the professor asked Will to walk with him to the library.
"I never thought that a walk to the library would mean so much to my future, because it was there that we hit it off," he says. "The joy that he had and his love for Christ, his love for contemplation, and the way he inspired us in the classroom, it spoke to me."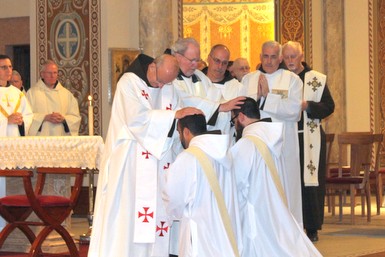 The professor happened to be a member of the Capuchin Province of Saint Mary which includes New York and New England. And in Will's senior year, he decided to apply.
He attended several discernment weekends in New York, where he met another inspirational friar, Brother James Peterson.
"He took the time to spend with me, just to hang out, so we could get to know each other, and that also spoke to me," Father Will says. "This guy is challenging me and helping me to be a better person, and I'm not even in the order yet. And I think that is what I was looking for: brothers who are going to push you to be a better person, to face life with God and to challenge you to be a better disciple."
After college, he began his postulancy in Brooklyn, N.Y., aimed at helping him get better acquainted with the community. That was followed by a year in the novitiate in California.
"It's a real gift because it's a year of solitude, but also, you're with the same 20 guys for a year, so you really get to know other people, learn how to live in community," he says. "It was a wonderful experience to step out of the world for a while, quite literally. We didn't have cell phones."
He took simple vows in 2013, continuing his studies and formation at the Boston College School of Theology and Ministry and then at St. Francis of Assisi Friary in Jamaica Plain, Mass.
In May 2016, he took his solemn vows, followed in September by his ordination to the diaconate and then to the priesthood this June.
"Ordination was very powerful, powerful experience," he says. "I felt the Holy Spirit in an extraordinary way. It was unprecedented for me."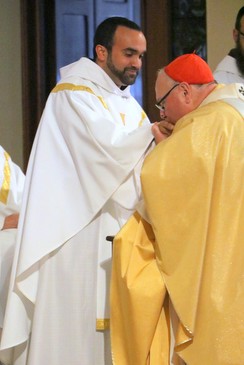 Father Will says he was humbled by the many people who traveled to his ordination Mass in New York and to the celebration of his first Mass at the Cathedral of the Holy Cross in Boston.
For his first Mass, he wore a chasuble given to him by his mother. A patch on it will forever remind him to ponder: "Where did you see God today?"
Following Communion during the Mass, a friar who had been his formation director, sang "A Prayer of Love." Based on St. Padre Pio's Prayer, it includes the words, "Stay with me Lord. You are my life, and without you, my life is without passion."
"I was so moved with emotion that I couldn't contain my tears. It was just the most joyful moment of my life," Father Will says. "It was as if God, through him, was speaking to me."
A week after his ordination, he returned to Maine to celebrate a Mass of Thanksgiving at St. Bartholomew.
"It was a real experience of love at its core, a real experience of communion, the community gathered together around the altar, the table, to celebrate the Lord and His love for us. It was wonderful."
He says Maine will always be his home, and he would love to be assigned here someday. However, he is looking forward to serving wherever he is needed. He sums up his priestly vocation with one word – entregarse, Spanish for surrender.
"To surrender today to whatever God wants, to go wherever I am needed, to not have expectations," he says. "This future, this priesthood, everything doesn't belong to me. It belongs to God."