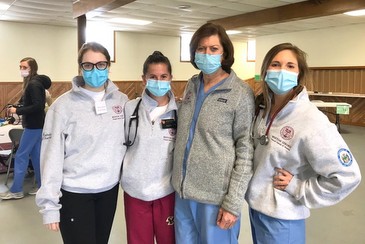 Student nurses from Boston College say a week they spent in northern Maine offering free health services to community members will shape the work they do going forward.
"Serving the residents of northern Maine was an experience that I will truly cherish and take with me everywhere I go for the rest of my time as a nurse," said Nina Bombole-Boimbo, while reflecting on the trip.
"Looking forward towards the start of my career as a newly licensed nurse, my practice will be forever guided by the lessons and values I've learned through this service experience," said Alana Dinelli.
For the past decade, nursing students from Boston College, a Jesuit school, have taken overseas mission trips in January, most of them to Haiti and in 2020 to Jamaica. This year, the COVID-19 pandemic made that impossible, so Dr. Donna Cullinan, DNP, FNP-BC, an assistant clinical professor, looked for an alternative in the United States.
"I started calling people and left messages and left messages," she said.
She was unsuccessful making a connection, until one of her colleagues, who has a summer home in Maine, suggested calling Catholic Charities here.
"Catholic Charities committed on the spot, and then, I called somebody at Maine Public Health," Dr. Cullinan said. "Nobody answers phones except in Maine."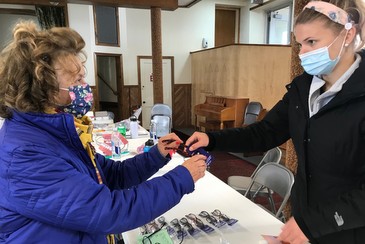 And that was to the benefit of the people of Aroostook County. Partnering with Catholic Charities Maine, Cary Medical Center in Caribou, Maine Public Health, and Aroostook Mental Health Center (AMHC), 19 student nurses and five nurse practitioners spent a week in the County in late April. They staffed community wellness fairs hosted by the Parish of the Precious Blood in Caribou, Notre Dame du Mont Carmel Parish in Madawaska, and St. Mary of the Visitation Parish in Houlton, and they also did home visits for those unable to travel.
A variety of free services was offered such as blood pressure and glucose checks, eye examinations, and fall prevention screenings. People could also get advice on chronic disease and pain management, nutrition, and dental hygiene, and they could pick up free supplies such as toothbrushes, toothpaste, diapers, baby wipes, and even children's books.
"I enjoyed looking around at all of the exhibits and talking to the nurses," said Artheline Bernier, from the Parish of the Precious Blood, who attended one of the fairs and also volunteered as a spiritual counselor. "I picked up some books for my grandchildren at the free book table. I also enjoyed the eyeglass table and appreciated talking to the girls about eye health."
Although it was different than what the students would have experienced overseas, Dr. Cullinan said that didn't make it less valuable.
"When you really stop to think about it, learning about rural health is almost more important than global health, because they may go on one more global trip, but many of them could work in rural areas of the United States," she said.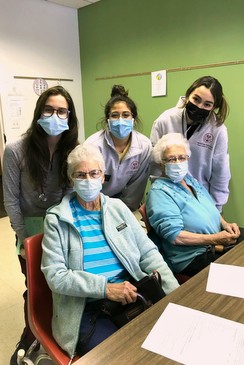 One of the lessons Dr. Cullinan said the students learned is how isolated some people are, something exacerbated by the pandemic.
"Some of the areas where we were, people didn't have neighbors to check on them or anything," she said.
The students also gained greater appreciation for the challenges created by food insecurity when they volunteered with Dixie Shaw, Catholic Charities Maine's director of hunger and relief services, at a truck to trunk food giveaway.
"My favorite part of the trip was helping in Madawaska with the food bank with Dixie," said Adreina Rodriguez. "Everyone who passed by was so kind, talkative, and smiley, so appreciative of the help we were providing."
No matter where they went, Dr. Cullinan said they were warmly welcomed. She pointed to dinners served by the parishes, the Knights of Columbus, and the Daughters of Isabella, as well as the reception the students received when they toured Cary Medical Center.
"They're used to the high-tech Boston hospitals where a surgeon would never talk to you, and yet, the people were talking to them and acknowledging them," Dr. Cullinan said.
"I am so humbled and greatly appreciative of the people within this community who opened their doors and hearts to our group. They showed us what it means to be resilient and tough, yet warm and welcoming," said Nina.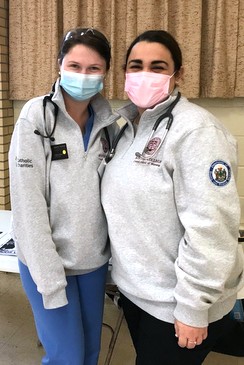 "One specific moment that sticks out to me as I reflect back was when an older lady approached a group of us at dinner expressing immense gratitude for the work that we were doing. She was so grateful that we went to Aroostook, as she said, 'Many people don't even know that we're up here,'" said Adreina . "She thanked us in advance for the work we would be doing as nurses. I felt so grateful that she shared that with us and that she was so kind and loving, even though sh didn't even know us."
With comments like those, it's no wonder that Dr. Cullinan said they would like to add a trip to northern Maine as a regular part of their summer program.
"I think they'll all be better nurses because of it, more compassionate, have more empathy," she said.
"I left Maine feeling inspired to do more for my community and to always be sure to be loving and caring to everyone I encounter," said Nina.
"I felt so lucky to have been able to go on the trip and experience the kindness of the people of Aroostook," said Adreina . "I made so many amazing memories on this trip that I know I will cherish and remember forever