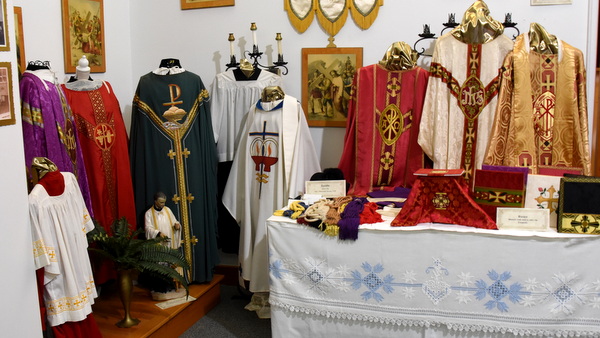 Walk into one of the rooms of the St. John the Baptist History Museum in Brunswick and you will be surrounded by pieces of the past, from ornate vestments and monstrances to well-worn prayer books and melted church bell fragments, the result of a 1912 fire that destroyed the first church built by the parish.
"This is such a blessing for the parish to have this museum to continue to live the great history of St. John the Baptist Parish, and how it's now incorporated into All Saints Parish, and to continue to give us inspiration going forward," says Deacon John Murphy.
The new museum was blessed and dedicated by Deacon Murphy on Sunday, July 25. It is located in the former Ursuline convent that is adjacent to the St. John's Community Center and St. John's Catholic School. The museum includes three rooms, which are filled with photographs and artifacts capturing the history of the parish from its establishment in 1877, and even a bit before, until today.
"It's wonderful to have our history displayed. My grandparents were married here. My mother did all her sacraments here, and mom and dad were married here. I've done all my sacraments here. I'm an alumna of the school, so this is fantastic," says Pauline Nadeau, a parishioner. "I think this generation and future generations need to know how important our faith is and how important our Church is – how things have changed but that our faith is still solid."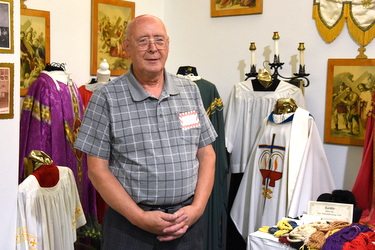 "I think you need to preserve history, and I think people need to know the sacrifices that especially these French Canadians made. They worked in the mills. They didn't make much money. Yet, they were so devoted to their Church that they were willing to do anything to help out," says Robert Bouchard, the church historian and a lifelong parishioner.
Plans for the museum go back nearly two decades. For the celebration of the parish's 125th anniversary in 2002, Bouchard started researching the parish's history, while fellow parishioner Gerard "Gerry" Menard gathered artifacts and put together elaborate displays. When the celebration was over, rather than pack everything away, the pair was given permission to turn a small laundry room into a mini museum.
"Gerry set up as much as he could in there, and the rest of the stuff needed to be stored," says Bouchard. "It was always his wish that we would move into a larger space."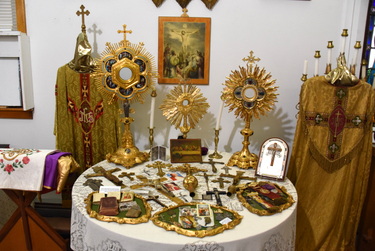 In recent years, the rooms where the museum is now located were home to the parish offices and to an adoration chapel, but the offices moved to St. Charles Borromeo Church after area parishes merged in 2009, and the St. John's Community Center, which opened in 2019, included a new chapel.
Bouchard began working on the project in earnest last January. Unfortunately, he had to do so without his dear friend by his side. Menard died in September 2020, not living to see his dream realized. In recognition of Menard's contributions, the museum is dedicated in his honor.
"I lost a dear friend, and then, I started thinking, my source of information is gone, too, and he's not going to be here to see it. But, I honestly felt that, along the way, he kept guiding me and saying, 'I'm not sure this is the right place for this,' because I changed my mind a number of times," says Bouchard.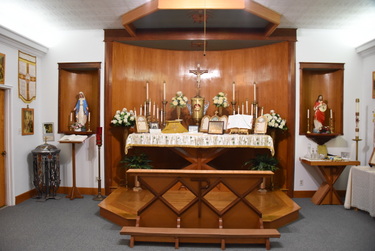 One thing Bouchard knew he wanted was to return the altar that was once in the Ursuline Sisters' chapel to its rightful spot. Unfortunately, the room had been divided in two to create a smaller space for adoration, and the altar would not fit through the door. It meant having a contractor cut through the wall, moving the altar in, then patching the hole.
Once the space was ready, Bouchard did most of the work himself, including painting the walls, bringing in the items, and arranging them.
"Because of COVID, I worked alone," he says. "Most days, I would almost put in a full day here."
Although Bouchard says Menard was the one with the artistic ability, you wouldn't know it from the results. There are eye-catching displays in every corner. Visitors will find an 1884 Bible, banners, burses, candlesticks, chalices, crucifixes, and even the clappers and cradle from the St. John the Baptist Church bells before they were computerized. There are figurines, statues, stained glass, and a pastor's desk which Bouchard believes is one of the oldest items in the museum. There is an area dedicated to St. John's Catholic School, another to St. Andrew Church (the parish's former mission in Topsham), and a room full of photographs. There is also a research library.
Asked if he has a favorite section, Bouchard answers, "It all is," saying. "I think people are going to be in awe."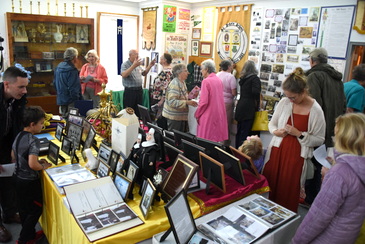 In addition to items the parish had, Bouchard credits parishioners for sharing their personal memorabilia.
"People keep coming up and saying, 'Is this something you could use for the museum?'" he says. "I take everything, and then if I can use it, I'll put it out. If not, well, maybe in the future I'll change things around, so maybe some of these other artifacts will come out and some others will be put away."
Those who visited on opening day, including some of Menard's family members, gave the museum high praise.
"It's awesome," says Gloria Fraser, Menard's sister.
"When I was young, I was in awe of everything: beautiful paintings, and stained glass in the church, and then all the gorgeous vestments. It's nice to have that history again," says Elaine Perry, Menard's eldest daughter.
"I think it's fabulous. I think that it shows the ingenuity of an entire community to create so much artwork and just to get involved in so many different things. I was just looking around and found that St. John's had a harmonica band in 1939. Who would think?" says Lee Caesar, another of Menard's daughters. "We've lost a sense of community and belonging, and this museum represents the coming of together of so many people, which we need to do again."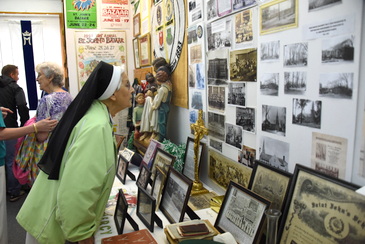 "I think it's great. It's a good reminder of the history of our parish: where we started and where we are today," says Paul Doiron of Brunswick, a parishioner. "Past generations and future generations will come and find out more about the history of the parish."
"I'm a history buff, so anytime you have history and can show it to people of this generation, it's worth it," says Raymond Bouchard, a lifelong parishioner and Robert's brother. "Museums are fantastic."
You can visit the museum, located at 39 Pleasant Street in Brunswick, on the second and fourth Sundays of the month from noon to 2 p.m. and Wednesdays from noon to 3 p.m. To make an appointment to tour the museum at other times, call the parish office at 207.725.2624.