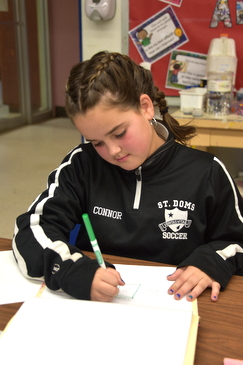 "I'm working on a heart, and it's broken, and some parts are people, and some parts are animals and plants, and then, the big part is trash."
Addison, a fifth grader at Saint Dominic Academy in Lewiston, is using art to express her concern for our common home.
"I think this is important because people should know how much they're wasting and be more careful about what they're throwing onto the earth. And I think that this is a good example of the earth because there is way more trash, and it's hurting the animals and plants," she says, pointing to her drawing.
Addison and her classmates have been studying Pope Francis' encyclical, Laudato Sí, in which he writes about the urgent need to care for creation, a gift to us from God. The pope points to the threats posed by climate change, our throwaway culture, and the inequitable and overuse of natural resources.
"The pope sent a message to us saying that we need to use less of the earth's natural resources, because if we use too many, we're going to destroy this earth, and it won't be around for future generations to enjoy," explains Phoenix, one of Addison's classmates.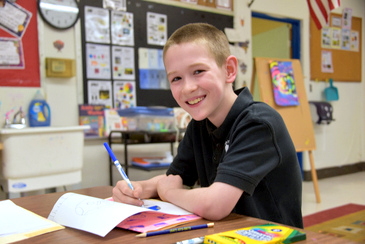 The students watched an animated video about Laudato Sí and listened to a presentation by Bill Wood, an outreach coordinator with Catholic Charities Maine Parish Social Ministry (PSM). The Laudato Sí teaching and art project is offered to schools and faith formation classes as part of PSM's EcoJoy initiative.
"We don't want to forget about the environmental aspects of Catholic social teaching, so this gives us a chance to work with school kids to share that information," explains Wood.
"This message is so important for our young students to understand, because this is the world that they're growing into, and this is the world that we are leaving behind for them," explains Rachel Hatch, St. Dom's elementary art teacher. "The reality is we can make a difference, and we can change the world."
The students discussed what they learned and then were asked to draw and write about it.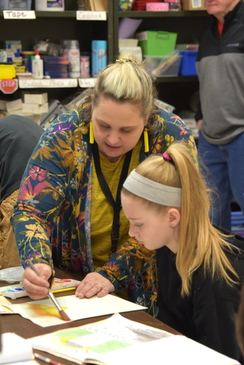 "Art gives the opportunity to come up with some creative ideas, and it allows for expression of these ideas. What some kids might not be able to say with words they can convey on paper," says Hatch.
Phoenix chose to create two different worlds for his project.
"For one earth I'm doing, we're using less of our natural resources and making sure that the earth will last longer for future generations. Then, on the other earth I'm doing, we're using too much of the earth's natural resources, which is causing the earth to be unhealthy," he says. "One earth will have a bunch of buildings and gases around them, and the other earth will have trees and animals and plants."
Brayden drew one earth but with two very different looks.
"One side of the earth is all trashed and destroyed, and then, the other side of the earth is all good. They recycle bottles and recycle trash. There are roses growing again, fish living, and trees growing again. But on the other side, there is a lot of pollution by this smoke and stuff, and trash cans tipped over and not picked up," he explains. "It's important to do that because if the earth is all trashed, then we'll have nothing left on the earth, and if everybody picks it up, then the earth will live longer."
Isabelle drew trash as a liquid seeping through the world. Her message: "Don't let the trash go all the way down through the world because, then, we're not going to have any world left."
Wood says it's important to teach children about caring for the environment at a young age. He says he also wants them to discover that nature is more amazing than any video game.
Once the students' drawings and essays are complete, Catholic Charities will display them at parishes, so the students can then become the teachers.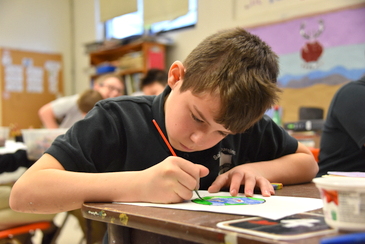 "It's actually very powerful to look at works of art made by children expressing their concern for our world," says Hatch.
The student art project is just one of several EcoJoy initiatives. Catholic Charities has also held free eWaste days, during which people can bring in their old electronic devices so that they can be disposed of properly, visited parishes to assess how they could be more ecofriendly, and supported weatherization programs.