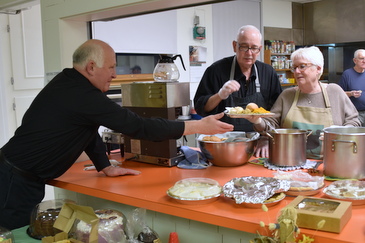 "At 4:30 p.m., this place will be packed."
Aldea LeBlanc and other volunteers are busily preparing a meal at St. Anthony's Soup Kitchen, located in the parish hall of Notre Dame de Lourdes Church in Skowhegan, part of Christ the King Parish.
"I'm hoping for 50 or 60 people at least. That's what our average usually is," she says.
It's a special day at the soup kitchen. Not only is Thanksgiving just around the corner, but St. Anthony's is celebrating its first anniversary. The result is a meal worthy of any holiday table.
"We have turkey, mashed potatoes, stuffing, squash, peas, corn, cranberry sauce, rolls," Father James Nadeau, pastor, shares with the guests, before leading them and the volunteers in prayer, as he does at the start of each of the meals.
"Heavenly Father, We ask you to bless this food we share. We ask you to bless our guests here at St. Anthony's Kitchen, our conversation, and those who are in need," he prayed.
The soup kitchen is a story of a community coming together to serve and celebrate the gifts they share. It was first established in 1991 but shut down in 2017 while the parish sought a way to fund it and someone to shepherd it.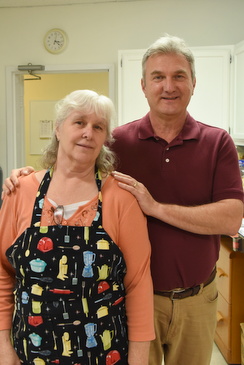 A year later, Aldea, who had been serving at the St. Peter Thrift Store and Food Bank, also part of the parish, stepped forward.
"I was working opening the thrift store and food pantry in Bingham, and after a year, they were doing great, so I said, 'You know what? I want to open the soup kitchen up again,'" she explains.
Aldea teamed up with Steve Watrous, who has volunteered at Our Lady's Kitchen in Dexter for decades. Steve is actually a member of St. Agnes Parish in Pittsfield, but his parents live in the Skowhegan area, so he often attends Mass there.
"It's a labor of love. I really enjoy it," he says. "It's not very much, but it's what I can do.
Aldea and Steve say they were driven by the need in the community, something Father Nadeau recognized as well.
"The need is so great, especially in Skowhegan. It's a very poor area," says Father Nadeau.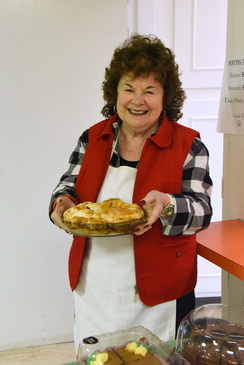 "There are a lot of people who just don't have the means for food. Perhaps, they go without eating to pay for medications. We also have some homeless people come in," says Aldea. "We have some people who may not be real poor, but they have no communication with anybody, so they come in, and they get to socialize."
"We have a lot of people who are isolated, and this is their social time of the week," agrees Shirley Melancon, a volunteer from the town of Starks. "It's feeding the belly, and the soul, and the spirit."
"One of the thing that I see here is that, even though people have their favorite tables, you just see them also make connections with each other," says Nora Natale, the office manager at Christ the King, who also volunteers. "We have some homeless people who don't want to make eye contact. They kind of keep to themselves, but then, as the weeks go by, the more you continue to talk with them, the more they feel a little more at home. It's just a really beautiful thing to see."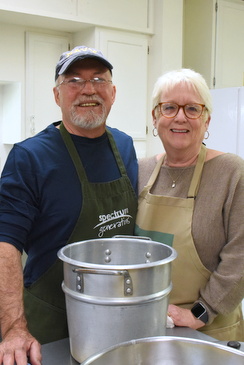 People come not only from Skowhegan but from surrounding communities such as Athens, Bingham and Canaan to enjoy a meal at St. Anthony's.
"I think it's just great because it's a chance for people to communicate and talk," says Dolores Marquis of Athens, who attends the dinners and sometimes donates homemade cookies as well. "It is really good."
"I like talking to other people, enjoying the company, among other things," agrees Betsy Tuttle, also from Athens.
The soup kitchen has no paid staff. Volunteers come together every Thursday to prepare and serve meals, which they describe as comfort food.
"I make my own spaghetti sauce, and they love it," says Larry Labbe, a volunteer. "I studied gourmet cooking, so I love cooking. It's my source of relaxation."
Although the parish says it could still use a few additional volunteers to help folks like Larry with the cooking, they regularly have around 10 people helping out.
Shirley comes with her youngest son, Cameron, a junior in high school.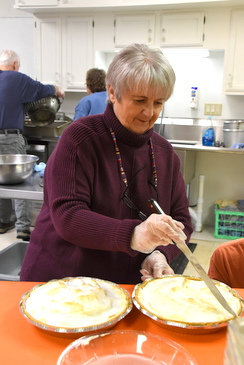 "We were looking for a community service project to do together. It's affiliated with our church, so it made perfect sense," she says. "I'm a social worker, so I think about the cuts that are being made, especially some of our seniors making choices between food and medicine and feeding their pets or feeding themselves."
"It feeds a lot of people who wouldn't ordinarily have food," says Joyce McKenney, who also volunteered at the soup kitchen before it closed. "It's very good."
"I really like meeting the people. They're friendly. The people we work with are fun. The guests are appreciative and fun to be with," says Kathy Evans. "I think there are hungry people in this town, and I think by opening this up, they can get a good meal once a week anyway."
The soup kitchen typically prepares 100 meals or more. That gives patrons the opportunity to have seconds if they wish and to take meals home with them.
"Nobody goes hungry. No food gets wasted," says Aldea.
The soup kitchen is funded through several sources. For $100, donors may sponsor a meal in memory of a loved one of in the name of a community or civic group. The soup kitchen also partners with the Good Shepherd Food Bank in Auburn, receiving free food from The Emergency Food Assistance Program (TEFAP). Additionally, Walmart provides a $50 gift card each month, which is used to buy food or supplies, and Hannaford donates food for the meals, as well as bread for the guests to take home. The soup kitchen also received a grant from the Stephen and Tabitha King Foundation to purchase a new refrigerator and microwave oven. The old fridge stopped working the week the kitchen opened last year.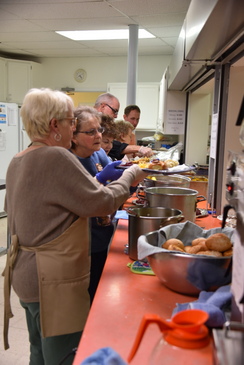 From the volunteers, to the donors, to the patrons, there was much to celebrate at the anniversary dinner held November 21. It is why the parish wanted to make it particularly special.
Nearly two dozen desserts, including a variety of homemade pies, lined a table.
"I made cream and lemon meringue," says Janice Lake of Skowhegan, as she dropped several pies off. "I just felt the need to do it. There is something about the soup kitchen that has always called to my heart. I never volunteered. I just feel that I would be in their way, but I figured I could do a little something."
Youth ministry members, meanwhile, served as waiters, taking orders and delivering heaping plates to tables.
"We want to do it because it's a nice action to do," says Ed Scappini, an exchange student from Italy, who has been participating in youth ministry. "It's a celebration of giving thanks, of being grateful for what we receive, and that's a nice meaning."
"I feel like it helps people. I feel like it may encourage people to do it more," says Albert Abbott, a ninth grader.
There was also a raffle for Dunkin' gift cards donated by Father Nadeau and for household items such as crockpots and a coffeemaker contributed by Catholic Charities Maine Parish Social Ministry. In addition, a parishioner made and donated hats and scarves, which guests were welcome to take.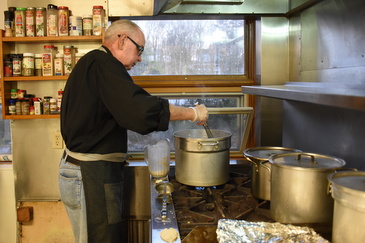 With a successful year completed, the parish is now looking to secure funding to allow St. Anthony's Soup Kitchen to offer meals twice week instead of just once. The volunteers know many have come to rely on it.
"Food insecurity is huge here in Skowhegan," says Nora. "They look forward to coming. Some of them say they just love the environment here. It feels like home."
"It's just a positive place," agrees Kathy. "Father comes right in and helps, so it's fun."
"We're happy to have anybody who comes through the door," says Aldea. "We welcome them. We thank them when they leave."