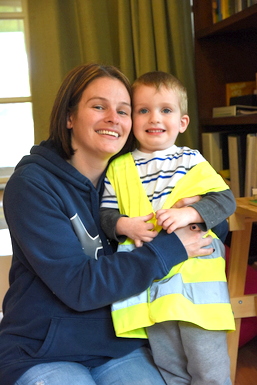 Christina Merritt is a determined young woman. She works full-time, is taking college courses, and cares for her two young children.
"It's a lot of work," she admits.
But it's work that Christina says she welcomes because she has no desire to return to the life she was living just a few years ago.
"I wouldn't change it for the world," she says.
Christina says she has battled substance abuse on and off for 16 years. It has meant a long struggle, which has included homelessness.
"I was going through a really rough patch for about five years. I just couldn't get my life together. No matter how hard I tried, it was like everything kept sucking me back into addiction," she says. "I literally would pray for something or someone to get me out of what I was in. I was miserable. I was scared."
When the Department of Health and Human Services (DHHS) took custody of her one-year-old son Damien in 2014, Christina says she knew she needed to turn her life around. Rather than become angry, she says she embraced a rehab program offered by Crossroads. After discovering she was pregnant with her daughter Kelci, she then went to live at Starling Place, a residence for homeless pregnant women operated by St. André Home in Biddeford.
"I got a lot of help with the department getting me into rehab. Then, rehab got me here, and St. André really helped me from there," she says.
Christina was familiar with St. André because she had also lived at Starling Place while pregnant with Damien. The stability she found at that time, however, was short-lived, quickly disappearing as soon as she was back on her own. This time, she says she was determined not to have that happen.
"I really put my mind to making a difference this time around. I was not going to give up," she says.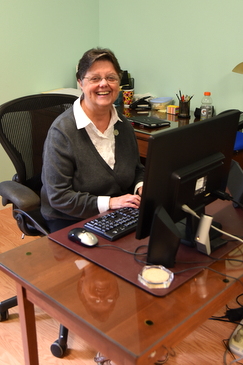 Saint André Home was established by the Servants of the Immaculate Heart of Mary, also known known as the Good Shepherd Sisters of Quebec, on Easter Sunday 1940. It's mission, however, can be traced back to the foundation of the religious order. In 1850, the Archbishop of Quebec asked Marie Fitzbach, a pious widow, to take charge of a house for women who had no place to go after being released from jail.
"She saw it as God's will," says Sister Theresa "Terry" Gauvin, SCIM. "So, all these years, this has been our focus – to work with women and help women and children and families. It's a continuation of our charism and mission."
The way that mission has been carried out has evolved, however, with societal and funding shifts, as well as a greater understanding of the needs of parents and children. At one point, St. André operated four group homes around the state, as well as an adoption program. However, a loss of funding four years ago forced the homes and the program to shut down.
Christina was among the final residential clients.
"I stayed until the very end," she says.
Christina, however, was not left on her own. New services arose to continue St. André's mission, including the Center for Parenting and Play in Biddeford. The center offers play therapy for children, parenting education, counseling services for parents and children, supported visitation, and case management.
Christina receives both case management and counseling services at the center, which have helped her get and stay on track. Among other things, her case manager, Samantha Davis, helped her find an apartment.
"Case management is really about advocating for the clients, connecting them to local resources," Samantha says. "So, I'm helping people with a mental health diagnosis access things like housing, medical resources, legal advocacy, court matters, court paperwork, family child support, accessing DHHS benefits, helping them evaluate what types of benefits and resources they're eligible for."
She says finding housing is often one of the greatest obstacles her clients face.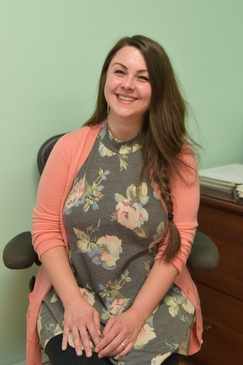 "A lot of them have a history of homelessness or chronic homelessness where they've been couch surfing. They have never been able to navigate the application process and the follow-up," she says. "They're sort of just too chaotic to be managing those things, so I look at is as slowing down, helping them to look at the step-by-step processes they need to be following."
All her clients have children under age 5, and many have child protective cases open, which is why stability is so important.
"Family reunification is a big part of it, helping them resolve child jeopardy that will allow them to reunify as family," she says.
Providing a supportive, stable environment for children is also one of the aims of adult counseling offered at the center. Suzanne Dionne, clinical director, tries to help parents and pregnant women understand their feelings and emotions, so they can better manage their children's needs and behaviors, as well as their own.
"Sometimes, when you live a life of addiction, you don't really know how to live anymore. Feelings you suppressed with drugs or other medications, you're just kind of learning that some of those feelings are o.k., that the reactions you have are normal," says Christina. "If there are bumps in the road, how do I handle that, so I don't give up on myself, and think I can't do it, and fall back and lose everything I've worked so hard for."
Suzanne says many of the parents she sees have experienced trauma including domestic violence. She says, while counseling is sometimes DHHS mandated, she finds that her clients want to make the necessary changes.
"They really want to do it differently. They really want to not be the kind of parents that their parents were, but they don't know how, and it's hard, and it's scary. They don't have the skills and the knowledge," she says.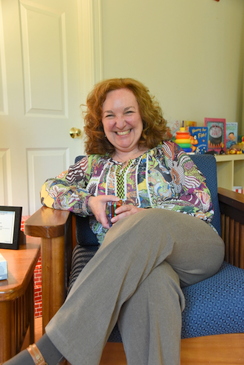 In addition to counseling parents, Suzanne offers children's outpatient therapy. Most of her clients are under the age of six and have undergone some form of trauma, for instance as the result of domestic violence or their parents' divorce. They are often referred to St. André by pediatricians, child development services, DHHS, or preschool service providers who have noticed a change in behavior.
"I have a specialty called child-parent psychotherapy, which is where you work with a parent and a child who have experienced violence or where neglect has been present, and you view the relationship both through the history of trauma and how that has impacted attachment, so it's attachment-focused work," Suzanne says.
Suzanne will spend time with a child alone, as well as with the child and his/her caregiver. When both are present, she works to increase the attachment between the two, for instance by having the caregiver bring in a snack to share with the child and then compliment him or her. She says it's surprising how often children struggle to hear something positive about themselves.
Suzanne's room is full of toys ranging from dollhouses to construction cones, because they provide a way to connect with her young clients and a means for them to connect with their caregivers. Suzanne uses a combination of directed play therapy, during which she sets out certain toys, and non-directed play therapy, which allows the children to select from a room full of toys.
"After they're used to the setting, they'll pick out certain toys that reflect their life experience," she says. "It's amazing. Their little personalities will come out."
She says the toys are chosen based on research. You will find animals, for instance, because children relate well to animals, and building blocks, because they allow children to experience a sense of mastery, which builds self-esteem.
With clients so young, she says treatment sometimes come down to educated guesswork and empathy.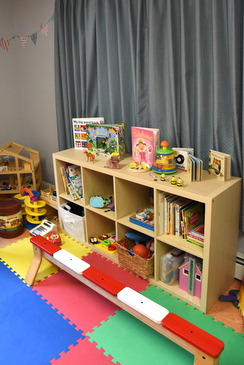 "You assure them that people love them," she says.
Suzanne has been with St. André in various capacities for 37 years, starting at one of the group homes in Lewiston in 1985. She says her desire to help others began when she attended St. Dominic Regional High School in Lewiston (now St. Dominic Academy).
"It wasn't like we had a ton of money, but my parents were good parents. So, learning about the world, I realized that there were a lot of folks who didn't have it as well off as I did," she says. "And, I always loved the story of the Good Samaritan, helping out someone else in need, and that really motivated me to continue with my education and do social work."
She says even then she wanted to work in St. André residential programs, and while her work now is in a different area, she says it's still helping to improve children's lives.
"It still meets that mission of working with young families in need and women and children in need," she says.
In addition to counseling services, St. André's Center for Parenting and Play also offers parenting education classes, which use the latest research about brain development to help parents understand their child's behavior and how best to respond to it.
"It's parenting support, helping parents gain some new information that they may not have previously known about humans and the way they develop and interact," says Chelsea Canedy, a parent educator. "From there, it's really empowering parents to use that understanding, and their own innate skills, and their own needs to construct a parent and family environment that really works with them."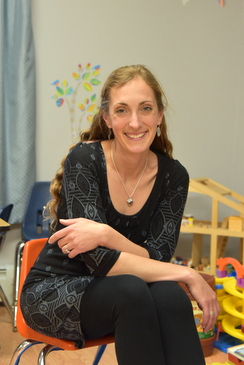 Chelsea says a key development has been research showing that children don't come into the world as blank slates but, rather, as small human beings who already have their own likes, dislikes, and desires.
"It's a whole different way of looking at the world. It's not about children being seen and not heard. It's about children being respected and cared for as human beings," she says.
Chelsea tries to help parents understand that acting out is often part of normal childhood behavior.
"I can't always regulate my emotions when I'm upset by something and, therefore, regulate my behaviors when I'm really upset, so how can we expect a really tiny person to do that?"
She says that is why it's important to try to focus on the feeling that is causing the behavior, rather than the behavior itself.
"When you relate to big emotions rather than the behavior that is coming from the emotion, the emotion and the behavior both settle. So, you do that by connecting with them empathetically and being a calm presence," she says. "You're going to empathize; you're going to nurture."
Chelsea says once she explains the science behind the methodology, parents are willing to give it a try.
"The scientific aspect of it makes complete sense to everyone I've given it to. Implementing the way to utilize it can be tricky. I struggle with that, too. It's not as simple as slapping a time out on it. You have to really think. You have to really engage," she says. "What it teaches is that you have to regulate yourself as a parent."
John Nadeau and Annie Sinclair, parents taking the classes, admit they were skeptical at first.
"It sounds kind of like it's never going to work, but then you try it, and it works," says Annie. "I think, through this class, I have thought more about how my daughter feels when I talk to her a certain way."
"I found it valuable because it allows me to deal with certain situations differently and have a different outcome," says John.
They admit, though, that it's hard to step back when a child is misbehaving.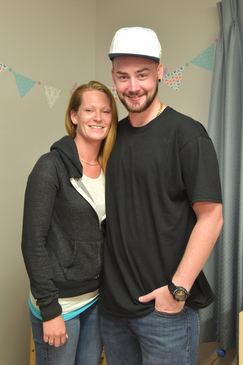 "You need to let them have that meltdown, and sometimes, that's hard to do – to let your kid sit there and scream," says John. "But, you just have to let them get it out, because once they get it out, then it's like restarting. They're not full of emotion anymore."
A final service provided by the Center for Parenting and Play is supported visitation, which provides a safe place for a parent who no longer has custody to spend time with a child. Samantha will sit in on meetings between parents and children, mainly as an observer and to make sure the child isn't in any distress. It provides assurance to the custodial caregiver, while giving the visiting parent an opportunity that he or she might not otherwise have.
"It really helped a lot. This way, I wasn't completely taken from her life. She knew who her mom was," says Bonnie, a mother from Saco. "If it weren't for this place, I probably wouldn't have been able to reconnect with my daughter."
Having meetings take place at the center is also beneficial because there are toys to play with, crafts to make together, and cozy couches to sit on.
"There are things to do," says Samantha. "They're not just being picked up by this person who they haven't seen in months."
Most of the clients using the Center for Parenting and Play have limited incomes, so those who do not have MaineCare or other insurance are charged on a sliding scale. That adds to an already challenging financial situation. Without state funding, St. André relies on grants, donations, and the SCIM Foundation, which was begun by the sisters in the 1970s.
"We have $10 here. We have $25. We have $100. It doesn't matter. It's just so wonderful that people remember St. André and value our mission," says Sister Terry.
While it's not easy, Sister Terry says the Good Shepherd Sisters remain committed to Saint André because there is such a critical need for the services.
"You don't have to even listen to the news; you just have to listen to people speak and think about the statistics when it comes to divorces an children in state custody. This world is hurting," she says. "There is always a need to help women and children."
Parents like Christina, who again has custody of her two younger children and is also working to reconnect an older daughter, couldn't agree more.
"All the goals that I've set, I've met," she says. "I just have been very thankful to have the help."
Support Saint André Home
St. André Home, Inc.
168 Prospect Street
Biddeford, ME 04005
All levels of donations are welcome.