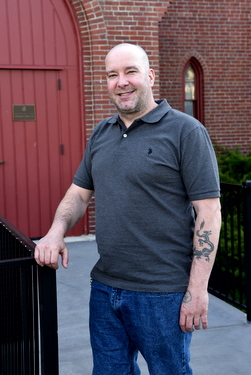 It was a call to change the way he was living his life. That is how Arrin Farrar of Plymouth now views a plane crash that nearly killed him.
"I say it was a wake-up call when the accident happened. It was time to stop being selfish. It was time to be back with your family, your community, your church, and start helping people," he says.
On March 26, 2016, Arrin was taking off from a West Virginia airport for his third flying lesson. The Cessna 172 had climbed to about 1,000 feet when it suddenly nosedived.
"We hit nose down on the tarmac, right on the edge of the runway," he says.
A preliminary report by the National Transportation Safety Board indicates that the flight instructor's seat was not properly secured, causing her to slide backwards and pull on the yoke, which resulted in the plane's nose pitching upwards. The Cessna rolled and flipped over. When it hit the ground, the instructor was killed and Arrin suffered serious injuries, including broken legs and hands, torn tendons, and facial fractures.
"He could not have his knees bent for three months. They had to be extended," says Erin, his wife.
Arrin has no memory of the accident, only of the long road to recovery, which included multiple surgeries. It was a road that also led him to the Catholic Church.
"I've been going to Catholic church for 20 years, but it was just going to church," he says. "I never received Communion or anything."
Arrin was baptized Catholic when he was an infant, but he was not raised in the Church. It wasn't until he met his wife, Erin, when the two were living in Georgia, that he was drawn back to the faith. Erin, who is Catholic, invited him to attend Mass with her.
"She asked me, and I said, 'Absolutely, we can go.'"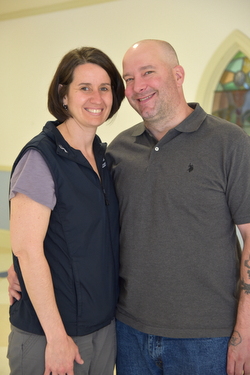 The couple moved to Pennsylvania, Erin's home state, where they were married. Arrin says he readily agreed that if they had children, they would be raised Catholic. After a few years, they relocated to Maine, finding a spiritual home at St. Matthew Church in Hampden, where Father Bob Vaillancourt was serving at the time.
"It was just so beautiful the way he did the Mass. It moved us," says Arrin. "Erin and I were just like, 'Wow.' I know people were looking at us, because I was a little teared up, and I knew Erin was tearing up."
They recall the beautiful baptism of their son, Tyler, in 2007.
"The way he did his baptism was awesome. Not only were we at the water, but he also went up to the altar, and he lifted up our son. It was just moving," says Erin.
Despite their growing connection to the Church, Arrin still did not make the commitment to fully become a member. He says he thought he would do it when it was time for Tyler to make his first Communion, but that day came and went.
Instead, work remained a priority. Arrin says he loved to learn new things, as evidenced by the different jobs he tried and mastered through the years. He had built golf carts and custom Harley-Davidson motorcycles. He worked as a welder for the railroad, as a heavy equipment operator, as a surveyor, and as a lineman.
"I had a lot of energy. That's all I've done my whole life, study, study, study, study, learning everything I could and can," he says. "Most of my adult life, up to that point was me, me, me, my career."
It was a job with a power line company that took him to West Virginia. He would stay there for 20 days, then return to Maine to spend five days with his wife, Tyler, and daughter, Briana.
His continuing thirst for knowledge also led him to take flying lessons. That third lesson was scheduled for the morning of Holy Saturday. When it was finished, he had planned to use FaceTime to deliver Easter greetings to Erin and the children. When Erin couldn't reach her husband, she became anxious and decided to take the children to the supermarket as a distraction. It was there that she got the call telling her about the accident and got the support of a good Samaritan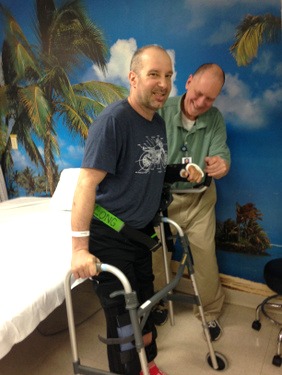 "I was losing it, and God intervened, because I had a woman just grab me," says Erin.
The woman, whom Erin did not know, insisted on driving her and the children home, with the woman's husband following behind.
"We went out to the jeep, and she looked at me, and she said, 'Are you Christian?' I said, 'Yes, I'm Catholic.' And she said, 'Let's pray.' And right there, in the jeep, we said the 'Lord's Prayer.' All of us held hands, and we said a prayer to protect him," Erin recalls.
Although Arrin suffered numerous broken bones, he did not sustain any internal injuries. Recovery nonetheless was arduous. He remained hospitalized for five weeks and, being immobile, says he listened to a lot of country music and watched a lot of television.
It was while watching TV, that he happened to see a rerun of an episode of Unsolved Mysteries that told of healings attributed to Saint Padre Pio and the establishment of the National Centre for Padre Pio in Barto, Penn. It caught Arrin's eye because he had done the surveying work for the center years earlier. He says back then he didn't give the saint behind the center much thought, but now he wanted to learn more.
"That caused me to do a lot more studying on Padre Pio," he says. "Then, I started getting to know Padre Pio, and everything was starting to aim and point towards Padre Pio."
Erin even recalled a saying of Padre Pio's that she had seen a couple weeks prior to the accident, while working at St. Joseph Hospital in Bangor.
"On their bulletin board, near the copier, was a Padre Pio verse, something he always said, and it was 'Pray, Hope, Don't Worry.'"
Arrin says as he began to learn more about Saint Padre Pio, he came to appreciate the importance of praying for the needs of others.
"That's something I never did all these years. I never prayed for other people other than my family or myself," he says.
It hit home even more when he realized how many people had been praying for him after his accident.
"I probably underestimated the power of prayer, but when you have that many people praying, it's got to make a difference. There is no doubt in my mind," he says.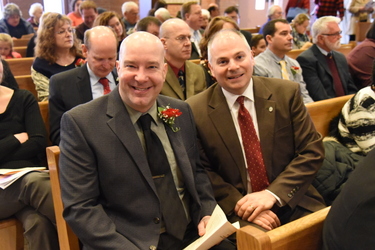 When Arrin was able to return home, members of St. Paul the Apostle Parish and All Saints School, which their children attend, were also there to lend a hand.
"The people in the whole parish stepped up and cooked us meals, and donated money, and things like that," he says. "It just confirmed what we needed to be doing."
Arrin decided it was time to be confirmed and make his first Communion.
"It was my way of showing, 'This is me Lord. I'm ready. I'm ready to be part of the family, the Church. Thanks for giving me a second chance,'" he says.
He participated in the Rite of Christian Initiation of Adults while still recovering from his injuries, getting a little help from Tyler and Briana.
"We practiced at home. We were pretending that Briana was the priest, and I was in front of Daddy, and then Daddy went after me," says Tyler.
On Holy Saturday 2016, Arrin was lying in a hospital bed. On Holy Saturday 2017, he was preparing to receive the sacraments during Easter Vigil Mass.
He says being able to receive the Eucharist has strengthened his relationship with Jesus.
"I think I appreciate Him more. I'm not afraid to really spill my guts to Him now. I'm not afraid to admit when I'm wrong. I'm not afraid to ask Him for help," Arrin says. "I've always prayed to God, but the prayers definitely mean more now."
The journey has brought Arrin closer to his family.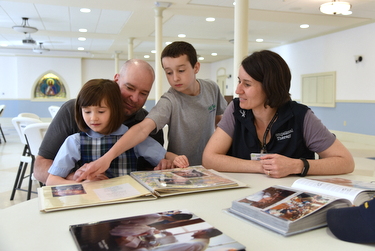 "I would feel like it was just me trying to instill certain things, but now we both have that responsibility," says Erin.
"It sets the tone for my kids," says Arrin. "I'm more involved now with the kids, their activities, Tyler with baseball, and Brianna with gymnastics. I'm helping him with his homework, doing the things that a good dad should be doing."
A member of the "That Man is You" group, the Knights of Columbus, and a volunteer firefighter, he says he now also gives more of his time to the parish and the community.
"It's time to give back, take your talents, give back and help other people," he says. "I didn't catch on until it was almost too late."