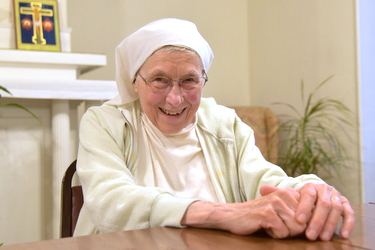 With her guitar in hand and a broad smile on her face, Sister Kathryn Kelm, SSS, has a way of warming the hearts of all she meets.
"She's just so holy, her presence," says Penny Laplante, from Corpus Christi Parish in Waterville. "You just know that Jesus is her friend, and you want to have that same joy she carries with her. Always a smile on her face, the love that she shows to people, that is Sister Kay Kay."
"Sister Kay Kay is joyful in her music, and we love seeing her ride around town on her bicycle with her full habit and veil, with a cap on, riding through the streets of Waterville, just spreading joy wherever she goes," says Dan Spofford, also a Corpus Christi parishioner.
Sister Kay Kay, as Sister Kathryn is known, has been a member of the Servants of the Blessed Sacrament for 50 years. She celebrated her golden jubilee in August with a Mass celebrated by Bishop Robert Deeley at the Blessed Sacrament Chapel in Waterville. It is the same chapel where she professed her first vows in 1967.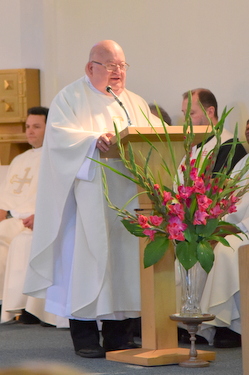 "That day began a lifelong journey of faith for her. And, I must say, of a life well-lived," said Father C. James Martel, the homilist at the jubilee Mass. "With a deliberate spirit within her, she has walked the walk as a woman vowed to God."
Sister Kay Kay, age 79, was born in upstate New York but grew up in Arizona. Even as a young girl, she says she knew the presence of Jesus in her life, through what she calls mystical experiences.
"I didn't know what they were," she says. "I knew something was going on, that God was in communication with me. It's hard to put it into words."
Not having women religious present during her childhood, she says she didn't have a sense of a call to religious life until attending college.
"I went to college, and I started exploring. My sister was very interested in religious life. She had this catalog of all the orders. We would go through them together," says Sister Kay Kay.
After receiving a degree in journalism from Arizona State University at Tempe, she entered the Benedictine Sisters of Perpetual Adoration.
"It was contemplative life but with doing some writing and that kind of thing for your ministry," she says.
Although it turned out not to be the right fit, she remained associated with the sisters, working with them in Kansas City as a baker of altar breads.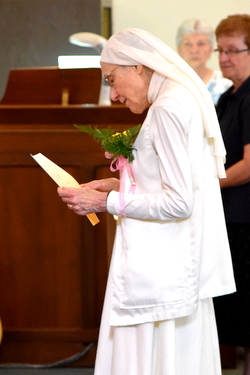 With the sense of a religious vocation still strong, she approached other congregations, only to be disappointed again and again. At that time, she says communities hesitated to accept women who had previously been with another order. She says she finally concluded that it was not meant to be.
"I said, 'Well, the situation that I'm in, that's not bad. I'm baking altar breads. I'm working for the community.' I didn't live there with them, but I prayed with them," she recalls. "I said, 'That's pretty good. What's wrong with this?'"
Then, one day, the parents of one of the Benedictine nuns told her about a community in their hometown of Pueblo, CO. She wrote and was invited for a visit.
"It was almost like, yes, but I wonder if that's really going to work? I was unsure," she recalls. "I remember what happened last time. I better not get my hopes too high."
At age 26, she was already one year past what was then the age limit to enter, but the Servants of the Blessed Sacrament welcomed her.
"It's wonderful. I actually got to be a religious when there was no hope," she says.
The Servants of the Blessed Sacrament are a contemplative community founded by St. Julian Eymard, a French priest who believed "everything flows from the Holy Eucharist and returns to it." Prayer and adoration in the presence of the Blessed Sacrament are central to the sisters' daily lives.
The sisters also coordinate the distribution of Communion hosts to parishes, something Sister Kay Kay has done for decades. She has also served as treasurer and as organist.
Sister Kay Kay's love for music goes back to her childhood days, when she and two of her siblings formed a family band.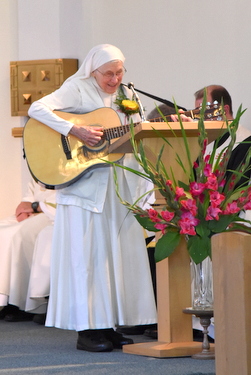 "We just all sang together, and it was cute. My dad had a trumpet. My uncle had a guitar, so we borrowed the guitar," she recalls.
Although she has taken a few lessons, she says she is primarily self-taught. In addition to the organ, she plays bass and acoustic guitar, the latter being her favorite.
"I'm just drawn to it, more warm, more natural, more portable," she says.
Whether she is writing songs or playing, she says she lets the Holy Spirit be her guide.
"To be the channel, that's the way to put it because if the Spirit is not there, no matter what I play, it's not alive," she says. "You have to open yourself to the Spirit and let it happen and hope it will happen, because there is nothing that I can do but to pray that it will happen."
And judging by the reaction of those who have heard her play, it most often does happen.
"She is so joyful in the Lord with the music that she's playing. And when people sing it, it just makes it even more invigorating," says Spofford, who serves as cantor at the chapel. "There was a group of musicians who would play out in the community, and she would join them. She did a wonderful job, and she would be in her full habit, so the community would see that witness. It was really powerful."
For years, Sister Kay Kay has also enjoyed accompanying the musicians playing at Journey, an annual retreat for high school-aged teenagers.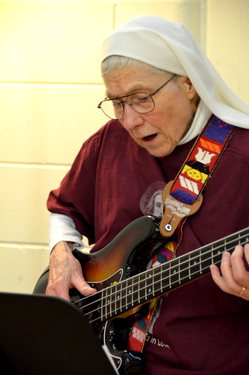 "It was such a powerful thing. Oh, the youth, oh my gosh, it really connected, absolutely connected. So, over the years, I just asked to play with the group," she says.
Not one to shy away from technology, you can find Sister Kay Kay's music on YouTube and Facebook, and she signed up for songwriting courses from SongU.com.
"It's been very helpful because my goal is to write songs that will connect with today's people and, of course, things that I feel strongly about," she says. "That's what St. Louis de Montfort did. He took the songs from the pubs back then, and he put holy lyrics to them. He wanted to connect to the ordinary person."
As you might expect, her songs often carry messages, for instance "I am victim."
"The introduction of the song goes that I'm praying, and then, I see something on the news and identify with them, the victims. Then, the songs kicks in from there," she explains.
She has also written a hymn to the Blessed Mother, "The Ballad of Corpus Christi," and "Mercy is Forever My Song," the meditation song she played and sang at her jubilee. The lyrics include "For all these years, He's true to His word. His burning love, still faithful strong. I raise Him glory; His mercy is forever my song."
"I know where I came from. We were poor. I've been fortunate and blessed, and I call it mercy because you don't deserve these things," she says.
Sister Kay Kay suffers from a rare eye disease that resulted in partial cornea transplants. She credits the Iris Network with helping her to continue her ministry by providing her with training and tools, such as ZoomText screen reading software.
Despite the challenges she has faced, Sister Kay Kay says she remains thankful to God for all e has given her.