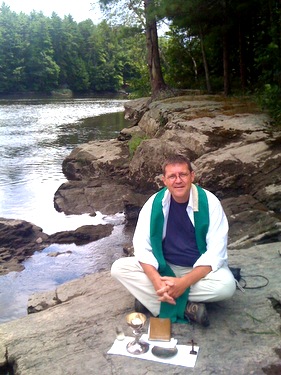 When Father William Campbell, S.J., was discerning his vocation to the priesthood as a college student in the late 1980s, he says there was only one path that felt right for him.
"If I were going to do it, it was going to be the Jesuits. If the Jesuits had said no to me, I wouldn't have pursued the priesthood," he says. "That's how strongly I felt that this was the way of life for me."
James Ferus, currently in formation with the Society of Jesus, commonly known as the Jesuits, says he feels a similar draw.
"There was something about the Jesuit spirituality, about their national and even global perspective, as well as their intellectual curiosity, all those factors, put together, matched who I was as a person," he says.
The Jesuit spirituality is derived from Saint Ignatius, the founder of the Catholic religious order of priests and brothers. Saint Ignatius, once a soldier and aristocrat, discovered his religious calling while convalescing from serious injuries suffered in battle. He established the Society of Jesus in 1540, urging members to go out and to seek to "find God in all things." It's a call still embraced by members of the society today.
"Looking for God's will in everything," says Father Jack d'Anjou, S.J., a native of Biddeford who has been a Jesuit for 56 years. "In order to be able to do that, we have to divest ourselves of anything that cuts into our freedom and ability to do that."
"Finding God in all things, it's just my natural tendency…to want to experience a sense of wonder, awe, and gratitude about the things I see, the people I encounter, and the activities I do," says Ferus.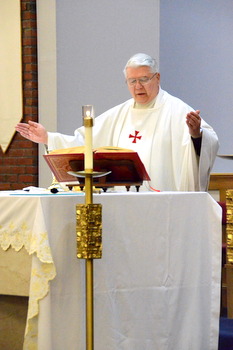 To help members of the order deepen their relationship to God and become more aware of His presence and activity in the world, Saint Ignatius developed spiritual exercises, which include prayers and meditations. The Ignatian Spiritual Exercises were intended as a "long retreat" of 30 days, spent in silence and reflection. Today, they are offered in modified forms not only for religious but for laypeople as well.
"For me, the foundational work of my ordination has been built on the spirituality of Saint Ignatius and the spiritual exercises -- trying to be able to make it a real part of my life, trying as best as I can to be able to see God in all the things that are around me, in all the people who are around me," says Father d'Anjou.
The exercises begin with a period of self-reflection called the Principle and Foundation.
"How free are we to recognize what Jesus is trying to tell us? Psychologically, it's amazing how conveniently we don't hear the things we don't want to hear," says Father d'Anjou.
Jesuits also complete a "Daily Examen," an examination of conscience during which they reflect on how God was active in their midst during each day.
"We do our examen in the middle of the day and our examen before we go to bed and retire at night," says Father Campbell. "The examen is inviting God to enter in, so we can be aware of God's presence in our lives; be grateful for the gifts and blessings we receive; acknowledge the sinful moments, weak moments in our life when we have not been as open to God's grace; and ask for clarity moving forward."
Father Campbell says the examen, done slowly, "is one that helps us to make decisions that are based on God's kingdom."
The period of formation in the Society of Jesus typically lasts between 10-12 years. The first stage is the novitiate at the end of which the novice will pronounce the perpetual vows of poverty, chastity, and obedience.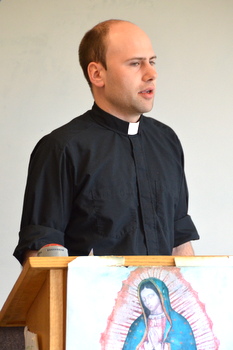 "The first thing with a religious order priest is that they belong to a religious order first," says Father d'Anjou. "I was a Jesuit long before I was a priest."
"I think that certainly increases your level of commitment to the process because those first two years are about determining whether Jesuit life is what I've been called to," says Ferus, who professed his first vows in August 2011. "It gives me a heightened sense of belonging, of membership. I'm living Jesuit life here and now."
The novitiate is followed by first studies, which usually last three years, then three years of ministry, known as "regency." Ferus is just finishing his first year of regency at Cheverus High School in Portland, where he teaches theology.
"It's designed to get me involved, to get me immersed and invested."
Regency also gives Ferus an opportunity to experience what it's like to live in community. He is among a community of ten Jesuits, nine of whom reside in Portland. He says it has given him a network of support while still allowing him to retain some flexibility.
"Just a routine commitment to being there for dinner, to being there for conversation and fellowship with a cup of coffee on a Saturday morning, or around the fireplace during the blizzard -- there is that sense that we all want to be a part of living here," he says.
After completing his regency, Ferus will resume studies for another three years, leading up to final vows, which for Jesuits include a fourth vow of obedience to the pope in regards to their mission.
Although they are widely known for their work in education, especially at the secondary school and college levels, Jesuits are committed to serving wherever the need is the greatest.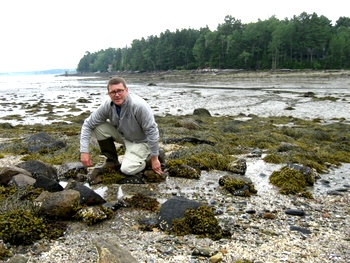 "I'm not bound to a diocesan geographic area. I'm called to reflect on the signs of the times, where the needs are, and where the greater need is," says Father Campbell. "That's what brings us maybe to a school, maybe to a prison, maybe to a parish, maybe to a hospital, maybe to a region."
That is reflected in the service of the Jesuits in Maine. They operate Our Lady of Hope Parish in Portland as well as Cheverus High School. They also regularly celebrate Mass at the chapel of the Sister Adorers of the Precious Blood, a cloistered community.
The Jesuit priests here have served in many different ministries through the years. Father Campbell was recently named vice president for mission at the College of the Holy Cross in Worcester, Mass., after spending seven years as president of Cheverus High School. Father d'Anjou, who has a master's degree in broadcasting, spent years doing video work and also taught French, Russian, and religious education. Father Robert Paskey, S.J., who is currently a hospital chaplain, served with Catholic Relief Services and as a chaplain during the Vietnam War, assisted Cambodian refugees in Thailand, led retreats in Africa, and lived among the Eskimos in Alaska, among other assignments.
"Everything was included in the Jesuit vocation, which meant I could expand, go in all kinds of directions," he says.
Jesuit service in Maine isn't measured by years but by centuries. The first Jesuits, Father Pierre Biard and Father Ennemond Masse, arrived from France in 1611, landing in Nova Scotia and then joining an expedition down the Maine coast. They celebrated Mass on Swan Island, at the mouth of the Kennebec River, on November 1, 1611, the first recorded Mass in New England. Two years later, they attempted to establish a settlement on Mount Desert Island only to see it destroyed by the British. In 1646, Father Gabriel Druillettes established a mission in what is now Augusta. And when the Diocese of Quebec was established in 1674, Bishop François de Laval left the Jesuits responsible for spreading the faith in Maine.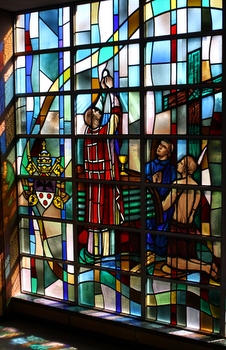 The Jesuits served both the colonists and Native Americans, but they were also caught up in the tensions between the French and the British and between Catholics and Protestants. Massachusetts passed a law against the Jesuits in 1700, and in 1724, Father Sebastian Rásle, a Jesuit priest serving the Abenaki people, was killed during a raid on his Norridgewock mission.
The Jesuits' work came to a temporary halt in 1773 with Pope Clement XIV's worldwide suppression of the order, but when that was lifted in 1814, the Jesuits resumed their evangelizing work. In 1825, Bishop Benedict Fenwick, a Jesuit, become the second bishop of the Diocese Boston, of which Maine was then a part. Bishop Fenwick was a driving force behind the expansion of Catholicism in Maine, helping to establish parishes in Augusta, Bangor, Benedicta, Eastport, Frenchville, Houlton, Machias, Portland, and Van Buren.
Although the path wasn't an easy one, Father Campbell says the Jesuits responded because that is where the need was.
"Was the climate tough? Sure," he says. "It's tough in Syria right now, but there are Jesuits ministering in Syria. It's tough in India in certain areas, but the Jesuits are ministering in those areas."
Father Campbell says that is the call of the order and the cost of discipleship.
"That is what the spiritual exercises invite us to do, to pray to be in a place of spiritual freedom where I can be who God's kingdom needs at this moment. I would love it to be all bonbons and chocolates, but it isn't," he says. "Through the course of the spiritual exercises, we all crave to be with Jesus on the cross. And, if that means literally, that's the grace I pray for."