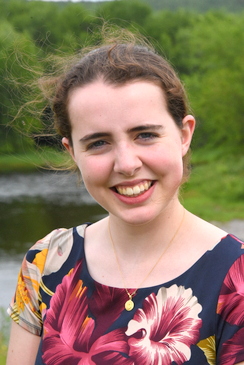 "I love being in church."
St. Louis Church in Fort Kent is a place where 18-year-old Isabel Sanclemente feels at home.
"In every church, Jesus is present. That's what draws me to it, the presence of God," she says. "God rests in the church among men, which is really beautiful to think about."
Spending time with Christ is something Isabel longs to do. She says she has had a close relationship with Him since she was a young girl.
"What can I say? He is amazing, right? He has definitely been a huge part of my life," she says.
It is why she is discerning a vocation to religious life. She has been accepted as a postulant with the Dominican Sisters of Saint Cecilia in Nashville, Tennessee.
"He gave us all of Him, I have to give all of myself," she says.
Isabel says the roots of her faith go back to her upbringing in the town of Wallagrass, which is about 10 miles from Fort Kent. She says it was a gift that her parents, Deacon Luis and Julie Sanclemente, gave to her and her three younger brothers.
"The life that we grew up with was really rooted in faith, which is beautiful. I'm really grateful for it," she says. "I think I would have, at some point, realized that I had this vocation, but it would have been more difficult to answer, and I think I would have realized it much later if I hadn't had this family life full of faith and full of truth."
She says her parents always shared their faith with her and never shied away from answering any questions she had.
"We were always able to talk about the faith at home. It was a very enriching conversation. Even hard subjects weren't, 'We'll talk about them when you're older.' The truth was given to us when we were little, which I think is really necessary," she says. "I think it's really important to know why we believe this, and question."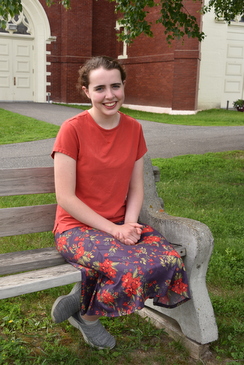 Isabel says her faith life blossomed through the sacraments, prayer, reading, and study. In addition to attending weekend Mass, most often at St. Louis Church, she says after she made her first Communion, her father began taking her to Mass on Thursday evenings at St. Joseph Church in Wallagrass. Soon, it became a family tradition.
She says, for as long as she can remember, her family has also joined together for prayer each night. In addition, Isabel prays the Liturgy of the Hours, which is the daily prayer of the Church, and she integrates prayer into her daily life.
"Whenever you have a chance to say, 'Hi, how are you doing?' Even little things like that are good. Like St. Paul said, 'Set your minds on things above.' You have to have that constant kind of communication open," she explains. "I guess be open to His promptings, open to the Holy Spirit's promptings, open to God's grace, and then, at the same time, to be able to give back to them."
She says as much as she enjoys conversing and being with people, she loves talking with God even more because He knows her better than she knows herself.
"It's almost silly to talk to Him because He is so high above us, oh my goodness. But I think it's also good because if I could learn a little something from Him every time I talk with Him, that would be really amazing," she says.
Isabel loves to learn, most especially about her faith. She switched from public school to an online Catholic homeschooling program when in the seventh grade and, although it required only three years of theology to graduate, she took four.
"I definitely did not want to miss out," she says.
She describes herself as a bookworm, often reading two or three books at a time, many of them with saintly authors. Recently, she was reading St. Louis de Montfort's True Devotion to Mary, while also savoring Saint Faustina's Diary.
"I can't stop reading it," she says. "I have to be careful when I pick it up because I get stuck in it."
She was also moved by Will to Love: Reflections for Daily Living by St. Maximilian Kolbe.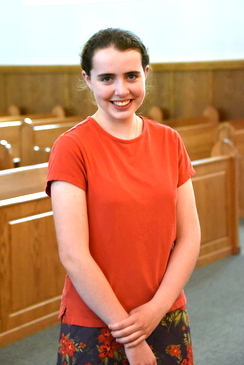 "I really enjoyed his dedication to Immaculata, to Mary, that is really portrayed throughout the book. It was really beautiful to see," she says.
And, she was inspired by the conversion story of St. Augustine as told in his Confessions.
"If you really disbelieve in God so much, and you become a believer, it can be a much stronger belief, so I think the story of that is just so beautiful, that conversion. I also really like his intellect. It's way over my head. It's really incredible," she says.
Asked what her favorite book of all is, she replies, "John," referring to the New Testament book.
"Saint John is the youngest of the apostles, and I think it's the whole thing about being the disciple whom Jesus loved," she says. "Some of the things he says, 'In the beginning was the Word, and the Word was with God, and the Word was God,' some say it's repetitive, but I think it's beautiful. You can hear music almost in the way he writes."
A few years ago, Isabel read the Bible cover to cover, although she admits that may not be the best approach for everyone.
"You get stuck in Genesis and Exodus," she says.
She still regularly turns to it, either seeking out a favorite passage or just opening it and reading whatever page she comes to.
"It's good to read the Bible. I don't read it as often as I need to," she says. "After all, it's the word of God, so it's incredible."
As evidenced by her reading choices, Isabel also tries to let some of the saints be her guide, most especially the Blessed Mother.
"The ability to share joy comes first and foremost from a relationship with Jesus and His Blessed Mother. In the Litany of the Blessed Virgin Mary, one of her titles is "Cause of Joy," and that is absolutely true. The reason is because Mary, as the Mother of God, is the mediatrix of all graces," Isabel says. "We need grace to be joyful, and that grace comes from God to us through Jesus Christ and His Blessed Mother, transported by the Holy Spirit. So, to be devoted to and have a relationship with the Trinity and Mary is essential."
She also points to Pope Saint John Paul II, whom her parents once met.
"The way he acted with big crowds, with people, and how he loved them – I think you could see Jesus in him," Isabel says.
With her middle name being Theresa, after St. Theresa of Avila, she says she feels a connection to her as well, along with St. Thérèse of Lisieux and St. Teresa of Calcutta.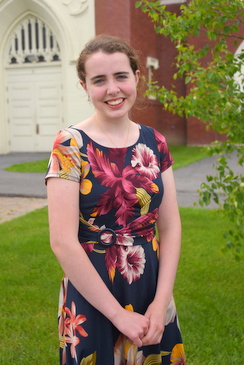 "One thing I really like about Mother Teresa is that she says that if you're not praying and being formed in your prayer, then you cannot give to other people. So, all her work with the poor is not because she had that ability, it's because she needed to be in prayer, asking God for the grace to do that, which I think is really beautiful," Isabel says.
Isabel says she first thought she might have a religious vocation when she was just six years old. She was familiar with women religious because one of her mother's closest friends, for whom her family would regularly pray, was a Dominican sister.
"Because of the life I was brought up in, at six, seven, eight years old, I knew I was going to be a sister. I have pictures of me, when I was nine years old, in a habit," Isabel says.
In middle and high school, she tried to push the thought from her mind, but when two Dominican sisters from Nashville visited her parish, the feeling came rushing back.
"It was hard, because I was trying to ignore my vocation, but there are these sisters right here, and darn it, they were so amazing," she says.
Isabel says it was while attending last November's Journey retreat, offered through the diocese's Office of Lifelong Faith Formation, that it became clear to her that religious life was her path.
"When I realized the sacrifice that Jesus made for us on the cross and how in the Eucharist He wants to give us all of Himself again and again and again, and that His sacrifice on Calvary is the Mass, and that the Eucharist is Jesus, it just clicked," she says. "I call it my 'November surrender,' because I finally realized if I don't surrender to God's will, things are not going to go so well in my life."
She wasn't sure to which order she was being called, but after visiting the Dominican Sisters of Saint Cecilia, she says she felt that was where she belonged.
"There was this peace," she says. "Their life was just really beautiful."
The motto of the Dominican Sisters of Saint Cecilia is "to contemplate and give to others the fruit of our contemplation." It is a cloistered community with time dedicated to silence and prayer, but the sisters also have an active apostolate focused on education. They teach in schools in 17 states and the District of Columbia, as well as in Canada, Europe, and Australia.
"They're Dominicans, so one of their mottos is Veritas, which is truth," says Isabel. "They teach and spread the truth to anyone they meet."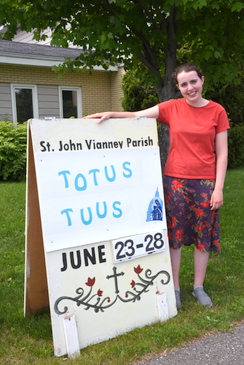 Isabel got her first taste of teaching this past year, when she taught religious education to first graders. She says it's something she enjoyed.
"If I'm not teaching the faith, and I'm not talking about the faith, there is something missing. When I talk about the faith, and I'm allowed to teach it, that's my niche. It's the place where I belong," she says.
Isabel says her love for teaching and for children is also why she volunteered to help out at Totus Tuus, a weeklong youth summer program held at St. Louis Church in June. Offered by the Office of Vocations, the program combines prayer, learning, and recreation.
Isabel has also served on the Catholic Youth Leadership Team, which helps plan diocesan youth events, and has served as a sacristan and cantor at St. Joseph Church.
"I try to help when I can with anything that needs to be done," she says.
Isabel also likes to play the piano and to spend time outdoors, most especially horseback riding and kayaking. She says, however, the greatest enjoyment she gets is from spending time with God.
"My faith brings me joy because I'm able to experience an amazing steadfastness within it that cannot be found anywhere else," she says.
When she joins the sisters in Tennessee, she only expects that feeling to grow
"Doing the will of God and doing what His plan is for our lives will bring us ultimate happiness and true joy," she says. "I want to enter as soon as possible because if that is what God wants me to do, I might as well do it ASAP."