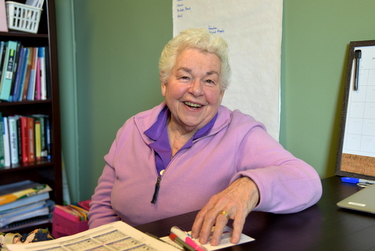 While the COVID-19 pandemic has brought a halt to many activities, it hasn't slowed down 80-year-old Rita Thompson.
"I'm never bored. I've always got something to do," she says.
Sure, the pandemic has meant a lot less social contact, something Rita misses, but it hasn't stopped her from finding numerous ways to serve her community, her alma mater, and her parish, all dear to this lifelong South Portland resident.
"The things that I volunteer for, I do because I believe in them," she says. "My greatest gift is my time, and I'm going to dole it out where it does the most and where it makes me feel good."
There is a lot that gives Rita that good feeling, starting with her service to the Church.
"This is the center of my life, my Church," she says. "You do the things for the Church because it is your Church, and you love it."
Rita has been a member of the choir at Holy Cross Church in South Portland for more than 40 years and also serves as a cantor and reader during Mass. Although the choir has been temporarily silenced by the pandemic, she continues to offer the readings and lead hymns, something she did even while Masses were closed to the public.
"When they first started and we were filming Mass on Sunday mornings up at St. Bart's, I was either cantoring or reading, so I got to go to church six weeks in a row and receive Communion, which no one else was doing. That was a real privilege," she says. "I can't imagine not going to church."
A regular daily Mass goer, she now also assists by taking down the names of attendees, a precautionary measure in case of a COVID-19 outbreak.
Rita is also the funeral coordinator for Holy Cross, St. Bartholomew in Cape Elizabeth, and St. Maximilian Kolbe in Scarborough, the three churches of St. John Paul II Parish, a job she has held for 11 years. She estimates she has helped plan more than 1,000 funeral Masses, calling the job very rewarding because she is able to help family members through such a difficult time. She meets with them at the churches to explain what will happen during the Masses and to help them choose readings and music.
"I try to read the obituary before I see them, so I can tie in something, so I'll have something to talk with them about when we sit down," she says. "That kind of puts them at ease."
She also makes sure to spend as much time with them as necessary to ensure they are comfortable with the decisions they've made.
"I don't want them to look back and say, 'Gee, I wish I did that or I wish I did that instead,'" she says. "I want them to be satisfied that they did the best that they could for that person."
She says there weren't any funerals at the parish during the first three months of the pandemic, but once size restrictions on gatherings increased from 10 to 50, they resumed. She says one significant difference, however, is that now they are by invitation only. While she says 50 has worked out fairly well for the Masses, what has been difficult for mourners are visiting hours.
"The visiting part works so poorly now because you cannot go near people," she says. "When you think about what you're going there for in the first place, it's to hug that person who is so broken, and that's the one thing that you can't do."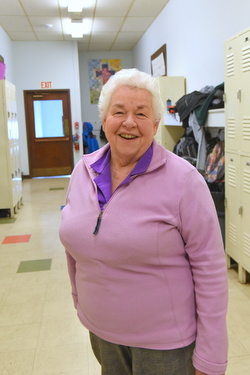 In addition to serving at the church, Rita is on the Holy Cross School Board. She says she brings the experience of having lived in South Portland all her life, plus a love for the school that she attended from 1946 to 1955 and that all four of her daughters attended as well.
"I talk about the school all the time because it's something I really believe in and love," she says.
Before the pandemic, Rita says she used to stop by to see the students' latest art projects or, at this time of year, attend the Christmas concert or fair, because they always brought back great memories.
"I think about how many times did I go up and down those stairs when I went to school here, when my own kids were here," she says. "When I come in that front door, it's like I'm home."
She credits Holy Cross for strengthening her faith, teaching her the importance of service, and giving her lifelong friendships.
"It has made me the person I am today," she says.
Just as with the parish and the school, many of Rita's volunteer efforts are focused on places or causes close to her heart. For instance, she serves at the Dempsey Center, which provides free services to cancer patients and their families. Her youngest daughter died from cancer at age 12, and Rita later also lost her husband to the disease. Prior to the pandemic, Rita sat at the reception desk, greeting people as they came in. Now, she works from home, writing out sympathy cards.
"I go online and look at the obituaries to see if anybody who used the Dempsey Center has died. Then, what I do is send a sympathy card to the family," she says. "They supply all the sympathy cards and the postage, so all I have to do is do the hands-on work. They want people to know they care about them and haven't forgotten them."
Her experiences when her daughter was ill also led her to volunteer at the Ronald McDonald House in Portland, which serves as a home away from home for families of pediatric patients. Rita says she spent many days at the hospital with her daughter, and while she was fortunate to live close by, she realized that wasn't the case for many families. She started volunteering at the house shortly after it opened in 1995 and continued to do so up until the pandemic.
"It's making a bed, washing windows, talking with somebody, answering the phone, doing a bulk mailing, whatever needs to be done," she says.
Rita also volunteers at Northern Light Mercy Hospital in Portland, where her four daughters were born. She is a member of the Nifty Knitters, a group that knits baby blankets for newborns, hats for those recieving chemotherapy, or lap robes. While members of the group no longer meet monthly as they used to, the knitting hasn't stopped.
"I've probably knitted more because of the pandemic. I'm currently making baby blankets. We can bring them down to the Fore River (hospital campus), and the security guard will take them and put them in the office," she says. "I knit all the time. I knit every single day."
Rita also makes prayer shawls for those being served by Northern Light Home Care and Hospice in South Portland.
"The nurses who go to homes to visit the hospice patients, they bring them a prayer shawl. They still bring them because people are still sick and people are still dying," she says.
The Knifty Knitters have also supported residents of the McAuley Residence in Portland, which provides a safe place for women, some of whom are young mothers, as they journey towards sobriety and self-sufficiency.
"We might make dishcloths because those girls have to work in the kitchen there. We might make hats, mittens, stockings, sweaters, things like that for the kids," Rita says.
Rita's volunteer work also includes working at the polls for both the primary and general elections, something she's done for many years. She also served as an usher for both the Portland Players and Lyric Theatre in South Portland when there were performances.
Rita says when you volunteer, you never know whose life you may be touching
"Sometimes, it's just your example of doing things: the fact that you go to church all the time or the way that you treat your neighbors," she says. "People are watching what you do. You don't have to say a word, but they see how you act, and I think that makes a difference."
She says you not only benefit others by volunteering, you help yourself
"You have to take care of yourself mentally and physically in order to enjoy your life and for people to enjoy you. If you're always complaining about aches and pains and doctors' appointments and replacement knees, nobody wants to hear that," she says. "I want to be around somebody who lifts me up, not brings me down."
Although she says she does have her down days, she says she always keeps in mind that it's God who is in charge.
"It's not about us. We're not the ones making the decisions," she says. "Every day I wake up and think, 'Who put the sun out?' It wasn't me because I might have slept in. Who makes the tide go in and out? Who makes the beautiful grass and the crocuses when they come up through the snow? Somebody is tending to that. To me, I don't know how you can't believe that there is a God."