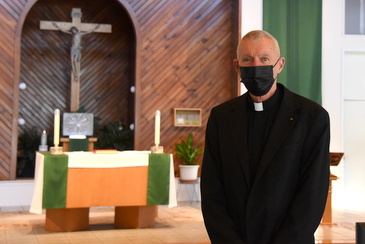 "It's like being on a long, bad retreat."
That is how Father Louis Phillips, pastor of Our Lady of Perpetual Help Parish in Windham, St. Anne Parish in Gorham, and St. Anthony of Padua Parish in Westbrook, sums up this past pandemic year.
"I don't think anybody really foresaw that this was going to last this long," he says.
The pandemic has brought changes to all of our lives, and that is certainly true for the priests of our diocese, faced with ever-changing situations as they seek to care for their parishioners.
"It's certainly better now than it was when it was me, our production crew, and the reader at Mass. I've come to appreciate a group of 50 people," says Father Phillips.
"It's been so varied. Every month seems like it's been completely different," says Father Jack Dickinson, pastor of St. John Paul II Parish, with churches in Cape Elizabeth, Scarborough, and South Portland. "It's definitely energy consuming when you have to do things out of the normal routine."
For Father Dickinson, who became pastor of St. John Paul II Parish in August, there has been little opportunity to settle into much of a routine. He says moving to a new parish always takes some adjustment, but the pandemic has made it particularly challenging.
"The biggest difficulty was just getting to know the parish when you only have a few people there at a time, everyone is masked, and regular activities aren't happening in the same way," he says. "It's trying to find a way forward, not upsetting the applecart but saying, 'What are the next steps?'"
Not having had a chance to meet much of his flock, Father Dickinson says he worries about how they're doing.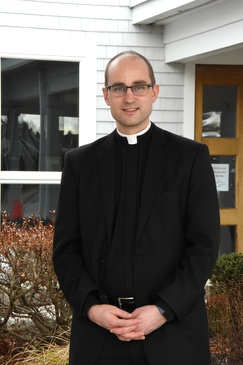 "Being a spiritual father, you worry about those who aren't there, both those who choose not to be there and those who can't be there," he says. "My heart aches that we can't be together. As a pastor, I want to be there with my people, with my spiritual children, so there is a heartache there as a priest, as a pastor. I don't know what their needs fully are because they're not there, or I haven't been able to reach out to them personally."
Father Phillips shares Father Dickinson's concerns about his parishioners, especially those he hasn't seen in a while, but he says he takes comfort in looking out at the faces of the elderly who come to daily Mass.
"Those are the ones I'm seeing the most. I might not see them on weekends, but they'll come during the week for Mass," he says. "It's very important to them."
He also knows that many are viewing Masses via livestream. While prior to the pandemic, few parishes in the diocese had livestreaming capability, now, most of them do.
"I've gotten some really great feedback. People do appreciate the livestreamed Masses. In some cases, people don't feel comfortable coming to Mass, and I certainly understand that," says Father Phillips.
Still, he and Father Dickinson say while livestreaming is an important tool, it can't replace attending Mass in person.
"There is an immediacy to it that can't be done through a screen in the same way. There, you are kind of stepped back, but at Mass, you're participating in the sacrifice of the Mass and offering yourself in a way that you can do online a little bit, but it's still through a screen," Father Dickinson says. "God really wants it to be personal. In person is how He works most of all."
Father Dickinson adds that we're also not meant to celebrate alone.
"We're meant to be communion with our fellow parishioners," he says. "The most immediate thing we've lost is just that human contact, just being together. I think it really takes a toll on each of us. Even if you're with your family, there is something about being with that larger faith community that is really missing right now."
While that sense of community is a loss, Father Phillips says having more time alone has provided an opportunity for us to step back and recognize what is truly important in our lives.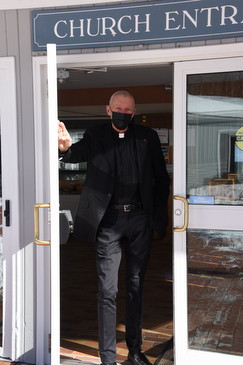 "We're all a little bit more by ourselves, even people who live with families. They're not having as many distractions in their lives, and as much as I long for distractions, I think it helps you put into perspective the things that really matter," he says.
Things such as prayer and connecting with God. Father Phillips says in conversations with parishioners, some have told him that they're praying less. While initially concerned, he says after thinking about it, he came to a different conclusion.
"I think people are spending time in prayer, but it's a different kind of prayer. It's more of a prayer of presence," he says. "It's like a couple who are living through the coronavirus stuck inside. The two of them are together. They're working from home, not having any contacts. I'm going to guess their conversation has gone way down, because they don't need to converse. They're just spending time with each other. I would liken that to our relationship God. Our prayer doesn't need to be something put into words. So, I'm suggesting that maybe folks feel less that they're communicating and more that they're feeling."
He says he sees that in himself.
"I feel more connected with myself and with God. I've kind of had to reassess the way that I live my life and structure my day. I'm not trying to say that COVID has been a blessing, but on the other hand, it's made me reprioritize," he says.
He says fewer hours on the road and in the office have meant more quiet time at home. While he used to schedule a day off each week, now he takes a little time each day.
"A lot of the work that I normally went into the pastoral office in Westbrook to do, I've been able to do from home. Then, I take a break and take a nice, long walk. I've enjoyed that," he says. "I find that as I'm walking or running, I can listen to a book very easily. I think I've gone through a good 40-plus books."
Father Dickinson says what has brought him peace during the pandemic is the daily celebration of the Eucharist and praying the Rosary.
"Without those two things, it would be much harder to find the reason for my hope, which is ultimately Jesus," he says. "You do realize how crucial prayer is in the midst of this. It's just, how do I get back to the basics here and take time for prayer, especially the Rosary and Our Blessed Mother, who keeps us ever focused on Jesus that way? I think the Rosary has been so key for me to recognize, OK, the Church has been through this before. The saints have been through this before."
Father Dickinson and Father Phillips both stress they've had a lot of help in meeting the challenges of the pandemic.
"I've been very much encouraged and impressed by parishioners stepping up to the plate. It's not like I feel like I need to organize or initiate everything that is going on," says Father Phillips.
And there are many things still going on, just not in the way they once were. There have been drive-in Masses and drive-through confessions. Parish halls have been turned into additional worship spaces. Some priests do casual Facebook chats. Father Dickinson says his parish plans to call all 3,000 parishioners.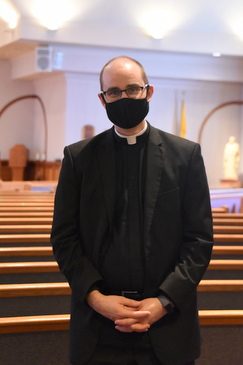 "It's to let them know we're thinking of them and praying for them and that they're not forgotten," he says. "It's a chance to have some contact and to let them know the parish is still here for them."
With Mass attendance and offertory collections down, parishes have also gotten creative with fundraisers. For example, before the rise in COVID cases forced its cancelation, plans were in the works to transform the grounds of Our Lady of Perpetual Help Church into a European-style Christmas bazaar.
"We planned that in July. I remember meeting outdoors after Mass, sitting around, separated outdoors on folding chairs. It's 85 degrees, and we're planning this winter event," recalls Father Phillips.
Although the past year has been one of loss and upheaval, Father Phillips nevertheless describes it as one of the most affirming of his 40 years of ministry.
"I guess it's because I feel I'm doing something that is really meaningful. Not that I wasn't before, but through all this, I look forward to the start of each day. I really do. I can't really analyze it completely, but there have been some blessings in there somewhere. I don't know. Blessings like grace aren't meant to be analyzed or figured out, just accepted," he says.
As Father Phillips expressed in an Advent homily, "Adversity has a way of making us thankful."
"We're still blessed people, no matter what. Just like 9-11 changed people's lives, I really think this COVID-19 will have the same effect, just to make us more aware," he says. "There is something to be said for coming to realize our vulnerability, our limits. When we accept and embrace our vulnerability, we also come to terms with our dependence on God and on one another."
"You realize quickly how little control you have," says Father Dickinson. "I think, ultimately, what it comes down to is trusting in God in the midst of this, trusting in God and doing our best to cooperate."