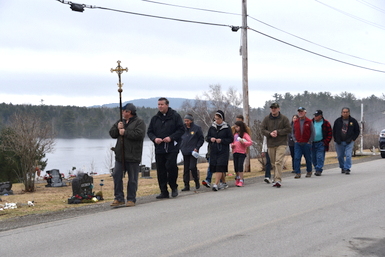 Embracing a sacred Passamaquoddy tradition that dates back longer than tribal elders can remember, nearly two dozen people gathered beside a brook in Indian Township on Good Friday to offer prayers of thanksgiving to the Lord and to collect water they believe is made holy on that day.
"There is a longstanding tradition that on Good Friday the waters at Sipuhsis become holy by virtue of our Savior's suffering and death," explains Father Kevin Martin, pastor of St. Kateri Tekakwitha Parish in Calais. "The native people believe the waters become sacred, so we go to obtain the waters from the brook."
"This is our tradition that was brought to us. We grew up with it. Our great grandmothers, way, way back did this," says Annabelle Meader-Sockabasin. "To us, it's our spirituality."
Members of the tribe and other participants processed to the brook from St. Ann Church, located at Peter Dana Point, on a spot known as Motahkomikuk among the Passamaquoddy people. They walked about a half mile through the mist and fog, by Peter Dana Point Cemetery, while praying the sorrowful mysteries of the rosary.
"Christ our Lord is risen from death into life. Therefore, we honor the dead and the living," says David Tomah, a tribal elder whose Passamaquoddy name is Running Bear.
Those unable to walk the distance traveled behind the procession in vehicles.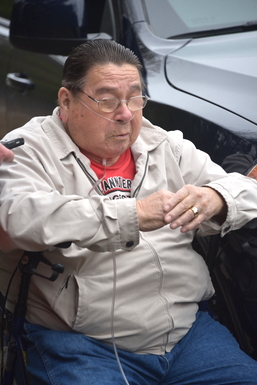 Once gathered at Sipuhsis, prayers were offered in English and Passamaquoddy, led by Father Martin and Wayne Newell, a tribal elder.
"Thank you for bringing us here today. We know the power of your sacrifice, of your suffering. Without that, none of us would have any chance of redemption, so we are grateful," Newell prayed. "We are grateful for all the people who are gathered here today, and we want to acknowledge once more your dying, your resurrection, and what a power that is for us who are alive today to witness this Good Friday."
Descending stairs leading to Sipuhsis, Father Martin then lowered a cross into the brook, praying: "May the power of the Holy Spirit, O Lord, we pray, come down through your Son into these waters, so that all who have been buried with Christ by baptism into death may rise again with him."
When he had finished, he knelt beside the partially frozen brook and filled buckets with water, which he then poured into smaller containers held by parishioners. Others approached the brook themselves, kneeling in prayer and using cupped hands to collect water, which they used to bless themselves.
"I went down there, and I prayed in my native tongue. Then, I put some on my shoulders and on my heart and on my face. My grandmother and grandfather always said that it brings youth. And I believe that," says Tomah, who is a Passamaquoddy pipe carrier. "You have to believe in it. If you don't believe in it, it's not going to work."
Many of those who participated in the Good Friday procession have been doing so for decades, since they were young children walking beside parents or grandparents.
"It was important to me as a child. It was something we looked forward to every year, following our Lent," says Sylvia Sockabasin. "My mother was a strong believer in this."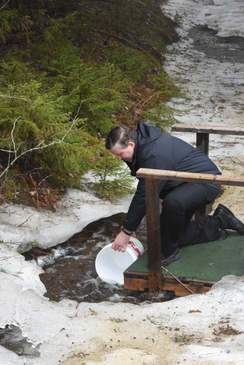 While they're unsure when the Good Friday procession was first held, tribal members say it has been at least 100 years, perhaps quite a bit longer, because they remember their great grandparents sharing their childhood memories of the walk.
They say they continue to take part today both to honor their ancestors and to thank Christ for his salvific gift.
"The walk today is powerful," says Sockabasin. "No matter how old our elders were or what illnesses they had, even if it was raining or snowing, they made that walk. They made that sacrifice because God made His sacrifice for us."
"My grandmother and grandfather would say, 'You have to go to honor the family.' So, we come here. We walk. We sacrifice," says Tomah. "Good Friday has special significance."
"When attending tribal ceremonial traditions here, I feel there seems to be a deep, reverential sense among tribal members that resonates with the unspoken words: 'We are here…we remember…we believe,'" says Sister Carol LeTourneau, RSM.
"It's a sacrifice that we do for the ones who are already gone. They used to sit right here in this corner," says Meader-Sockabasin, pointing to a spot at St. Ann Church, where she and her family still gather today. "That was their favorite place."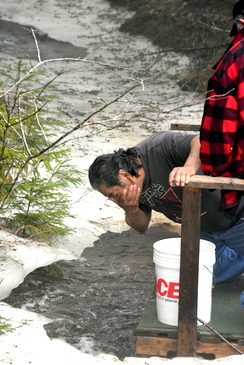 Meader-Sockabasin says she has worked hard to pass on the faith and traditions of her people to the next generations, including her son Glenn and her 11-year-old granddaughter Aneea, who has been attending Mass and taking part in the Good Friday procession since before she could walk.
"I have been bringing her since she was nine months old," Meader-Sockabasin says. "I told her, 'Someday, you're going to be here, and we're not going to be here. Someday, you might have to lead the rosary or the walk.'"
Glenn and Aneea both say they already cherish the tradition and want to carry it forward.
"I have been coming with my mother since I was a kid," Glenn says. "It's special. I like the tradition and what it means and what we do it for. It recalls the sacrifice that God did for us and why He suffered for us."
"It's part of our culture, and the waters are holy," says Aneea.
While many filled bottles while at Sipuhsis, buckets of water were also carried back to St. Ann Church, where they remained throughout the Easter season.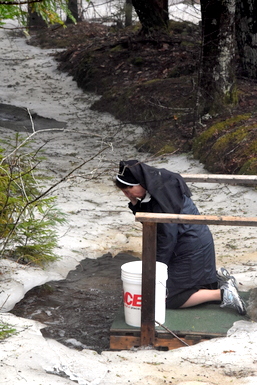 "Anybody can come and collect the water. They bring jars," says Father Martin.
"Actually, the Easter water we bless is the water from the brook on Good Friday."
The parishioners will keep the water at their homes throughout the year, using it for blessings.
Following the procession to Sipuhsis, parishioners returned to the church for a Good Friday celebration of the Liturgy of the Lord's Passion. During the service, the water was placed beside a cross at the foot of the altar. Some who wished to venerate the cross approached it on their knees.
After the Passion service, parishioners gathered in the parish hall for a Good Friday meal of vegetable soup, Indian bread, beans, and rice and bread pudding. The meal, they say, is also a tradition because, as with any funeral, it is held as a way of honoring and celebrating the dead, in this case the death of Christ on the cross.