How can we better serve others?
It's a question that Pope Francis has called on Catholics to consider and one that is being embraced at the Cluster 22 parishes of Saint Bartholomew, Cape Elizabeth; Saint John and Holy Cross, South Portland; and Saint Maximilian Kolbe, Scarborough.
"I think there is a universal change coming, and this is our little part of that," says Tim Robbins, a parishioner at Saint Bartholomew.
"We can't do enough of this. This is why I'm Catholic: the Eucharist and trying to serve others," says Gerry Corcoran, who attends Saint John and Holy Cross.
While many individuals at the parish have long been engaged in community work, the cluster formed a Social Justice and Catholic Service Committee to find ways to energize more people in the pews.
"We felt that we really needed some kind of branch in our churches to help organize and coordinate all the great service everybody is doing in our parish and also to try to invigorate that," says Kathy Williamson, pastoral life coordinator. "Part of our job is to help people know what those service opportunities are."
Committee members look to build upon ministries that are already present, while coming up with new opportunities that both tap into parishioners' skills and serve a community need.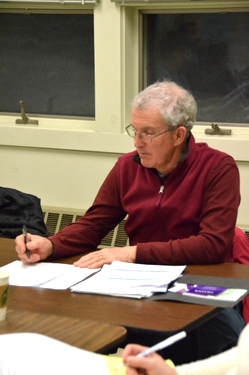 "We've become the vehicle to allow people who probably wouldn't have done it on their own to become involved in different aspects of the faith community," says Kevin Conroy, a parishioner from Saint John and Holy Cross.
"It sounds cliché, but I really do believe that when God has been kind to you, you have an obligation to pay it back," says Tracey Merrill, also a parishioner at Saint John and Holy Cross. "I think we're here to just spark other people to do the same thing."
Under the committee's direction, a wide-range of projects are either up and running or in the works. The cluster, for instance, has a well-established Matthew 25 Project, which provides emergency assistance to community members who are referred by parishioners. That might include paying for heating oil or rent, and this winter, it even meant helping an elderly woman remove snow.
"She needed a backhoe to get the snow out of her driveway and walkways. It was really bad," says Kathy.
The committee is currently looking into offering a weatherization program. They're considering holding a Service Saturday, aimed especially at families. They want to produce a video to demonstrate what volunteering entails, in hopes it will make parishioners more comfortable stepping forward. And they're recruiting parishioners to get a new community garden planted at Saint Max.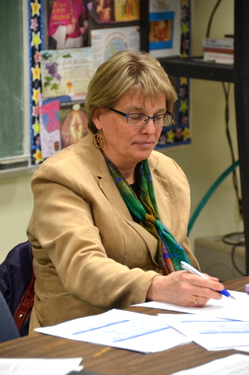 "It is going to help those food pantries that are around but also some financially insecure families that we might be able to identify in our neighborhoods," says Kathy. "We want to not only provide the garden but also educational materials."
The committee's role isn't to plan out each project but to empower parishioners to embrace their call to serve.
"I'm kind of chuckling to myself. We have a community garden project, and none of us garden. We have a video project and none of us do video. And we have a weatherization project and none of us are handy," says Tracey.
Providing guidance, if needed, is Susan Snow, a parish outreach specialist with Catholic Charities' Parish Social Ministry (PSM).
"I am trying to, specifically, make an effort to go to social justice and peace meetings at different parishes," she says. "I can then see if there is something that we have that they want or that they don't know about."
Parish Social Ministry provides parishes with leadership, guidance, and training to help maximize resources.
"We want to help take off some of the role and responsibility of the parish staff and priests. They've got so much on their plates. They say, 'I would love to do a new ministry but not only do I not have the dollars, I don't have the time. I don't have the staff or the coordination that goes along with it. We can come in, and we can help build up lay leaders. We can be there to support, and we can continue with a ministry, so it really is successful now and in the future," explains Michael Smith, program manager.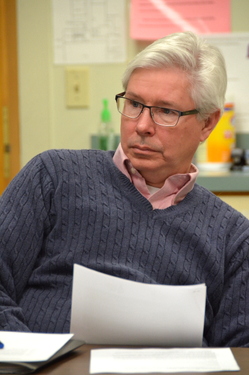 Kathy says the Cluster 22 committee might not have been formed if it weren't for Michael's input.
"We listed the things that we wanted to do, but there was no great effort to recruit people to be on this kind of committee or to form a committee until I got Mike Smith involved. Mike kept bugging me: 'If you need help, we're part of parish social ministry, and we'll help you do that.' And, finally, I said, 'OK. Come and help me'," Kathy says.
In 2014, PSM partnered with 34 of the diocese's 55 parishes.
"We've really built up the last two or three years so now we're at that point that we know just about every cluster," Michael says.
PSM may help a parish to fine tune an existing ministry or to launch a new program that addresses a community need.
"We do an assessment of a community, so if there are a lot of food pantries, we're not going to start running a food pantry," says Michael. "But, maybe, your food pantry is seeing the same people come in week after week, month after month, and so, how do we help them further? Do we bring in a cooking class or do we do financial literacy?"
PSM has two outreach specialists. Susan works with parishes in the southern part of the diocese, and Deacon Al Burleigh, based in Houlton, connects with parishes in central and northern areas. It's a lot of ground to cover. Once a month, Deacon Al says he makes a run that takes him to parishes in Dexter, Bangor, Old Town, Lincoln, and Millinocket.
"I ask them what their dreams are. I ask them, 'What do you want this cluster to be known as?'" he says. "The parish knows what the needs are. So then, I try to say, 'What can I do to help you fulfill whatever ministry you want to establish to take care of those needs?' It's a wonderful challenge."
In addition to offering guidance and training, PSM also offers financial support to parishes through its Matthew 25 Award. Fifteen-thousand dollars will be given out this year to develop or improve ministries, an increase of $10,000 from previous years.
"Because we found a lot of ministries that are up and running and really trying to grow and expand, we found a lot of parishes that could use it. We are excited to be able to assist more parishes this year in a more impactful way," says Michael.
PSM also awards grants from money raised in an annual special collection for the Catholic Campaign for Human Development. As a result, this year, five new parish ministries will be started and another expanded, each with the intent of helping people make sustainable changes in their lives.
The Mustard Seed Project is another PSM initiative. It looks for ways to engage youth and young adults in service projects for Catholic Charities, while helping them to understand how their efforts are benefiting others. Recently, for instance, Saint Michael School students created more than 1,500 greeting cards for seniors in Catholic Charities' Independent Support Services and SEARCH programs.
The work of Catholic Charities Parish Social Ministry is almost completely funded by your contributions to the annual Catholic Appeal. Michael says he wants parishioners to know that their money is being put to good use all across the state.
"Our staff works with parish staff and pastors and deacons to build the capacity within the laity to, then, ultimately, go out and serve all Mainers, all community needs. The ripple effect is really quite large," he says. "The great commandment is to love the Lord, your God, with all your heart, strength, soul, and mind, and to love your neighbor as yourself. And, we try to fulfill that second part: to have everyone live out their baptismal call to serve others."