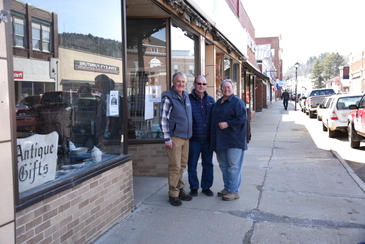 How can parishes best bring the mercy and hope of Christ to those around them? At many, you'll find food pantries or thrift stores. There may be a giving tree at Christmas or a food drive at Thanksgiving. But, inspired by their pastors and with the guidance of Catholic Charities Maine, three western Maine parishes are taking a different approach, looking to not only extend a hand but actually be at the heart of helping their communities thrive.
"This is looking at, OK, where are people at, and is there a way in which the Church can help with that?" says Father Nathan March, pastor of Holy Savior Parish in Rumford.
"It's uncharted territory," says Father Paul Dumais, pastor of St. Joseph Parish in Farmington and St. Rose of Lima Parish in Jay. "If we can engage in the full spectrum of Catholic social teaching, then, as a parish, that is the key."
Rumford and Jay are mill towns, and for decades, their economies, along with those of the surrounding communities, hummed along. In recent years, however, the number of mill jobs has significantly dropped, and workers who were once masters of their craft are now faced with seemingly paper-thin employment possibilities.
Aware of the challenges in their midst, but seeing potential as well, Father Nathan and Father Paul both eyed ways that their parishes could help lift their communities.
For Holy Savior Parish, that led to CHANGE: Catholics Helping Aid New Growth in the Economy. Father Nathan says his inspiration for it came from a radio interview he heard with a pastor from Flint, Mich., the community beset with troubles stemming from tainted drinking water. Once a prosperous community, Flint suffered when the General Motors plant in town closed.
"He was talking about a sense of hopelessness and saying that the role of the Catholic Church is to proclaim a message of hope," recalls Father Nathan. "So, he asked this interesting question. He said, 'Well, I have all these church buildings that we're not using to the capacity that we once did. Is there any way that we can, as a Church, assist in the economic development of this town?'"
Seeing similarities in some of Maine's mill towns, including Rumford, Father Nathan posed the same question.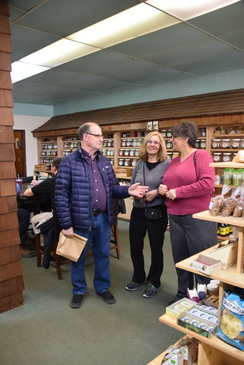 "I said, 'Yes, we can look at social justice in terms of taking up a collection and doing a food pantry or something, but I was really interested in this question of 'Is there any way the Church can somehow participate in the economic development of this town?'"
Working with Bill Wood, an outreach coordinator with Catholic Charities Maine Parish Social Ministry (PSM), Holy Savior Parish put together a grant proposal and was awarded $5,000 from the Catholic Campaign for Human Development. Among other things, it led to the creation of a community advocate position, held by parishioner Peter Cox.
Peter spends time connecting with people and organizations, such as business owners, the Rotary, the Chamber of Commerce, and town representatives. Most days, you'll find him chatting with folks at the Good Karma Cafe & Health Food Store or at Bartash Cards & Gift Store, popular gathering spots.
"We're thinking a lot about communication and collaboration within the community," says Father Nathan. "What I like is that it is very Catholic. It is what we call community, bringing people together. It's not the first thing that comes to mind when we think of social ministry, but it very much is part of our understanding of the role of being a human being in society."
"I think we're reaching out to a broad spectrum of people, and we need to do that in this community," says Barbara Bartash, the gift store owner, who is also a Holy Savior parishioner, and who donated a storefront for Peter and the CHANGE team to use.
"What the Church is good at is bringing people together, giving people hope, emphasizing the positive," says Bill.
Peter says he tries to identify needs and listen to concerns, as well as encouraging ideas and building hope.
"I get along easily with people, so I believe they feel they can talk to me," he says.
He has, for instance, worked to calm fears and get answers for those worried about the impact that a major downtown renovation project will have on their businesses.
"I attend all the meetings as far as the restructuring. It's the biggest thing going on in 100 years in this little town, so it's very important that it's successful," he says. "It's going to be great when it's over. It's going to be hard when we start."
Another project the team has been working on, and for which the parish received another CCHD grant, is partnering with Region 9 Adult Ed and the School of Applied Technology to offer computer and interview skills training.
"What we're trying to do is reach people and get their skill levels up to help them find work," says Peter.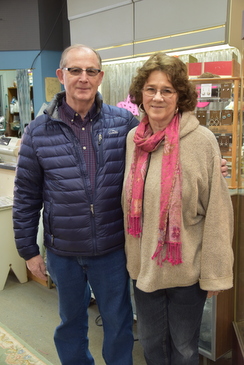 A key to early success has been forming partnerships. The parish emphasizes that this is not work it is trying to do alone. While Peter has strengthened relationships in town, Bill has brought a wider range of knowledge and connections. Additionally, the Kennebec Valley Organization (KVO), a broad-based coalition of faith-based communities, labor unions, and businesses serving the Augusta-Waterville region, is trying to help the Oxford County community establish something similar there.
"I think you need all those different people coming in to be able to say, 'Well, what about his aspect? What about that?'" says Andi Parkinson, lead organizer with KVO.
Andi says community organizing is time intensive, which is why having folks like Peter and Bill is so valuable.
"It's wonderful when it comes together because you're helping people. You're lifting those in need," she says.
That is also the goal of initiatives at St. Joseph Parish in Farmington and St. Rose of Lima Parish in Jay.
"I think our parishes are beginning to see a variety of needs and a level of need that we may need to learn how to respond to in the way, for decades, we have responded to faith formation," says Father Paul.
It led the parishes to form a joint parish social ministry commission and to consider creating a parish social ministry position that would be modeled after what Bill does on a regional level. The parish social ministry coordinator would endeavor to expand the parish's outreach, not replace or do the work of volunteers.
"It would be successful if it buys into this capacity building model, which is a staff person who could recruit, encourage, sustain and help educate volunteers, and help form volunteers in the vision of parish social ministry or Catholic social teaching and, also, help those volunteers to reflect on their experience, in the generous things that they do," says Father Paul. "It's comparable and borrowed from that renewed vision of Catholic Charities' involvement in local parishes in Maine, and it kind of substantiates that vision at a parish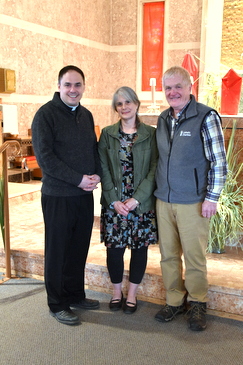 level."
Father Paul says social ministry projects sometimes gets siloed into narrow, specific things, and he sees this position as helping the parishes branch out, so that they become engaged in the full breadth of the corporal and spiritual works of mercy.
The parishes launched a 90-day pilot program with Stephanie Crowe doing the job on an interim basis. One of her first tasks has been organizing a Catholic Food Summit to bring together those working to address the problem of food insecurity in Franklin County.
"The question that we're focusing the summit on is what we can do to maintain or improve out outreach as Catholics, answering Christ's call to feed the hungry," she says. "We've invited all parishioners working in food insecurity."
Bill has also reached out to people from other clusters, inviting them to come and share ideas.
"Especially when you're dealing with these types of ministries, they're overwhelming, and you only see what's in front of you, but by being exposed to other people doing similar things, it gets you out of that a little bit," Stephanie says.
The Catholic Food Summit will dovetail with the Franklin County Food Summit, a broader gathering being held the same week.
The parish social ministry coordinator is just one proposal under consideration. Another is having the former St. Rose of Lima School building become a hub for services, including adult education, skills training, and having the ecumenical food pantry relocate there.
"It's responding to a variety of needs, which increases that overall capacity and also, interestingly enough, it would reduce any stigma related to going to the food pantry," says Father Paul.
While the parishes in Farmington, Jay, and Rumford move forward with their efforts, they can be assured that Bill Wood and Catholic Charities Maine Parish Social Ministry will be there to help.
Being a people person, Bill says that it is a job he loves.
"I get to meet a lot of different people. You get to hear people's stories," he says. "That is how you meet Christ. You see Jesus in the faces of those that you serve."