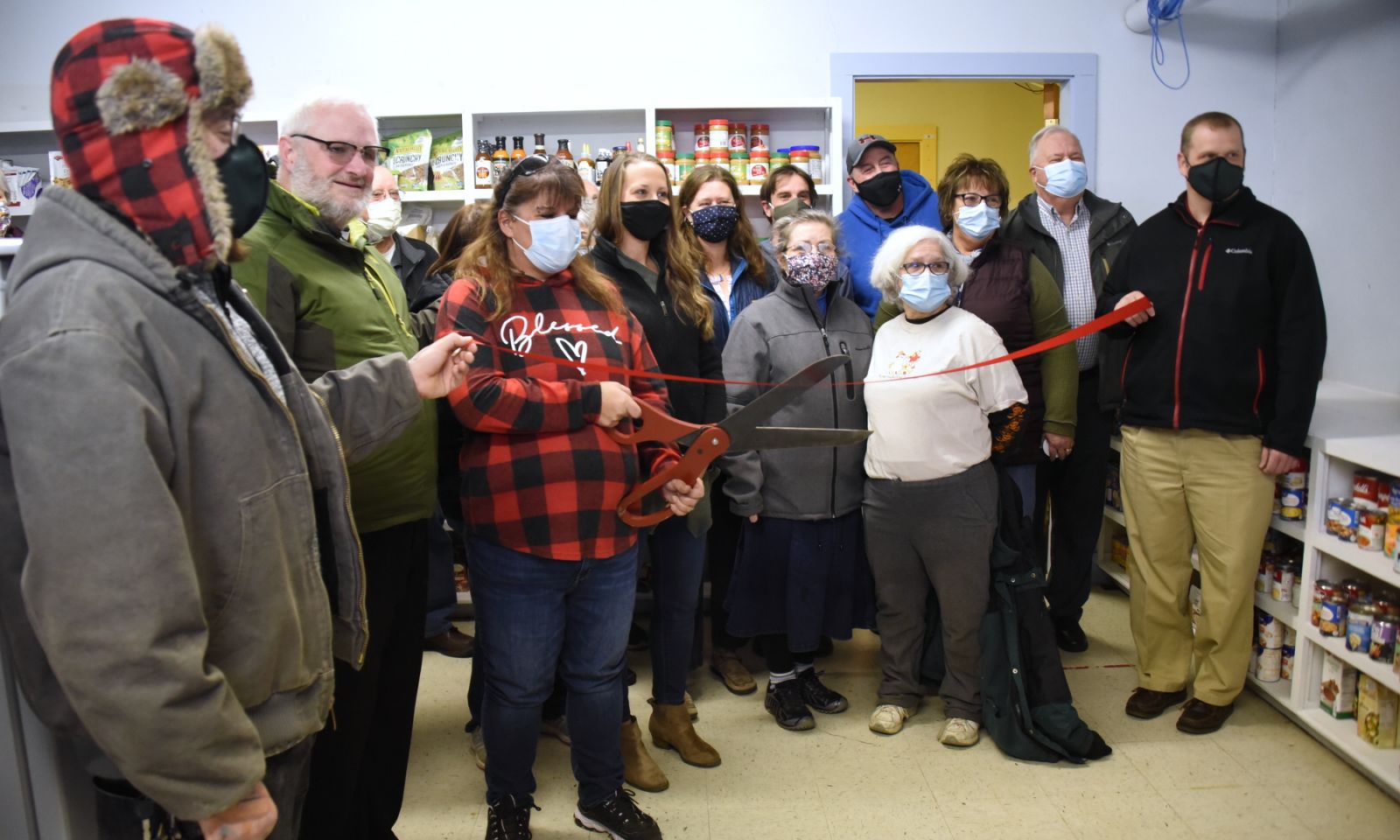 With an oversize pair of scissors in hand, AmeriCorps Vista member Shannon Glover cut a ribbon to celebrate the opening of the Old School Food Pantry in Rumford. The new food pantry, which is located in the former Holy Savior School building, fills the void left when a pantry that operated out of the Mexico Congregational Church closed in December 2020.
"When those doors closed, that meant there was no local food pantry for anyone to access that was close by. We have other food pantries, but they are 10 to 15 miles away," says Allie Burke, executive director of the River Valley Healthy Communities Coalition (RVHCC), a non-profit committed to improving the quality of life in the River Valley region.
While the ribbon cutting ceremony was held in December, the pantry actually opened in October, and in the first month alone, it served 95 families comprised up of 245 adults and children.
"Our community has a lot of families who do suffer from food insecurities who have depended a lot on having the pantry to kind of fill the gaps in what they were able to purchase for themselves, so by having this pantry, it's giving so many more families the ability to put food on their tables," says Glover.
Discussions on opening a new pantry began nearly a year ago when RVHCC and the Parish of the Holy Savior were teaming up on another project — providing homemade meals to seniors. At the time, Father Nathan March was pastor of the parish.
"We just started opening a conversation: Is this something that the community needs? Is it something that we can do something about? Is it something the Church can be a part of?" says Father March.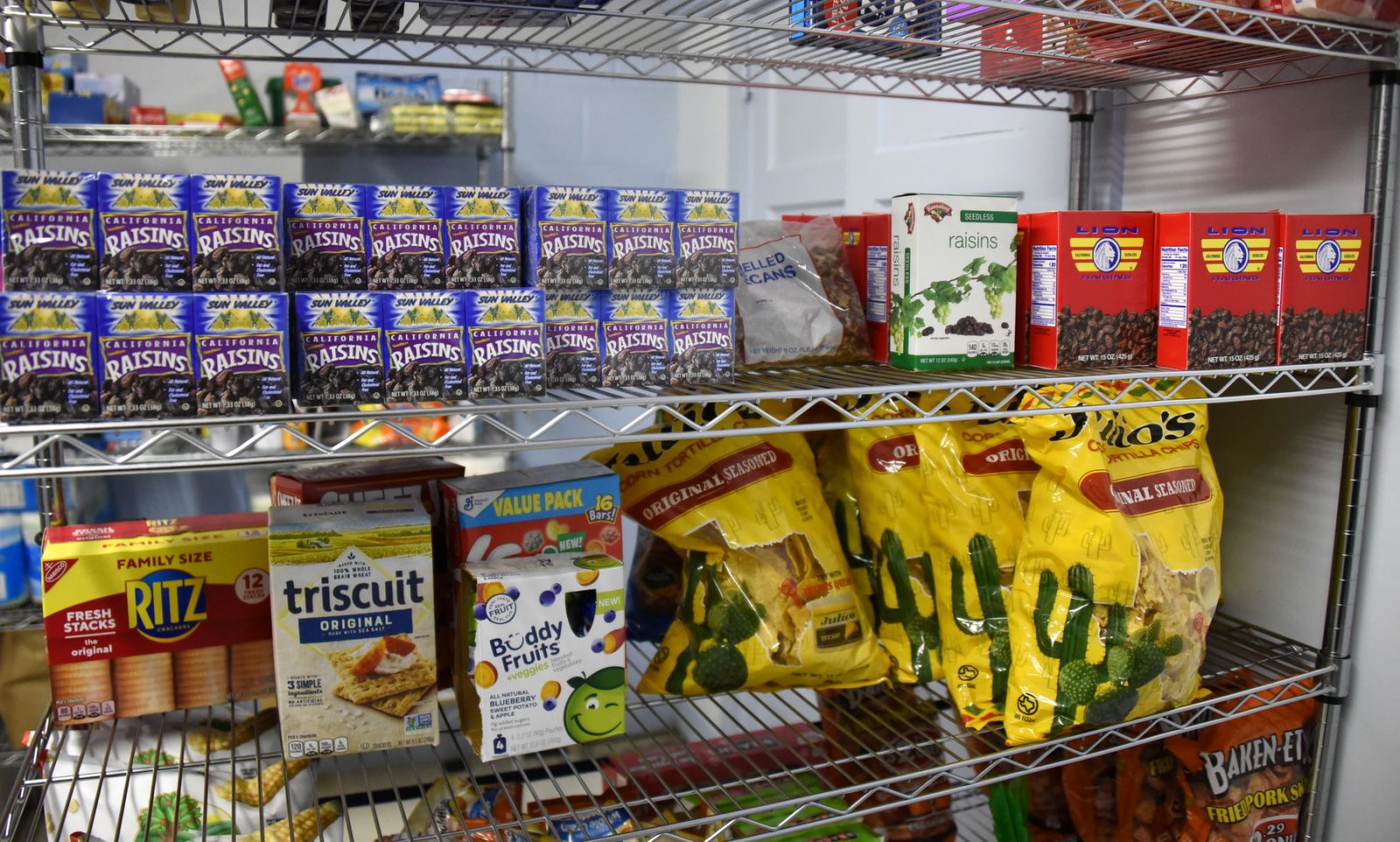 In doing the groundwork for the new pantry, Father March says they reached out to pantries in surrounding communities and quickly realized the need was there.
"What we found was that with the food pantry in Mexico closing, a number of people were having to go to some of these other towns, and they were overwhelming them," says Father March.
Father March says he was struck by the willingness of other communities to help. Even before they found a location for the new pantry, he says donations started coming in. The Holy Savior School building, which had been vacant since the school closed in 2018, was used to store them, which led to it becoming the pantry's home
"The more we started to use it, the more we saw the potential for future growth," says Father March. "I envision having a number of organizations operating out of that building that all share similar interests and a similar mission. It could be a great center of collaboration in the River Valley."
Father March and Father Aaron Damboise, the current pastor of the Parish of the Holy Savior, say the successful launch of the food pantry shows what can happen when the Church and community organizations become partners in service.
"It illustrates the kind of collaboration with the local community that I believe the Church is calling us to today, especially in regard to the Second Vatican Council's teaching on working with people outside the parish community," says Father Damboise. "This is an excellent example of what that collaboration can look like, and it's also an excellent way of following the Gospel and feeding the poor."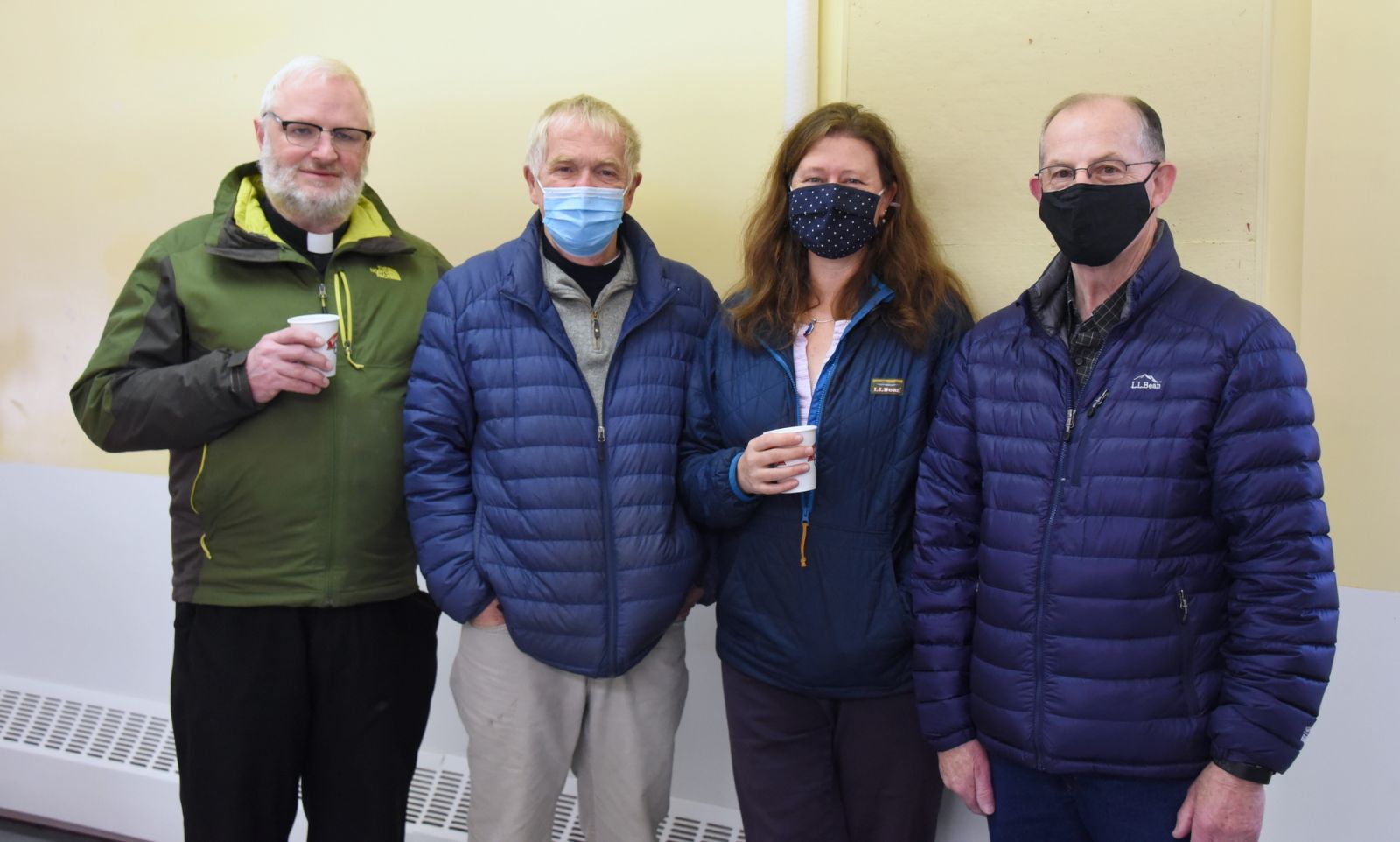 "As a priest, part of what I've been trying to think about is that there is a different narrative than this narrative of scarcity, and that is the Gospel. From the perspective of the Gospel, if we have Jesus Christ, then we have everything we need. We have an abundance in Christ Jesus, but how do you live that out concretely? For me, in these smaller, rural communities the answer is really collaboration," says Father March, who is now pastor of St. Brendan the Navigator Parish in Camden. "Maybe we don't have all the resources of a big city like Portland, but we have wonderful people who have been gifted with time and talent, and it's just a matter of working together."
About 40 volunteers help out at the pantry, including 18 who are regulars. The volunteers help stock shelves and fill bags for clients, who currently aren't allowed inside due to COVID-19 precautions.
"The clients fill out a form of what we have inside the pantry, so we have an idea of what they'll eat and we're not wasting food. They'll fill that out, and then, one of the volunteers will fill the bags for them," explains Melissa Harding, the pantry director.
Deacon Rodney Kuhl and Peter Cox, a Holy Savior parishioner, are among the volunteers. Deacon Kuhl says it has given him the opportunity to get to know more people outside the parish.
"When I can meet somebody who is a talker like me, we end up talking for a while. I learn things. They learn things. It's a good thing," he says. "I just like to do it."
"We're all servants, and I think we all should serve other people, not just ourselves," says Cox.
The Old School Food Pantry has also greatly benefited from Glover's service through the AmeriCorps VISTA program. Glover schedules the volunteers, makes sure the pantry has enough food, keeps track of the number of clients, and more.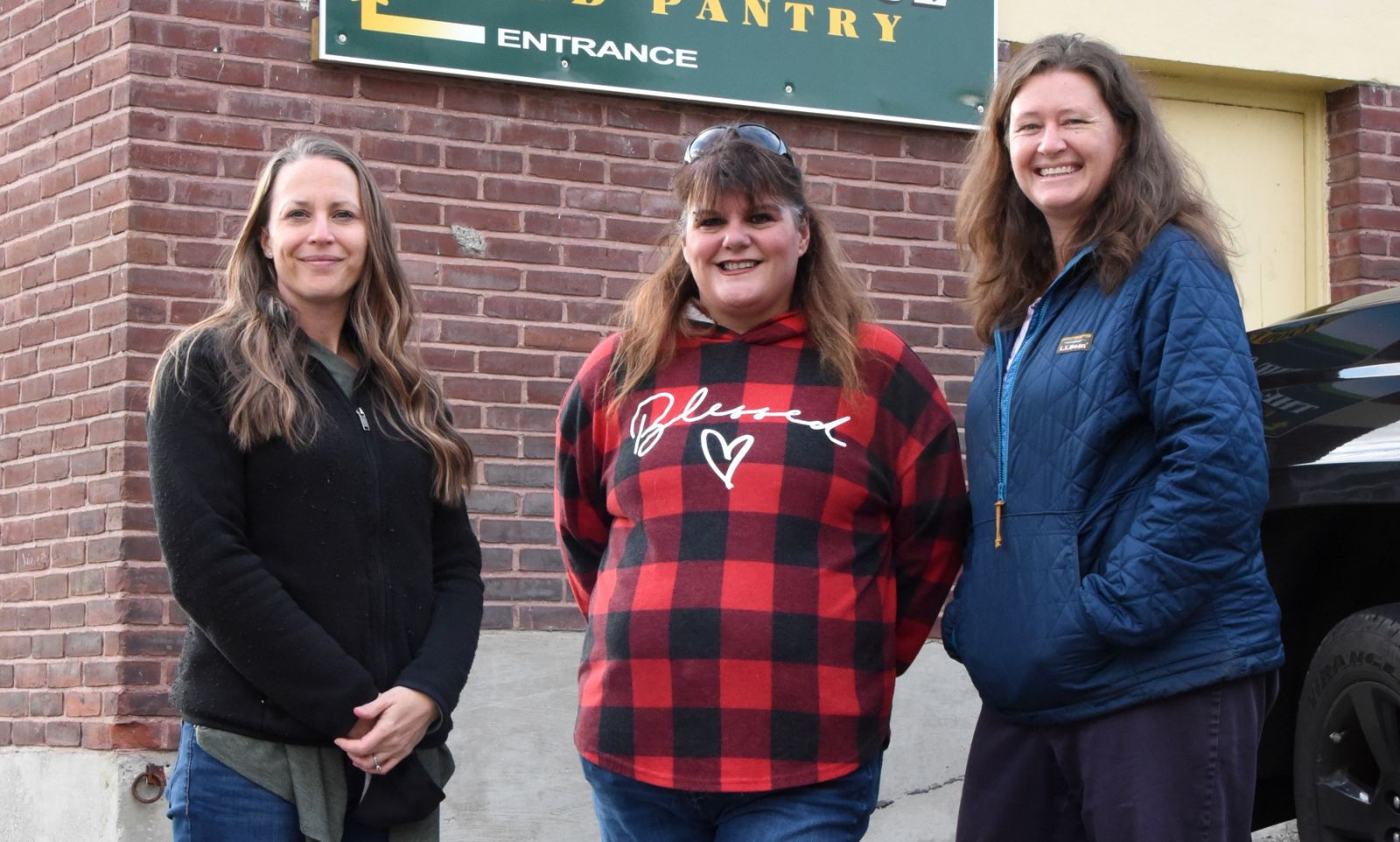 "I've always had a huge passion for helping people. I am currently going to college for my social service degree," says Glover. "I just really like being able to give back to my community."
The pantry distributes food biweekly on Wednesday afternoons and Saturday mornings, with produce and baked goods given out every Wednesday. It is available to anyone who lives in the River Valley Region.
"We do ask what town they're from, but we don't really collect any other information," says Burke. "Basically, our mission is to serve the community, and our goal is to decrease food insecurity by working with our partners."
In addition to the Parish of the Holy Savior, those partners include the Friends of the River Valley, a non-profit focused on wellness and education; the Good Shepherd Food Bank in Auburn, from which the food pantry buys food at a discount; Hannaford and Walmart stores; other food pantries; Catholic Charities Maine; and community members.
"We've got a very supportive community. We put a list of items in the church bulletin that we need here, and the parishioners have been fantastic," says Cox.
Father March says there is one parishioner in particular who deserves recognition, Sally Yarnish. He says Yarnish was active in both the parish and the food pantry in Mexico before she was struck by a vehicle and killed in November 2020. She left a bequest to the parish, which was used to replace the boiler in the school building. Without it, the pantry could not have been located there.