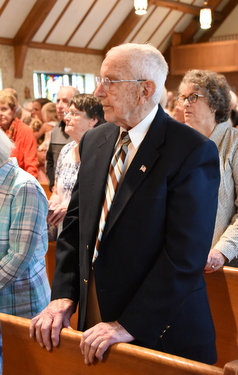 When Bishop Robert Deeley processed into St. Rose of Lima Church in Jay to celebrate the parish's 125th anniversary, standing in the third pew was Arthur Benedetto. It's the same pew where Benedetto has sat and prayed for decades. At age 100, he is St. Rose's oldest parishioner and a man who has long kept Jesus close to his heart.
"I pray every day," he says. "I believe in Jesus. I have a strong faith. God has been so good to me."
Just a few months shy of his 101st birthday, Benedetto still lives in his own house, does his own cooking and cleaning, drives short distances, and takes regular walks for exercise. When he can't go out due to the weather, an exercise bike helps him stay fit.
He also still plays violin, an instrument he learned around the fourth or fifth grade, as well as guitar, bass, and keyboard, which he picked up just eight years ago.
"I bought a book with all the chords on it and learned the chords. So, I got to the point where I could play a song or two," he says. "I enjoy playing. I play it three or four times a week."
But Benedetto, or "Benny" as most folks call him, doesn't keep his music to himself. He has played in bands, performed at nursing homes, and every Friday night, he heads down to VFW Post 3335 in Jay to play at open mic night.
"Music is a good thing for me. I enjoy it," he says. "Music brought me a lot of good times."
Benedetto was born on January 14, 1919, and was baptized at St. Rose of Lima Church, which had been built just 25 years earlier. His memories go back so far that he remembers the parish's fourth pastor, Father Joseph Leguennec, who served there from 1911-1926. His childhood recollections also include a fashion trend that was a bit of a detriment for those short in stature.
"The women used to wear wide brim hats to go to church, and being small, you couldn't see the priest or nothing, because there was a brim hat here and a brim hat there. You would look this way, and you would look that way, in all directions," he recalls.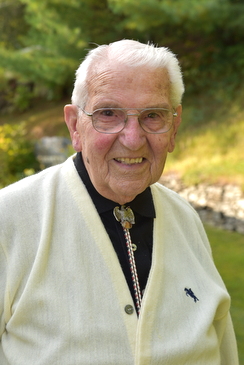 Benedetto's parents, originally from Italy, settled just up the hill from the church. Like many who immigrated to Maine at that time, his father went to work in one of the mills. It was the influx of immigrants that created the need for St. Rose of Lima Church, and Benedetto says it was the church that brought the various immigrant communities closer. He says while they didn't tend to mix or even get along at times, when the church had a need, they came together. That was true early on when parishioners expanded the original church and again in the late 1940s after the church burned down. To save on costs, parishioners did much of the work themselves on the new church's foundation.
"People started to talk to each other. As time went by, it got better and better. Today, it's all one Church," he says. "After the years go by, you think, 'Did that really happen? We're all Catholics. How come we couldn't get together?'"
Benedetto says his father worked in the mill day and night to provide for their family, while his mother did the same at home, caring for him and his nine siblings.
"I remember, when I was a little, we had Sunday clothes, and school clothes, and play clothes that my mother made. She made our pants, made our mittens, made our hats, made our sweaters," he says. "She was quite a lady."
And, he says, she was very religious. She would go to church every morning and attend benediction and the Way of the Cross on Sunday afternoons.
"She would ask me to go with her. I would like to go," he says. "Seeing all those candles lit on both sides of the altar, it was quite a sight."
He says to this day he remains thankful that he skipped playing baseball with the other kids to join his mother because of the way God has remained a part of his life ever since.
"God has been good to me," he says. "Health, family, I had a good life."
Benedetto says he kept God particularly close while serving in WWII. Drafted in 1942, he served until the end of the war in 1945.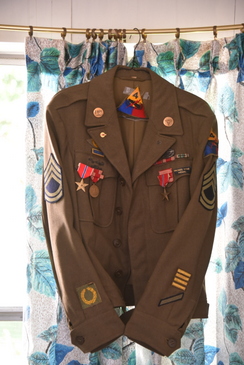 "My older sister gave me a little prayer book out of metal. You wear it in your shirt pocket, and all through the war, I did," he recalls. "Any jacket or shirt where I had a pocket, I put it in. I wouldn't wear it if I was going out to take a walk or something like that, but if I was going in the battlefields or traveling the next day I would, because the airplanes were always strafing."
Benedetto was a communications chief assigned to the 46th Medical Battalion, which was attached to the 4th Armored Division. He says his battalion traveled throughout Europe, and it was always a gift when there was an opportunity to celebrate Mass.
"Occasionally, in the service, we would have a Mass if there was a pastor around or a priest around, up in a field or behind a barn, someplace that was safe. It was quite a thing," he says. "It was a big relief if you could go to church: 'Yay, I feel safe today.' How people live without religion, I don't know."
Benedetto says as communications chief, he once relayed a message that proved crucial to the Allied victory in the Siege of Bastogne, a turning point in the Battle of the Bulge.
"We were traveling through Germany, headed towards Stuttgart, Germany, so I get a message on the radio transmitter from General (George) Patton. They said they wanted the 4th Armored Division to turn around. Instead of going forward through Germany, turn around," Benedetto recalls. "The 10th Armored Division was surrounded by the Germans. That was their last stronghold, and General Patton wanted the 4th Armored Division to go over there and release them."
Another time, he remembers climbing a tall pine tree in order to be able to receive a lifesaving communication.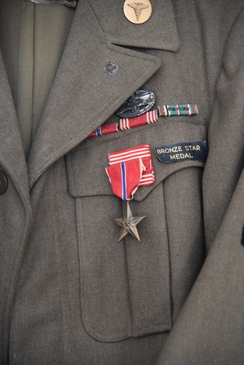 "We were down in the valley with mountains all around us, and we had to find out where A Company's location was, because we had to send ambulances," he says. "So, I brought an antenna up with me, attached it to the receiver, and I could pick up a message. Everything was in Morse code then. You had a knee pad."
Benedetto says many memories of the war are painful. He is still saddened when he thinks about the number killed or wounded. He remembers seeing body bags stacked up, waiting for ambulances to carry deceased soldiers to airplanes.
"These are children of parents, you know. It's too bad," he says, his voice breaking.
He also vividly remembers arriving at one of the concentration camps at the end of the war.
"We went through the whole concentration camp. Bodies were piled up just like cordwood, just like cordwood, this high, one body on top of the another for a long, long distance," he recalls.
Benedetto says those who had survived were barely alive.
"They were as thin as my finger. All wore the same thing, a long kimono, stripes. That stayed with me for a long, long time after the war."
Benedetto's service during WWII earned him the Bronze Star. He says he struggled with medical issues after returning home, including episodes of violent shaking. Still he is thankful.
"It was quite an experience, really, and if you lived through it, you've got to thank God. You've got to thank God," he says.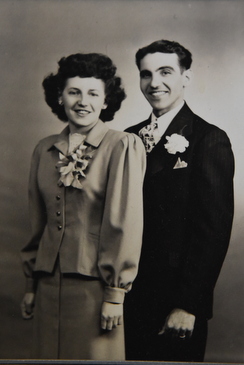 After returning home, Benedetto married Irene Fleury, a woman he had met before the war while playing violin in a band at the Moonglow, a dance hall in the town of Wayne.
"This pretty girl would come to the dance," he recalls. "So, during a break, I went over to talk to her. I said, 'I wish I could dance and perhaps dance a dance or two with you, but I don't dance. You don't suppose you would have time to show me?'"
Irene, who was from Winthrop, invited him to go to the community hall there. Not having a car, he introduced a friend who did drive to Irene's cousin, and they started making the trip together. Irene and Arthur were married at St. Francis Xavier Church in Winthrop on April 28, 1947.
They had many happy years together. When he worked in the mill, he says Irene would make him dinner every day, paying a child 25 cents to deliver it. When he got out of work, she would be there to greet them.
"Every day, I would get out of work at 3, and she would go as far as the church and wait for me. What a doll," he says. "We were happy."
After Benedetto retired, the couple spent winters in Florida where he and other retirees, some of whom played with the likes of Gene Krupa and Tommy Dorsey, formed a band.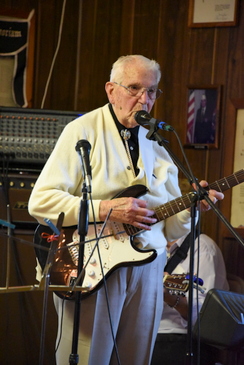 "We ended up with a seven-piece band. We played all over Florida," he says. "All Big Band music, and boy, those were good times, good music. I was the only one who wasn't a professional."
The couple had two sons, and Benedetto has two grandchildren, as well as three great grandchildren Although Irene has passed away, the family still carries on the tradition of attending Midnight Mass together each Christmas.
While Benedetto has faced struggles in his life, he says he feels blessed with the many gifts he has received.
"There is so much to be thankful for," he says. "God is my savior. He saved me from the war. He saved me from cancer. All nine people in my family died of it, but he saved me. There is no end."
It is why one of the first things you will see when you enter Benedetto's home is Jesus' name. Benedetto handcrafted it out of dowels.
"I had a hard time figuring out how to put the sticks together to make the letters. I had to draw it on paper first. It took me a long while," he says.
Every Saturday afternoon, Benedetto heads down the hill to the third pew at St. Rose for the celebration of Mass.
"I leave here at quarter past, the Mass doesn't start until four, so I can say my beads before people come in," he says.
He then prays the rosary again, this time aloud, joining other members of the congregation.
Benedetto says he feels a strong connection to St. Rose. Even though he has not served in any parish ministries, he says the community has always been supportive of him. He remembers when Father Paul Dumais, current pastor, came to his home one icy evening to join him in watching a TV feature about his 100th birthday.
"This guy comes to the door, about half past five. He had a big hat and earmuffs on and a coat. I said, 'How can I help you?' He took his hat off, and it was the priest, Father Paul," Benedetto recalls. "He said, 'I heard you were going to be on television, so I thought I would come up and spend the evening with you and watch it.' I was thrilled to death. So, he sat in the big chair there and watched the program. I appreciated his visit very much."
Benedetto says the parishioners at St. Rose have always been very caring.
"They're so good to me. They care for my family, keeping me healthy, lots and lots of friends," he says. "Thank God. Thank the priest. Thank the church. People are so nice, kind, generous, loving."