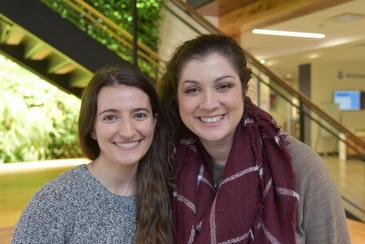 Jessica Nee, a marine biology major at the University of New England, says she is always looking to strengthen her relationship with God.
"It's something I'm constantly working on. I know I can do better in my life, but I just try to make doing better a priority," she says. "I know in the long run, that's the only important aspect of my life."
Jessica's strong faith comes from her upbringing, which included 12 years of attending Catholic school in Massachusetts. It is why when she arrived at UNE four years ago, she sought out campus ministry. She discovered, however, that there were only four active members in the group at the time.
"The only thing they were offering was a carpool to Mass, because we didn't have Mass on campus yet," she says.
Jessica took advantage of the carpool but admits even she started to lose focus.
"Because no one else was a practicing Catholic, it was like, 'Why does it even matter?' Then, I went home for Christmas, and I was like, 'Nope, this is what is missing. I need to find my way back.'"
And that is what Jessica did. At the end of her first year at UNE, she was approached about becoming one of the campus ministry group's officers.
"The president of the group sent me a message and said, 'Hey, do you want to take one of the officers' positions? We need to put people down to keep the club active.' And I was like, 'I'll do something if you want me to,'" explains Jessica.
Jessica suggested becoming secretary but was convinced to become president, a position she's held ever since.
"It's been a crazy journey, something that I did not anticipate myself doing right out of the gate. There has been a lot of learning," she says.
And a lot of carrying on alone. Despite her commitment to the group, Jessica says, being an introvert and without any guidance, she didn't know how to bring in new members, so the membership was, for the most part, herself.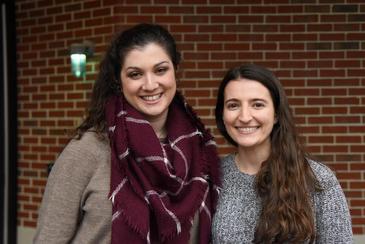 "We would still have our weekly meetings most of my sophomore year, but most of the time, it would just be me and Sister Elaine (Lachance, SCIM), who is one of the sisters down the street at the convent," she says. "We would just chat for an hour and half about life, and faith, and everything and anything."
Jessica singlehandedly kept the group from being disbanded, and in her junior year, the outlook changed. That is when Catherine Gallerizzo was hired as coordinator of campus ministry at UNE, as well as coordinator of youth and middle school ministry at Good Shepherd Parish in Biddeford.
"She has been a godsend. We would not be where we are right now without her," says Jessica. "Everyone is on their own faith journey, and you have to discover it for yourself and finally take your faith as your own and actually commit to being a Catholic, but being able to have the resources there to back you up as you figure out your way is so important."
Catherine says she knows the importance of campus ministry because it had a profound impact on her own life, when she was attending the University of Maryland.
"We had FOCUS missionaries in Maryland, so when I was a student there, one of them invested in me. I was a junior, and she started meeting with me one-on-one, helping me grow in prayer and in leading a Bible study group," says Catherine.
It was at a time when Catherine was facing a lot of struggles in her life, including concerns about finances, which she feared would force her to drop out.
"All those things sort of pushed me into falling at the foot of Jesus," she says. "All of the sufferings were helping me to grow closer to Him, and unite my sufferings to Him, and propel me into evangelization."
It led Catherine to become a FOCUS missionary herself after graduation. FOCUS, which stands for the Fellowship of Catholic University Students, is an outreach program that brings the Gospel message to college campuses and gives students they tools they need to grow in faith and become evangelizers themselves.
Catherine served one year as a FOCUS missionary at the University of Maine at Orono and another at Brown University in Providence, R.I.
She then got a job doing evangelization and communications work at the Parish of the Holy Eucharist in Falmouth.
When the UNE position opened, she says self-doubt led to hesitation, but a chance meeting with Good Shepherd Parish's pastoral life coordinator convinced her to apply. She was hired the day after her interview.
"It was clearly meant to be. God wanted me to have it," she says.
Catherine expected UNE campus ministry to be similar to that at the University of Maine, which has an active Newman Center, but she soon learned that wasn't the case.
"Coming here and seeing the Catholic community and just how small it was and the lack of involvement I guess surprised me a little bit," she says. "We're trying to do the best we can to bring it to life."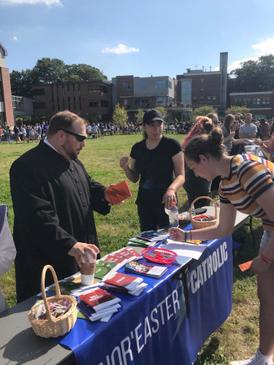 One of the first things Catherine did was to reach out to Jessica.
"She said, 'I would love to meet up with you. I have all these great ideas,'" says Jessica.
Catherine then suggested changing the name to Nor'easter Catholic from Franciscan Faithful, originally chosen because UNE was formerly St. Francis College. The Nor'easters are the nickname of UNE's sports teams.
"Having Catholic in the name makes it very obvious what it's about," she explains. "And I wanted it to be a movement, that if you were Catholic and you went to the University of New England, you were a Nor'easter Catholic. It didn't matter whether or not you were officially a member of the club. You were always welcome!"
Next, she started spreading the word, helping Jessica to do the same.
"It was just about starting conversations. 'Hey, how are you? It wasn't necessarily jumping into the faith part but just making sure they knew it was available," Jessica says. "It was a lot of little baby steps to try to get me to be more outgoing."
When the school year started, Catherine and Jessica set up a booth at the Student Involvement Fair, where they were joined by Fr. Brad Morin, Deacon Kevin Jacques, and Sister Elaine. They also rented out a table in a hallway that connects the university library with the Commons, a gathering area that includes a pub.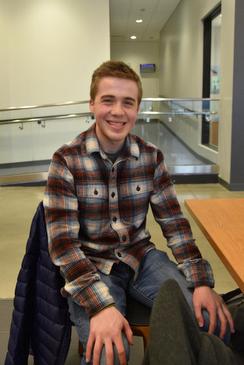 "Just letting people know, hey we're here. This is the Catholic group on campus. And Catherine has a ton of free books that she loves to give out," says Jessica.
The fair was where they met Elliot Hachey, from Winthrop. He had transferred to UNE from the College of the Holy Cross in Worcester, where he says his faith had come alive through campus ministry there."I saw the Nor'easter Catholic booth, and I marched myself straight over," he says. "I met Father Brad Morin, and I was really drawn in by his enthusiasm and Catherine's sincerity with the conversation that we had, and I knew I wanted to be part of Nor'easter Catholic."
Elliot says when he first got to UNE, he was questioning his decision to transfer there, but Nor'easter Catholic provided him a lifeline.
"I give a lot of credit to Catherine, and Nor'easter Catholic, and Father Morin, and Jess for bringing me back out of that funk," he says. "It has really shaped my experience here."
And it led him to greater involvement in the Church. He formed his own Bible study group, helps Catherine out with middle school ministry at the parish and, last year, was one of the team members for Totus Tuus, a summer program for youth offered through the Office of Vocations.
"That was, honestly, one of the greatest experiences of my life," he says.
One of the biggest boosts to campus ministry at UNE has been the addition of Mass, celebrated by Father Morin on Sunday nights in a room in the library, and eucharistic adoration, which is held on Mondays.
"Just being able to bring Jesus on the campus has changed the game," says Catherine.
Before students were sent to study at home due to COVID-19 concerns, Father Morin also offered a Lenten program, "Happiness, Suffering, and the Love of God," on campus.
Nor'easter Catholic's membership is still small, but it is growing, from six the first year Catherine arrived to 10 to 14 this year, with about 30 attending Ash Wednesday Mass and a Theology on Tap gathering.
Catherine says she hopes to increase opportunities in the fall.
"We would like to do hospitality after Mass. That would be really good for building community," she says.
Someday, Catherine would like to see UNE have a dedicated place for Catholics to gather. In the meantime, however, she wants to let students know that Nor'easter Catholic is there for them.
"We want Catholics on this campus to know they can always come home, whenever, and there is a sanctuary for them, even if it's just a little room in the basement of the library."