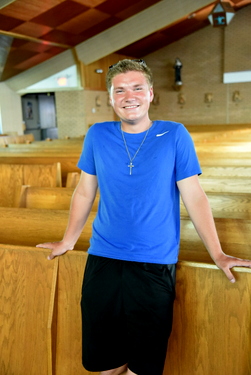 Nathaniel McGrath, age 17, rarely takes off the crucifix that hangs around his neck.
"It just means a lot. This shows that I believe, no matter what," he says.
It's a big change from how Nathaniel felt about his faith just three years ago. Then, he says, even going to Mass on Christmas was cause for complaint.
"I never wanted to go," he says. "I always dreaded going."
Nathaniel, who is from Sanford, was not raised in any faith. His parents were Catholic but not practicing. Christmas was the only time they attended Mass, and then, Nathaniel says it was mainly because his grandmother participated in the choir.
It was an invitation from his grandmother that started him down an unexpected path. Towards the end of 2014, when they were out shopping together, she asked him if he wanted to attend the upcoming March for Life in Washington, D.C. His motives for saying yes, he admits, had nothing to do with the cause behind the trip.
"I was like, 'You know what? If I get to skip school, I think this will be nice.' So, I decided, why not? I'll go for it."
The trip was full of firsts for Nathaniel, beginning with the Opening Mass of the National Prayer Vigil for Life, celebrated at the Basilica of the National Shrine of the Immaculate Conception in Washington, D.C. The high school freshman, who had only attended Mass a handful of times in his life, was now in the largest Catholic church in North America, which was packed with youth from around the country.
"We had to go downstairs. We were lucky enough to get seats in front of a TV," he says.
Before the Mass, the rosary was recited by those gathered, the first time Nathaniel says he had ever heard it.
"We're all praying the rosary, and I was holding a piece of paper, trying to follow along with it, since I had no idea what I was doing," he says.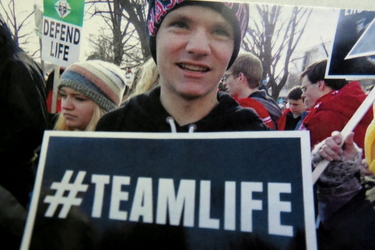 At the youth rally the next day, Nathaniel was again struck by the crowds.
"The whole floor was covered in chairs of just youth all around in this stadium," he says. "Somehow, we managed to get right in the front, right on the floor, and then there was a Mass there. It was cool!"
He says it's hard to put into words what it was like attending the march and rally, finding some parts disturbing, others moving.
"It was just like, 'Wow,'" he says. "We're walking. We're holding these signs. It's amazing."
After the march, the Maine pilgrims gathered for eucharistic adoration in a nearby church, another first for Nathaniel.
Through it all, he says, he started to feel part of the community.
"I just really got to know these people, and they were really nice," he says. "If I hadn't gone through it, I wouldn't have made all the friends that I made through the journey."
They include Joshua Guillemette, now a seminarian, who became one of his best friends, as well as Grady Connolly, who served on the Catholic Youth Leadership Team (CYLT) for the Diocese of Portland last year.
Nathaniel says he can't point out a specific turning point, but when he returned from the March for Life, he found that he had a different perspective on the faith that he once wanted nothing to do with.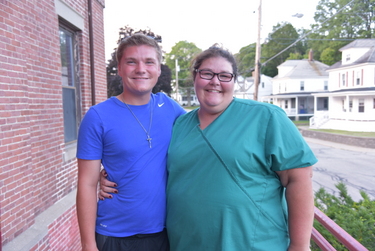 "It was a huge difference. He wanted to go to church. He wanted to learn the faith," says Tracy McGrath, his mother. "It was like God took his hand."
At the end of the trip, Shelly Carpenter, parish life coordinator for St. Thérèse of Lisieux Parish in Sanford, asked him if he wanted to consider learning more about Catholicism through participation in the Rite of Christian Initiation of Adults (RCIA).
"There was just something about him," she says. "So, after the trip, after getting to know him and spending time with him, I said, 'You know, if you're ever interested in RCIA and going to receive the sacraments, I'm more than willing to work with you.'"
His immediate answer was that he needed to think about it, but soon after, he pulled Shelly aside to tell her he would like to do it.
"I don't know what happened, but something clicked somewhere in this whole trip, and I decided, you know what, I'll give it shot. I went through the RCIA class with her, and I enjoyed it a lot. I started going to church. I was getting more into it. I was watching documentaries and different things about the religion," he says. "After all the years of saying I'll never go to church, never, it just happened. God just works in mysterious ways."
He was baptized, confirmed, and made his first Communion during the Easter Vigil Mass in 2016.
"It was just like a new start," he says.
He now looks forward to the Masses he once found to be boring.
"It doesn't seem like an eternity, and it's just cool that I can receive the Eucharist. Every time I receive it, I just look at it. I just think it's cool that it's the Body of Christ," he says.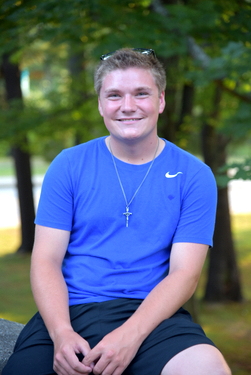 When Nathaniel expressed a desire to begin attending Mass, Tracy told her son she would accompany him. Soon, she found herself felt drawn back to the faith she had abandoned when she was a teenager.
"Now that I'm older, I understand it more, and I understand that you do need God's hand. You should never turn away from Him. It took me a long time to realize that, no matter what, He is always there," she says.
Tracy says she is thankful to Nathaniel for leading the way.
"I am very grateful that he brought that back into my life because I don't think I would have gone back if it wasn't for him," she says.
Nathaniel's father began attending Mass as well, and his younger brother, Tyler, went through RCIA and received the initiation sacraments this past Easter.
"Now, we all go to church," says Tracy.
"It made me feel good because they didn't disagree with my decision. They did the complete opposite. They came, and they joined on my journey," says Nathaniel.
Nathaniel is now active in youth ministry, a group he describes as being like a family, and he has become a role model for others. He even had his yearbook photos taken in church, while wearing his crucifix.
"He went from this kid that really had no faith to being a leader now in our youth ministry. He's on CYLT. He is a leader there. He is looked up to, and he is now a peer mentor and a small group leader. He is always at every event, helping. He comes every week to faith formation to help out and be my assistant," says Shelly. "It is just amazing to watch him.
Nathaniel says he wants to continue to be involved and to learn about the Catholic faith so that he can strengthen his relationship with Jesus.
"If I continue with this faith, then the relationship will grow, and I hope it does, because the more it grows the better it is, and better things can happen."
He says he is thankful for all that he has already received.
"It has brought me so many people whom I'm really close to," he says. "It has brought me so much happiness."