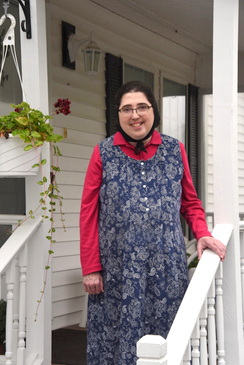 "As midnight approaches, the end of the day, the old year itself with the night fades away...We stop to reflect on all that was there, then give it to God in a moment of prayer."
Sarah Menkin of Bangor welcomes in the new year the same way she does so many things – in rhyme and in prayer. While it may not be as traditional as a champagne toast or watching the crystal ball drop at Times Square, Sarah will tell you that, for her, it's natural.
"I really think in rhyme. It's just the way it is," she says.
Her mother, Fran, says it's a gift Sarah has had all her life.
"She actually rhymed all the family names at 14 months old," Fran says.
"Mom always read poetry to us since we were babies," says Sarah. "I always was a poet since I was a baby. I didn't know that you don't think in rhyme."
Sarah says poetry has been so intrinsic to her family's life that it's a gift they wanted to share with others. For the past eight years, she and her mother have put out a monthly newsletter sent by mail or email to hundreds of people. Each issue features three poems, most often two penned by Sarah and a haiku from Fran, as well as an activity page.
"Each month is a little different," explains Sarah. "For instance, the activity page is different, but there is always a word find in it, because I have people who say, 'Where is my word find?'"
You never know where Sarah's poems might turn up. She shares them with family and parish members. She has ones she describes as medical humor that she brings to doctors' appointments. She has even handed them to taxi drivers who tell her they enjoy the word find puzzles.
"I try to reach out to anybody who wants it," she says.
Anything can become a topic for a poem, from celebrating the gifts we receive from God to those received from a new pair of glasses. In this time of COVID-19, Sarah has penned a "Thank You to YOU!," which is dedicated to those who have gone out of their way to help others, and "A Tribute to Nurses" in celebration of National Nurses Week. She has written a "Psalm for a Little Sheep" and shared a "Lenten Offering": "If I say, 'I offer all, Lord,' but I'm not sure how to give it, will you listen to my prayer, Lord, and come close and help me live it? As I bring my humble offering, will you take it and remold it? Lord, my life is yours, my future, please direct it and unfold it."
"There is always one religious or semi-religious poem in each issue, one that at least you can pick up a religious flavor. The others are not really religious, although they often have a meaning. I keep them non-denominational, even though I write heavy Catholic stuff, because I have recipients who are Protestants," says Sarah.
"It's a very light touch," says Fran.
"It's basically our way of teaching. Everybody has a call, and I don't know why, but this feels like mine. It really does. So, basically, it's to reach out to people, and whatever the Lord wants to do with it, He can do. We found that it really has made a difference to people," says Sarah.
While she has known since childhood that she wanted to be a writer, Sarah says she didn't set out to start a poetry ministry. She just wanted to share her gifts with the parish she loves, and having battled health issues most of her life, writing was a way she could do it.
"I started volunteering my writing to the church," says Sarah. "I would say, 'Is there anything I can do for the religious education program? Is there anything I can do for anything?'"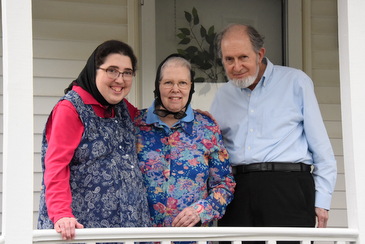 In addition to poetry, Sarah has produced faith formation flyers, put together presentations on saints for use at Vacation Bible School, and written Stations of the Cross reflections for a children's retreat. She has even written lyrics at the request of Kevin Birch, director of music at St. John Church.
"He'll do things like hand me a meter and ask, 'Can you write to this meter?' Then, he'll sing my hymn at church," says Sarah. "I think they used one during the Stations of the Cross one year."
Sarah says she wanted to give something back because of what St. Paul the Apostle Parish has meant to her, her mother, and her father, Frank. They say they have felt welcomed since the day they began attending Mass at St. John Church in 1999.
"We knew that St. John's was a very good place to be," says Frank.
"The church has been so good to us," says Sarah. "It's been a very welcoming and beautiful place."
"We are so at home," says Fran. "We just love being members of the Catholic Church and couldn't be happier."
Fran and Frank say the Catholic Church has felt like home to them ever since they returned to it after 25 years away, most of it spent as members of an Amish-Mennonite community, where Frank was a bishop, leading a group of local churches.
"My parents were married in the Catholic Church back in the 1960s, but in the 1970s, they left the Church, not really deliberately," explains Sarah. "They were part of a musical group in the church. That group left the church, and they kind of drifted out with that group, and when they finally thought of going on to something other than the group, they didn't think of going back to the Catholic Church."
Fran and Frank, who had been living in Peekskill, N.Y., discovered the Mennonite community after the family moved to neighboring Pennsylvania in search of better schools.
"One thing that drew us there was non-violence. That interested my husband and me. So, as we visited their churches, we finally decided we needed to settle into something, and we settled into a Mennonite church, and my husband was ordained in that church. Then, a request came from Ohio for him to go and help establish a church there with another minister, so we were in Ohio for a while, and that was Amish-Mennonite," says Fran. "With the Amish-Mennonites, we had cars and telephones but no television, no theatre, no radio."
"It was a pretty gentle, removed lifestyle," says Sarah.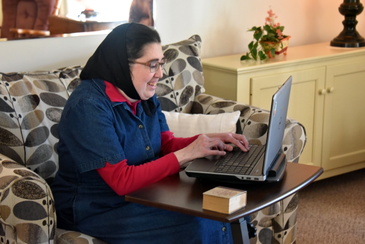 With medical issues starting to surface for Sarah, Fran and Frank decided to begin homeschooling her when she entered the sixth grade. That continued after the family moved to Albion, Maine, to once again establish a new church.
Reading was always part of family life for Sarah, her parents, and her two brothers, and one of the books that Fran and Sarah decided to read together was Prose and Poetry of England, the St. Thomas More Series, which had been one of Fran's favorites from her own high school years. It would end up having a profound impact on their lives.
"The book introduced us to the likes of G.K. Chesterton, Cardinal John Newman, and Rev. Ronald Knox. We were hooked on reading about conversion, about Catholicism, about the truth of the faith as it came down from even before these authors, from the first centuries of the Church," says Sarah.
"So, we started investigating. We read some of the Church fathers, and I came to a conclusion. I knew very clearly that I wanted to return to the Catholic Church," says Fran. "I attribute it to grace and mercy, the sheer mercy of the Lord to reawaken in me a recognition that this is where the true authority of the Church is and the truth of the Eucharist. I guess the Lord was just nudging my need to read the right things and be open to His grace."
Unbeknownst to Fran and Sarah, Frank was on a similar journey. He says his path to discovery began at a meeting in Florida where one of the ministers spoke out strongly against the Catholic Church and expressed a disbelief in the Blessed Sacrament. Remembering what had drawn him into the Catholic Church years earlier, after being raised by a Jewish father and a mother who was a Christian Scientist, he set out to find the truth.
"This is typical dad. He studies everything," says Sarah.
"The minister studied the Church Fathers, and he said he found nothing in them," says Frank. "I studied the Church Fathers and found loads in them."
Sarah, who was discovering the teachings of the Catholic Church for the first time, describes it as an exciting period in their lives.
"It was a real spiritual conversion. It was a thrill. I kept a prayer journal all through, and I could see how very exciting it was, because there is nothing like the experience of the sacraments when you come into the Church from an expression of Christianity that doesn't have the sacraments the way the Catholic Church does. There is nothing like the thrill of the sacraments," says Sarah.
Fran and Frank formally rejoined the Catholic Church in 1996 at the Marie Joseph Spiritual Center in Biddeford. That same year, Sarah participated in the Rite of Christian Initiation of Adults at St. Agnes Church in Pittsfield, which they attended before moving to Bangor. She entered the Catholic Church the following Easter vigil.
"It was a blessing, a real blessing," says Sarah.
"One of the beautiful things at the time our conversion took place was the wonderful reception we received in the Catholic Church," says Fran. "We have been so supported and loved."
That became especially true as the family faced serious medical challenges. Already dealing with rheumatoid arthritis, when Sarah was age 28, she was diagnosed with life-threatening ovarian cancer. With her strong faith, she remembers anticipating meeting the Lord.
"I was a little disappointed to find myself back here on earth, but then, I was very excited because, after all, if the Lord wants me here, it means I have other things to do," she says.
Just as Sarah was concluding chemotherapy, the family learned that Frank had esophageal cancer. Sarah then suffered from intracranial hypertension, which was causing her to lose her eyesight. When eye surgery and multiple spinal taps did not correct the problem, she had a shunt surgically placed in her brain to relieve the buildup of cerebrospinal fluid. More recently, Fran was diagnosed with Parkinson's disease.
They say through the challenges they have faced, the priests and parishioners of St. Paul the Apostle Parish have been there for them, including offering rides to Mass or bringing the Eucharist to them at home, prior to the pandemic.
"We have been so blessed with very loving, supportive friends and a supportive community through what turned out to be a long series of very serious medical conditions," says Fran.
"We love our church, and we truly have been so blessed. I kind of joke that I've been anointed by every priest I've ever met," says Sarah.
It was in thanksgiving for the blessings she received that Sarah was looking for a way to share her gifts with the parish. Still dealing with medical issues, while also taking college courses and doing proofreading work from home, she offered her writing skills believing they were something she could contribute. At first, the parish did not have any opportunities for her, which led her to think about her poetry. Her first recipient was her grandmother.
"I thought, 'Well, I could send poems out to my grandmother once a month because she likes them,'" says Sarah.
Her godmother was next to receive a subscription, followed by a woman she met at daily Mass.
"Pretty soon, I had 17 people that I was sending poetry to every month, and I'm writing personal notes to all of them. Then, I started handing them out to people at daily Mass," she says. "I started carrying folders full of poetry."
The Women's Council at St. John Church asked her to do a presentation, which further increased the newsletter's reach.
"I gave a little talk and recited poetry and showed some of the poetry and left a paper out for anybody who would like to receive the poems to just put their name on the list," she says. "The way it has grown through the years has been so beautiful."
The ministry grew to include nearly 200 email subscribers and another 130 who receive it by mail, each sent in an envelope decorated by Sarah. While it became too daunting to write personal letters to all the recipients, each newsletter sent still contains a brief, handwritten note and a promise of prayers.
"The prayers are real," says Sarah. "We always pray for them."
Sarah says many people have expressed appreciation for the newsletters, telling her they are the only personal communication they receive. She has never charged anything for them and says when people ask what they can give, her only request is for prayers, although she admits that donations of stamps have helped, too.
Sarah's and Fran's work is also available online at www.thinkinrhyme.com and that is where, at the moment, she is asking people to turn. Unfortunately, Sarah says she is having difficulties with her brain shunt, which has resulted in severe headaches. While she is not up to producing new newsletters at this time, she is still sharing poems from the past online, while Fran continues to write haiku. There are also new word find puzzles for people to enjoy.
Sarah says taking a step back, although necessary, has been difficult.
"So many people have reached out to me and written to me and said, 'This means something to me,' so it hurts me to be letting them down in any way," she says.
Still, she says that she knows that whatever happens, it's part of God's plan. As she has always done, she has put her trust in Him.
"It feels so under the Lord's control that it's very hard to worry about it," she says. "We feel very confident in the Lord. No matter what is going on, it's His to open and close the doors and make things work out. I don't know how people without faith move through anything."