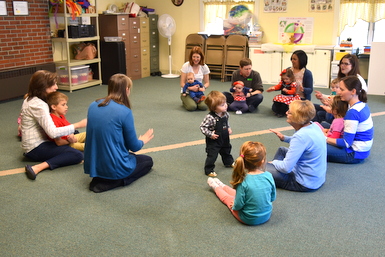 There aren't many venues in which you'll hear "Baa Baa Black Sheep" and "Rub-a Dub-Dub" mixed together with "Jesus Christ is Risen Today" and "Ave Maria." But at Holy Martyrs of North America Church in Falmouth, nursery rhymes and Christian hymns are in perfect harmony.
Since 2014, the Parish of the Holy Eucharist has offered "Making Music, Praying Twice," a program designed to help preschoolers develop an appreciation for music while, at the same time, providing them with an early introduction to the faith.
"It combines the gift of music with the gift of reverence and prayer," says Camilla Shannon, the mother of Claire, age 3 ½ months.
In the program, the children and their parents or caregivers join together to sing, chant, play, dance, and pray.
"One of the goals of the program is to encourage the parents and caregivers to demonstrate their love of music and their love of making music because that's how children learn. They learn through modeling," says Jennifer Runge, the instructor. "Research has shown that from the ages of birth through age 3, their synapses are firing at the greatest rate that they will be their entire life. So, you give them an environment in which adults are modeling what it's like to sing and to play and to explore, and they pick it up."
Each class includes 10 or more songs, chosen from a CD of 25, which the parents are given so they can familiarize themselves with them at home or in the car.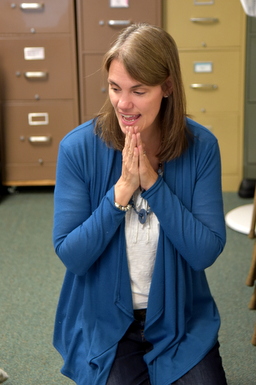 "The kids start to hear it, and little by little, they get to know the songs, and the songs become the basis for the class," says Jennifer. "There is a certain format, and they know what comes next. There is a sort of up and down flow to it."
The sessions combine music and movement. Adults and children clap, sway, and march while they hum and sing.
Each class begins with everyone seated in a circle on a carpeted floor, the children nestled in their parent's, grandparent's, or caregiver's lap. They join in song, welcoming each other by name and celebrating the time they will have together, "making music with our friends.
"There is always a welcoming song and a closing song, so the children have a sense of structure," explains Jennifer.
Once the adults and children are focused and engaged, Jennifer invites them to gather at a small altar. "Alright my angels. Let's fly on over to Jesus and say good morning," she tells them. There, parents and grandparents demonstrate how to put their hands together in prayer, and join in singing a hymn, chosen to reflect the liturgical calendar. On this day, still in the Easter season, it is "Jesus Christ is Risen Today."
Before long, the children and adults are spreading their arms and flying back to the circle again, ready to pretend they're a choo choo train, experiment with a musical instrument, or slow down and go with the flow beneath waving streamers.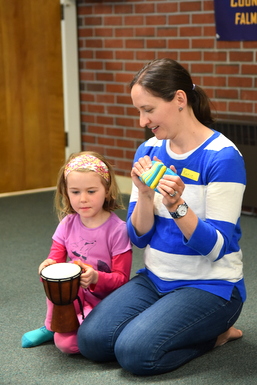 "Children's heartbeats naturally beat faster. They just have a very quick rhythm about them, and we want to model for the child what it feels like to go more slowly. Music isn't always fast. That song in particular teaches them stretch and extension, and skills and qualities like that are something they can transfer into athletics or dance later on down the line. So, we're very intentional about putting that into the curriculum."
As she leads the group, Jennifer frequently changes pitch, pace, and volume. She even mixes in a touch of Gregorian chant, the original music of the Catholic Church.
The "Making Music, Praying Twice" program was developed by a mother in Basking Ridge, New Jersey, who was looking for a way to continue teaching music, while also remaining involved in parish ministry and raising her children. Jennifer, a mom with a music degree, who was also exploring ways to share her talents with her parish, discovered it through an online search. Ironically, the church where it started is the same one Jennifer's family used to attend before moving to Maine.
"It was like a Holy Spirit whammo," she says.
Jennifer says exposing children to music at a young age is invaluable.
"It touches the spirit and the soul in a way that other things don't," she says.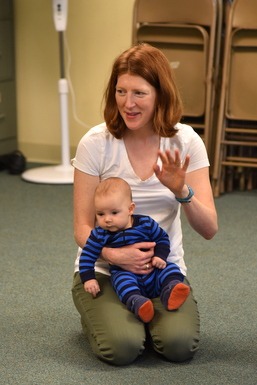 She also stresses the importance of making faith a part of children's everyday lives, even before they're old enough to sit through a faith formation class.
"Faith isn't just something that happens on Sunday. It can happen through the week," she says. "You can come to a church-based program with your child, who is non-verbal, and be with other people who are spiritually minded and not have to worry about it being Mass and having to be quiet, but you're still getting something out of it."
"It's just fun to have music and prayer mixed together," says Katie Redfield, mother of Amelia, age 4. "It's fun that it's not a sit still type of class. The kids can run about and explore. And if they just want to sit and observe, they can do that, too."
Jennifer says exposing the preschoolers to prayer and the music of the Mass may also help them to be less restless when they are in church.
"I mean, the very first prayer they learn is the Sign of the Cross, and we do that. They're all attempting that. And you'll see that if they do go to Mass, that's a gesture that's comfortable for them. And sitting through music in church becomes something that is not so foreign," Jennifer explains.
Some of the parents say they have seen a difference.
"Subtle things," says Camilla. "Probably the most notable thing is that we attend church, and it made it easier for him to participate."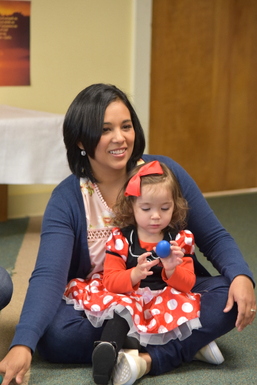 The current class has six families who regularly attend. Children may begin when they're just a few months old and remain until it's time for kindergarten. Oftentimes, more than one sibling will participate.
Pam Houde attends with her daughters Isabella, age 2, and Maria, age 6 months.
"Prayer is very important. When I pray, my day is more peaceful," she says. "Teaching them through music to pray is very, very beautiful."
Pam says the class has given her the opportunity to meet other parents who share her Christian beliefs and has provided an enriching, faith-filled way for her to spend time with her daughters. She enjoys it so much that she drives 40 minutes from Lyman to attend.
"Because we love it, we come here, and we drive that distance. It's worth it," she says. "I want them to know God and His love for them."