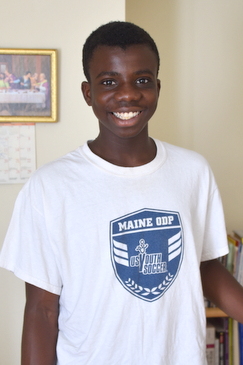 At age 17, Jean-Daniel Liwanga says he already understands the importance of keeping God in his life.
"I'm in a position where the choices that I make now are really going to reflect on the future. I think it's important to have some guidance, and I think God is definitely the best guide of all time," he says.
Believing it will lead to a more fulfilled life, he says he is always seeking to strengthen his relationship with the Lord.
"Whenever I try to get closer to God, I see myself growing. I see myself being more disciplined in some sort of way, and I think that's very helpful," he says.
Jean-Daniel struggles to think what his life would be like without God in it.
"I don't know. I would probably be like a lot of other teenagers who just wake up having no real sense or basis or intention for their life, just going through life like that, which, sadly, happens a lot right now," he says.
A resident of Portland, Jean-Daniel is originally from Kinsasha, the capital of the Democratic Republic of Congo (DRC). His family came to the United States in 2014 to escape the violence that has plagued the country for decades.
Christianity is the prevalent religion in the DRC, and Jean-Daniel says that is where the seeds of his faith were planted.
"It was kind of natural because I grew up in a Catholic family. My grandmother and dad were youth ministers at the time. We really had a tight family," he says. "My parents brought me up to try to always get closer to God."
He says in addition to regularly going to Mass, his family would attend many church events. Reading the Bible was also part of his daily routine from an early age. On the drive to school, he and his three younger siblings would read a Scripture passage and then be asked to reflect on its meaning.
"We would go in order, 'What did you understand it to say?' And then, we would share it out," he says. "It would encourage us to try to keep what we learned and use it as we went into the day, in everything that we do."
He still likes to read the Bible regularly.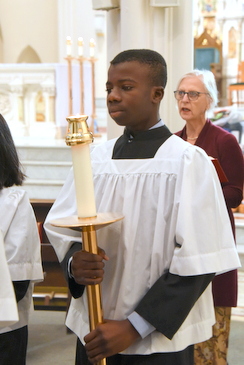 "When I grew up, I was able to understand the Bible more. I'm more into reading the Bible now, just reading as much as I can and trying to understand it and, also, reading different books related to the Catholic Church, trying to learn more," he says.
He says the more he learns, the stronger his faith gets.
"I would describe it as definitely, exponentially growing as the years are going by, just by learning and learning more and just trying to spend as much time as possible, just trying to build that relationship," he says.
His prayer life has grown, too. He credits, in part, a prayer room that his mother set up.
"We had a closet, but now it is a prayer room. We try to get in there once we have time, even if you have time to go in there and pray for even 10 minutes. I think that helped not only me but also my siblings, not getting forced by your parents to go to pray but having your own will to go and do it yourself to get closer to God," he says.
For the past two years, Jean-Daniel has been an altar server at the Cathedral of the Immaculate Conception in Portland, which he says he enjoys because it gives him a different perspective on the Mass.
"It gets me more engaged in the Mass, especially working around the priest and stuff like that and trying to be as holy as you can while at the altar," he says.
At his mother's urging, he and his siblings also got involved in youth ministry. Jean-Daniel says he is grateful because it led to the opportunity to attend diocesan-youth events such as the Journey retreat in the fall and EPIC, Empowering Young People in Christ, a weeklong summer youth leadership institute, which he attended for the third time this July.
"My first EPIC, we were learning about the circumstances in life that people have, such as poverty and hunger and stuff like that. We were told to write about how you want to be remembered when you die, and that made me really, really think about what I wanted to grow up to be as a person," he says. "I think the way you end up being as an adult is a result of the choices you make right now, in the present, as a teenager."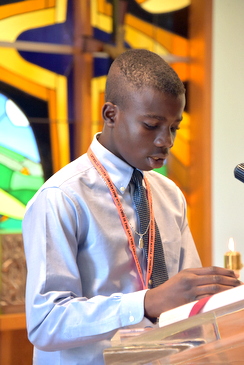 Jean-Daniel says one reason he finds the youth events so impactful is that they give teens the opportunity to establish their own relationships with God, rather than only "piggybacking" on their parents' beliefs.
"They really engage the teenagers. It's not like you're brought there with your parents. You're by yourself and learning by yourself, which is really nice," he says. "I think that is a better way of growing."
He says he would love to have the diocese offer more such events and have more teens attend them. He sees it as key to the future of the Church.
"Not many youths are attending Mass or even trying to get a closer relationship with God, and I think it's important," he says. "The future is coming, and it's important to show that it is possible to have a relationship with God and to work in hand with him to make the most of the choices in your life."
Jean-Daniel says he and his brother Paul, who is closest in age to him, help to keep each other on the right path.
"We kind of monitor each other and encourage each other in a way," he says.
Jean-Daniel also strives to be a positive role model for his brothers and sister.
"I try to encourage my younger siblings to do as much prayer as possible and read the Bible more often and stuff like that," he says.
While he admits that he is not as vocal when he is with his peers, something he is trying to work on, he says he still always tries to be a witness to the love of Jesus.
"I just try to share my faith by acting responsibly and acting different in some sort of way," he says.
Jean-Daniel is entering his senior year at Baxter Academy for Technology and Science in Portland. Although he's not quite sure what his future career will be, he says he loves to design sportswear and is also interested in technology and engineering.
He says no matter what he ends up doing, there is one thing of which he is sure: God will be with him.
"With God on your side, you can do a lot of things, a lot of positive things," he says. "You can trust that whatever happens is going to be for the better."